Yet another great opening for those of you in the Santa Monica area tonight. Immaculate Deception, exhibited at the Copro Gallery, spotlights the work of two female artists, Genevive Zacconi and Ewelina Koszykowski. The opening starts tonight, July 29th, at 8pm PST. Both women will be in attendance, having made the long trek from NYC.
Genevive, is a Philadelphia native, born in 1981. Her oil paintings have been included in Juxtapoz and Hi-Frutose Magazine, amongst many others. She knows the pop-surrealism genre intimately, as she is not only an artist, but also a curator. She was a founding Director of Trinity Gallery in Philadelphia, and currently serves as the Director of Last Rites Gallery, NYC.
'Fade Out' by Genevive Zacconi
Ewelina Koszykowski, also born in 1981, immigrated to the United States from Poland at the age of three. She has since honed her skills as an oil painter, having graduated from CCAD in Columbus, Ohio.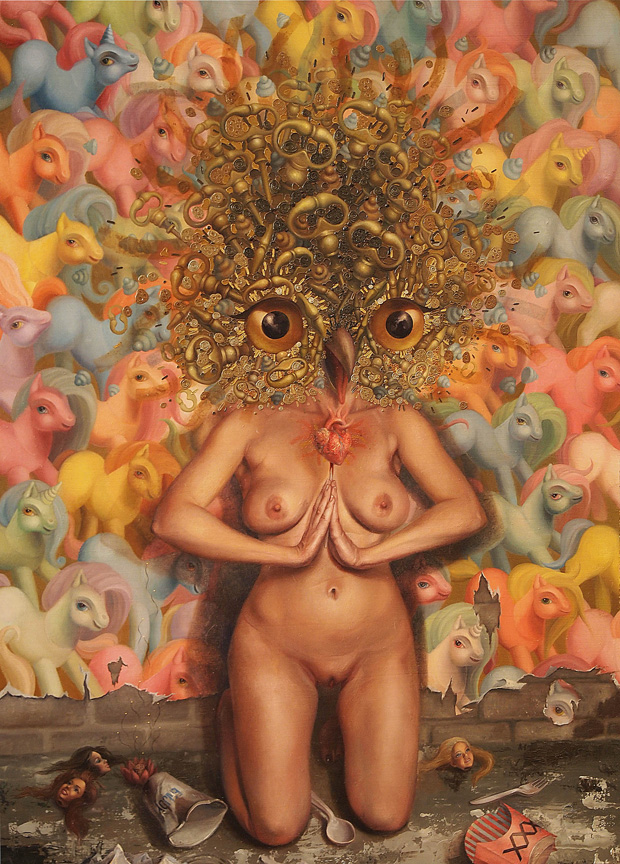 'The Humiliation of the Virgin of Naivety and the Prayer for Divinity', by Ewelina
Be sure to check out more work from these two incredibly talented women at their personal sites:
http://www.genevive.com/
http://www.ferrusos.com/