by Petar Meseldzija
" From the deep, murky abyss of the forgotten past, moving slowly and inevitably like the future, the Giants were coming.

A huge mountain of gigantic figures moved steadily like an immense wave, shattering the landscape upon which they walked. Everything they set their feet on was reduced to rubble and dust.  Hills were flattened, mountains crashed, forests swept away, villages and towns erased from the face of the Earth.
People, mad from fear and despair, fled towards the mountains, hoping to find a hole in the ground and save the only thing they were left with, their  bare lives. Animals run, flew or crawled franticly, trying to escape the approaching horror. Ancient trees stood their ground proudly, waiting for the inevitable to happen.  Leafs trembled silently and without motion, in their green hearts.
Then, the whole wave of escaping creatures came to a standstill, suddenly, as a gigantic figure appeared in front of them among the highest mountain peaks. Another giant, even a bigger one. He stood motionlessly and looked towards the approaching wall of the titans and dust. His white long beard, flew freely in the mountain wind, falling onto the tree tops of the forest that covered the mountain slopes, and then rising again towards the sky dispersing the clouds like the flocks of starlings. His eyes, blue and red as the sky at sunset, were shooting fearsome arrows across the valley that stretched itself between the two mountain ranges.

Than he opened his mouth and released a deep, powerful voice, that seemed like it came straight from the very core of the Earth:
" STOP! YOU CANNOT PASS, HERE. GO BACK TO WHERE YOU CAME FROM…!
The mountain of giants slowed down and eventually stopped. The crushing noise that followed them faded away. For a moment there was a profound silence in the air, and on the ground. Then, from across the wide valley, the answer came rolling like a thunder:
"MOTHER EARTH HAS CALLED UPON US TO PURIFY HER COUNTENANCE. MOVE ASIDE…!
 The white bearded giant raised his mighty hand and said:
"I AM SVJATOGOR, THE SON OF THE MOUNTAINS. I PROTECT THEM AND ALL THAT LIVES BENEATH AND ABOVE THEIR SURFACE. GO BACK…!
Silence again. A long, deafening silence. Even the mountain wind stopped his everlasting dance around the high peaks. People stopped breathing. Animals froze. Trees stopped moving their branches …………..And then, the giants unlashed their attack on Svjatogor. Like an immense unstoppable wave they threw themselves on the lonely defender of the mountains…"
Text © Copyright Petar Meseldzija
————————————–
 
This is the beginning of the story that accompanies the drawing. The entire story will be published in my new book on GIANTS. The book is still in progress.

Svjatogor – defender of the mountains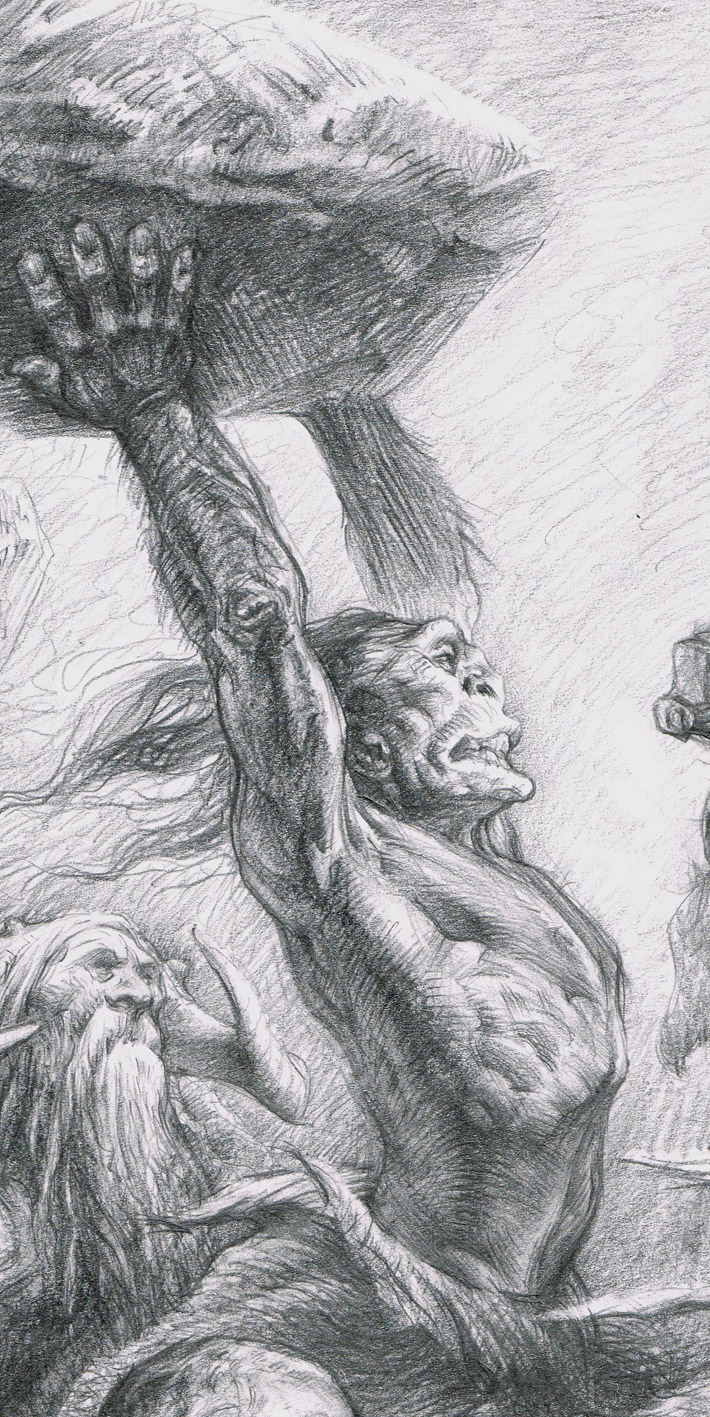 The drawing was initially commissioned by a collector from Canada, and it was this drawing that triggered the creation of the story.