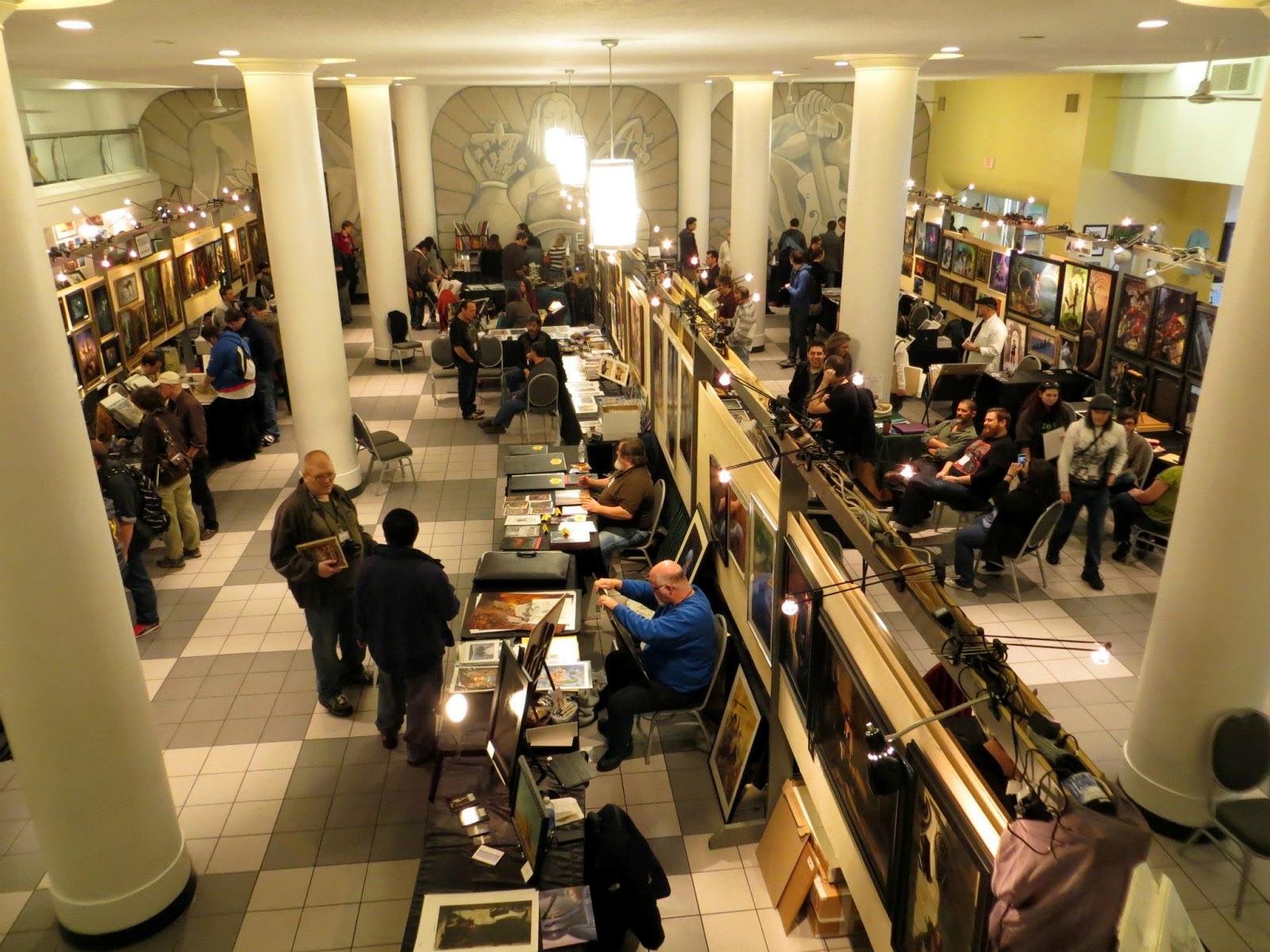 IlluXcon 5, photo by Kiri Østergaard Leonard
Yesterday, I came back home from my last U.S. journey. Today is Friday, my day for posting here on Muddy Colors. Although still wrestling with the " temporary disruption of bodily rhythms caused by high-speed travel across several time zones", or simply with jet-lag, I decided to share some of my thoughts and impressions about this year's IlluXcon show, risking to "enrich" my post with even more grammar mistakes, wrongly chosen words and poorly constructed sentences, than I usually do, all because of the mentioned " high-speed travel …"
Well, after attending this unique art convention for the third time, I came to the conclusion that IlluXcon is not a usual convention. No, it is more an extended meet-and-greet event that was brilliantly organized, for the fifth time, by Pat and Jeannie Wilshire, the founders of the convention. Although I consider myself somewhat inexperienced when it comes to the art conventions, I dare say that this show feels almost too warm and too intimate to be called a usual convention, in other words an event where people come to do business; to show, promote, sell and buy new products and ideas. Of course there is much going on at that level as well (fortunately!!). But there is also another aspect to this show, that could easily be sensed when you are there, especially during the last two days of the convention. The camaraderie, mutual respect and support, friendliness and kindness are some of the qualities that characterize IlluXcon. It is a place where fellow artists and their entourage, clients and art collectors, art students and fans, get together and have wonderful time talking, exchanging ideas, supporting and inspiring each other, learning, buying-selling-commissioning art, having fun and even playing music and singing together.
IlluXcon music band under the leadership of Mark Zug
I think there are several factors that set this convention apart from the most of other shows I have been at.
First of all, the place where the convention is held is not too big and the architecture is friendly. The space does not feel cold or impersonal. It reminds me of a cozy foyer of a theater, a place where people gather before going to see a good movie, a theatre piece or a concert. Inevitably, the space influences the setup of the show and the mood of the attending artists and the public.
Second, there is art all over the place; colorful, inspiring, sometimes funny, sometimes serious, amazing, brilliant, mesmerizing art. Here you can see the paintings "in person", that are, more or less, reflecting the personality which created them, in the most direct manner; through the marks left by hand that holds a real brush and directs the movement of the physical paint upon the canvas, or board, and forces it into a shape…into becoming something out of nothing… directly, without anything between the artist and his creation, except for the thin air that separates his mental universe from the mostly two-dimensional physical world that is being created in front of him. This convention is dedicated exclusively to good-old hand-made fantasy art.
Last but not least, the artists who make this art, and the visitors, all seem to be very passionate and most friendly people.
Therefore, the photos I want to show you this time will not focus on wonderful art, but rather on wonderful people; my fellow artists and visitors with whom I had the most inspiring and pleasant conversations. Needless to say, not all of my encounters with them were recorded with a camera. There were many, many more memorable moments that made this year's IlluXcon very special for me.
So, thank you all for your time, your inspiring and supportive words, your kindness and your beautiful art!
Filip Burburan and Milivoj Ćeran in front of their booth
The Balkan Crew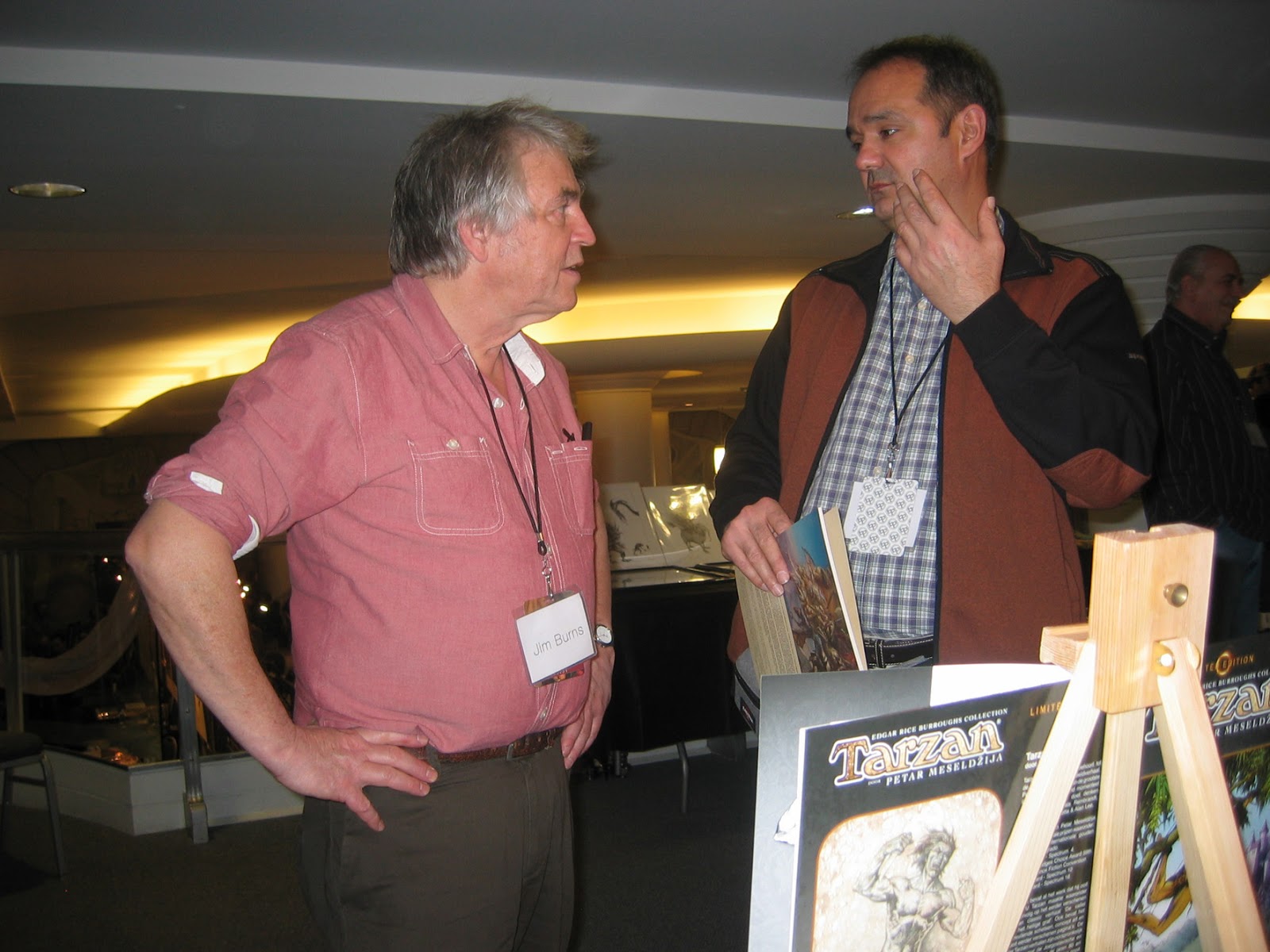 In conversation with Thomas Kuebler
Thomas Kuebler's

 

charming troll-lady
With the art students from Ohio
Omar Rayyan, Illy award winner, with "his" head (Photo by Mike Sass)
With John Jude Palenkar and Donato Giancola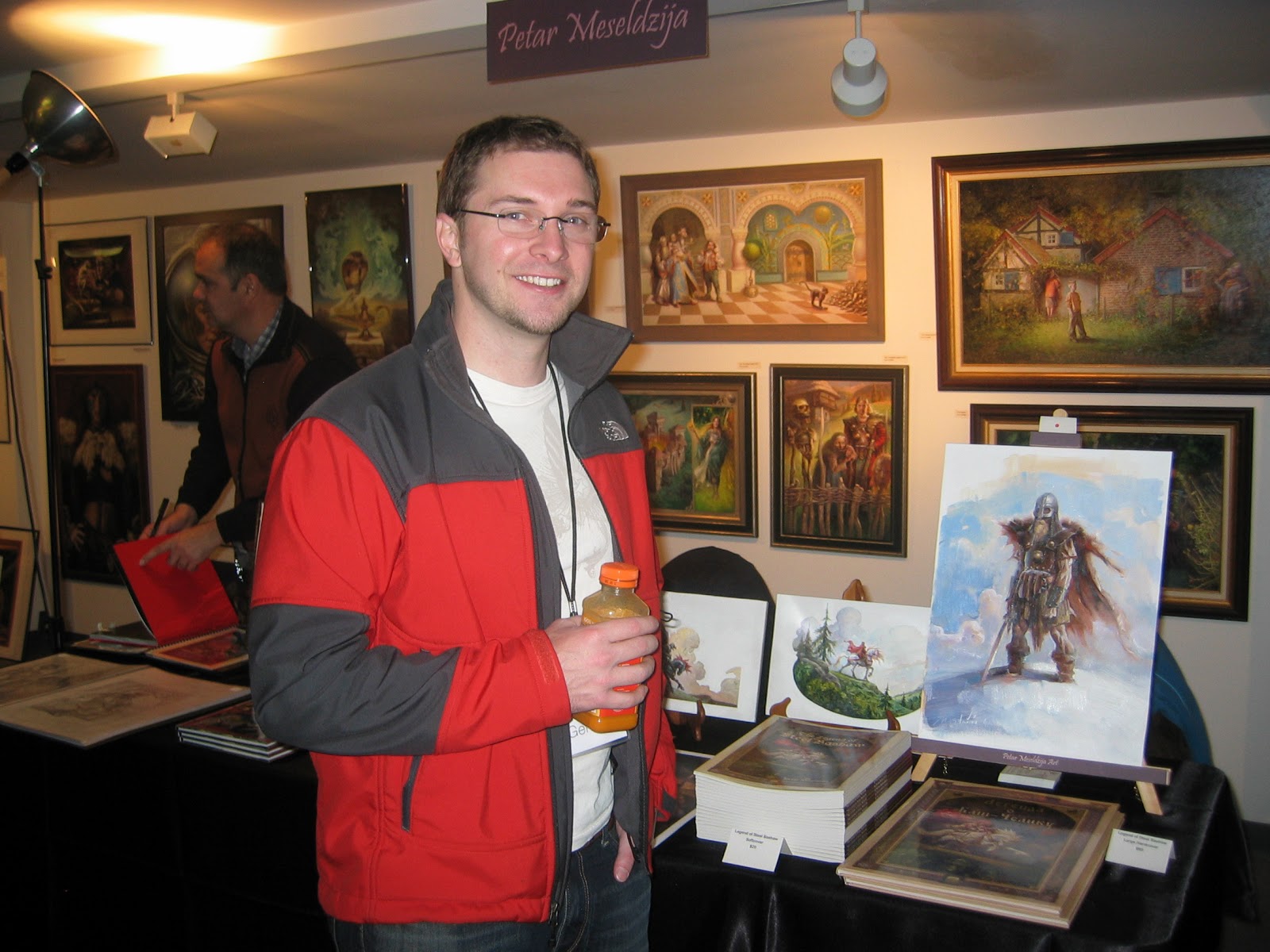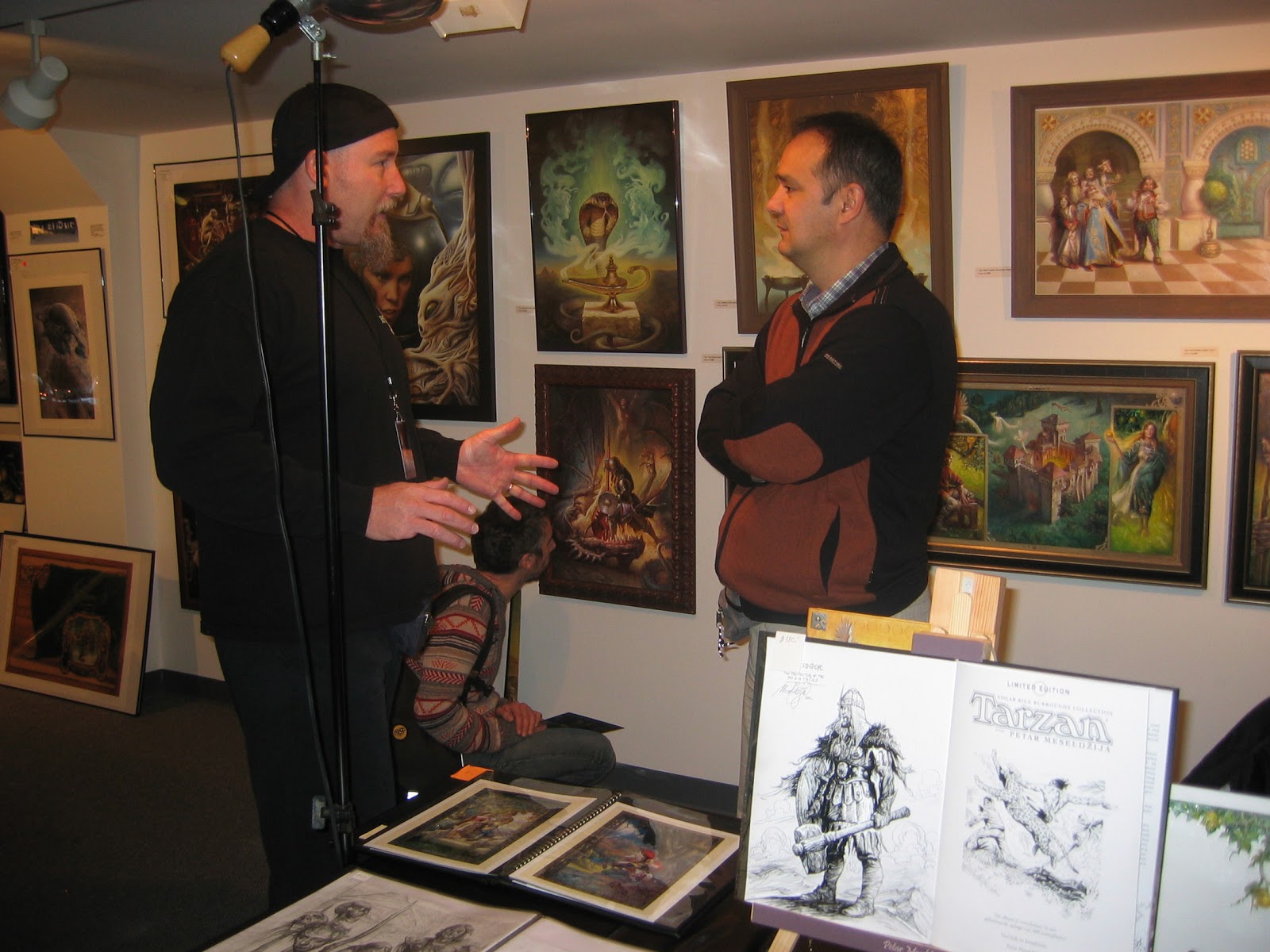 Petar Meseldzija Art crew, with Jean, Morgan and Anita.
Talking about kindness and generosity; I got these beautiful drawings as presents from a few fellow artists!!
By Filip Burburan
By Mark Nelson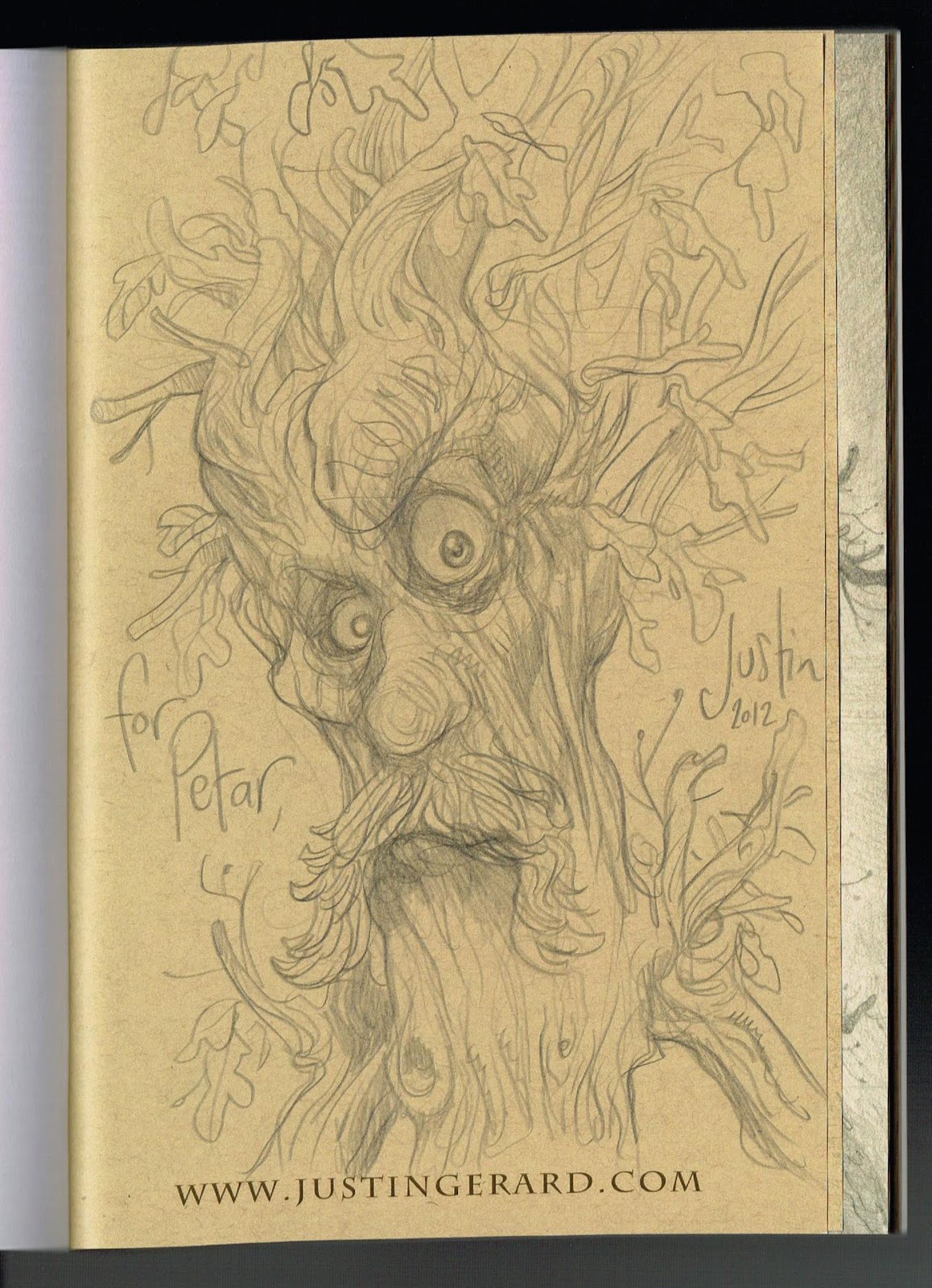 By Justin Gerard
By Raoul Vitale