By Petar Meseldzija
Here are two little paintings that I recently finished. First is my MicroVisions piece which I call "Frightened Monster". The second painting, named "Night Knight", was done for a quilt project. Both paintings will be auctioned (the Knight painting as a part of the quilt) and the money will go to the student scholarships.
Sometimes I wish these kind of scholarship projects existed when I was a student, so that I could at least buy a proper oil paint, instead of having to use the cheap little tubes of oil color manufactured in China, that I used to buy in Prague, Czech Republic. But on the other hand, I often wonder if better circumstances and more stimulating surroundings would help me become a better artist…well, maybe…I don't know.  It's also true that when things get tough, we get to know our deeper Self and often get better and tougher, for if you are not tough enough and always need somebody or something to lean on, despite of all your great talents, you might not make it as an artist. In my opinion talent and skill need to be accompanied by a set of other qualities within the personality that have nothing to do directly with the artistic abilities, things like perseverance, courage, a certain amount of boldness and even stubbornness. One does not develop these qualities if the surroundings are too supportive. On the other side, the lack of support can have a devastating impact on the psyche, as we all know.

Anyway, that Chinese oil paint from Czech Republic was not that bad after all. At least it had a very pleasant and natural smell that stayed with me forever, and that I still associate with good old days marked by happy enthusiasm, blessed lack of life and professional experience and above all my burning love affair with painting.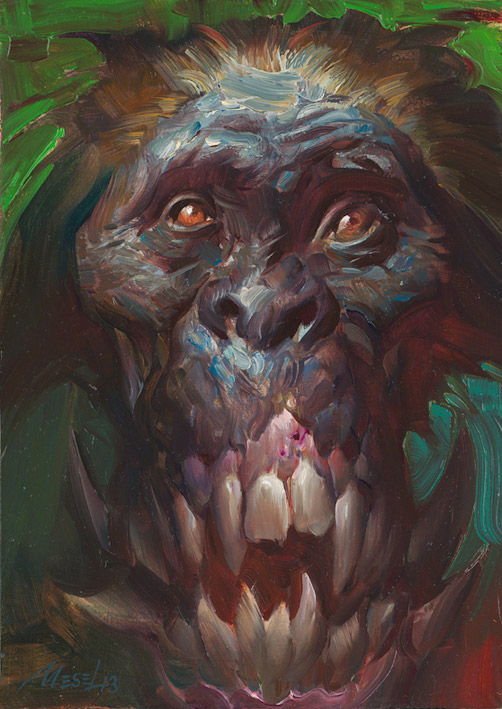 Frightened Monster
Night Knight