by Donato
We all remember those first times.  Entering into spaces and rooms you have never been to.  Eagerly winding your way to the person you are dying to see. Your heart pounding nervously. The awkward moments as you search for just the right words to clinch your chance at a longer term relationship.  Riding over all of this is their first impression, not only of you but of your work.  There is never an undo when you deliver your first commission to a new client – you better make it count.
Impressing first time clients was a goal dating from the very beginnings of my art career.  I  pull out all the stops to provide exceptional work, from preliminary sketches to color studies to final oils in order to make sure that a first impression with a client was a positive and unforgettable one.  Once given the chance to work for someone, I want to turn them into a repeat customer.  Thus the extra labor put forth in the initial commission may be seen as a way of securing a group or steady stream of commissions in the future.  This is good business sense, any business person will tell you it is less costly to manage current customers than to go out and seek new ones.
It has been a while since my first dates, but I wanted to share my first assignments for those 'new' art directors and clients.
Regardless of what I was paid, I put as much time and labor into each of these projects as possible.  I still practice this principle today.
A Connecticut Yankee in King Arthur's Court   Tor Books   1993
A Connecticut Yankee in King Arthur's Court was my first job with Tor Books, as well as my first commercial book cover assignment.  I have created ( in a ballpark guess) over 60 covers with Tor Books since then.  I still work with them to this day.
Construct of Time – Shadow's Fall   Penguin Books  1993

Construct of Time still resides in my portfolio as a showstopper.  I worked with Penguin books for over 7 years and dozens of covers before a disagreement about cover changes ended our relationship.
Otherness  Bantam Books  1994
 Another great client with whom I created some wonderful covers for.  Bantam was a regular client for years, with over a dozen covers credited with them.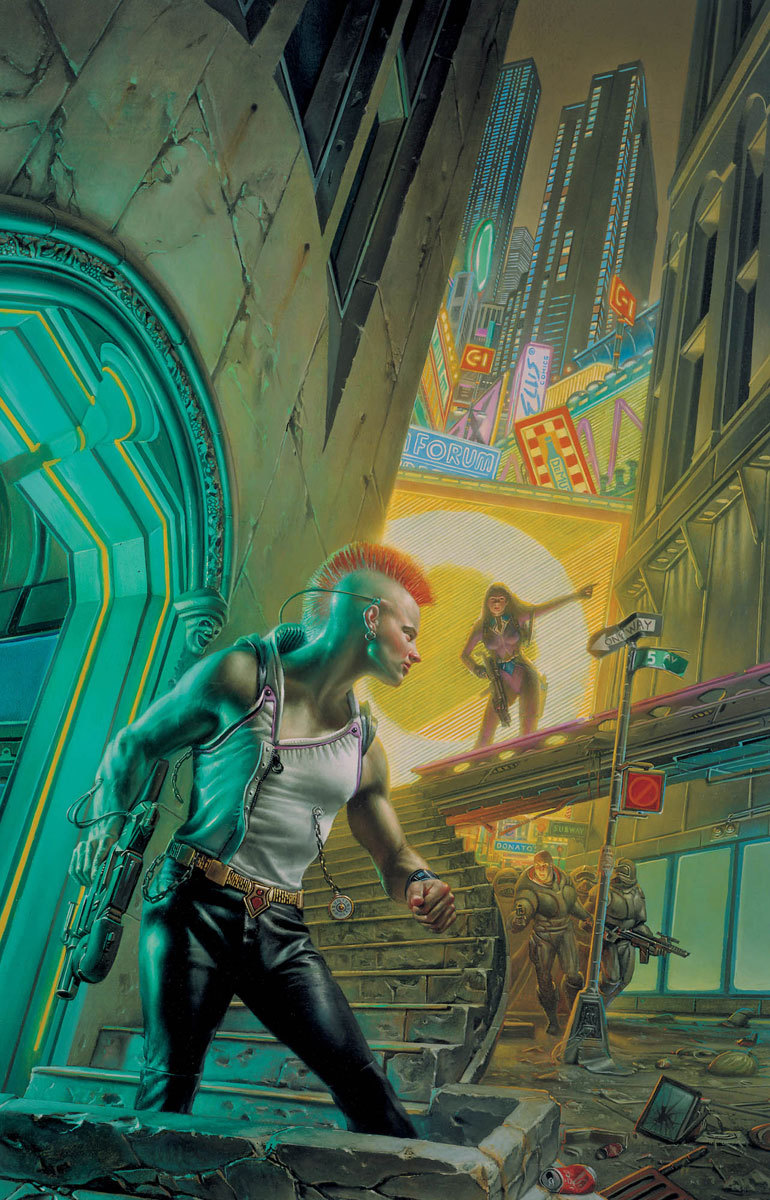 Ravengers   Warner Books   1994
 One of my favorites from the early career years.  Placed in Cyberpunk New York (not really Times Square since we are on 5th Ave), but captures the flavor of the city that I love!
Wire Continuum   Playboy Enterprises   1997
Playboy was a surprise as a client, as I have created some of my greatest science fiction paintings for their short stories in the magazine.  they had a total hands off approach to art direction which let me spread my wings as an artist and push forward with new challenges.  To date I have created ~ 10 images for the magazine.
Amber Prison   Wizards of the Coast  1996
I wanted to do something new for this first commission for Wizards of the Coast, thus undertook one of my favorite subjects, the hand.  The hand was not in the artifact/job description, but I wanted to provide context for the use of the magical item.  Luckily I never sold this art and currently hangs in our house.  I have created over 100 Magic cards since that first hand!