Out of Nowhere (Blackout #1 Variant Cover). 2013.
Photoshop.
Here's a new cover for the Dark Horse series Blackout, written by Frank Barbiere with art by Micah Kaneshiro (check out his concept work). The story follows the adventures of a superhero who can access another dimension with a special suit. I was asked to provide a variant cover for the first issue, the last in a series of vintage-poster-style illustrations that included text of my own choosing. (You can see my other covers here and here.)
Since the digital canvas is as big as I'd like, I use it as an inspiration board of sorts, pasting in costume reference as well as poster examples from the wonderful blog, 50 Watts. From there, it's merely a matter of hitting my head against the wall until I find a solution that I don't hate.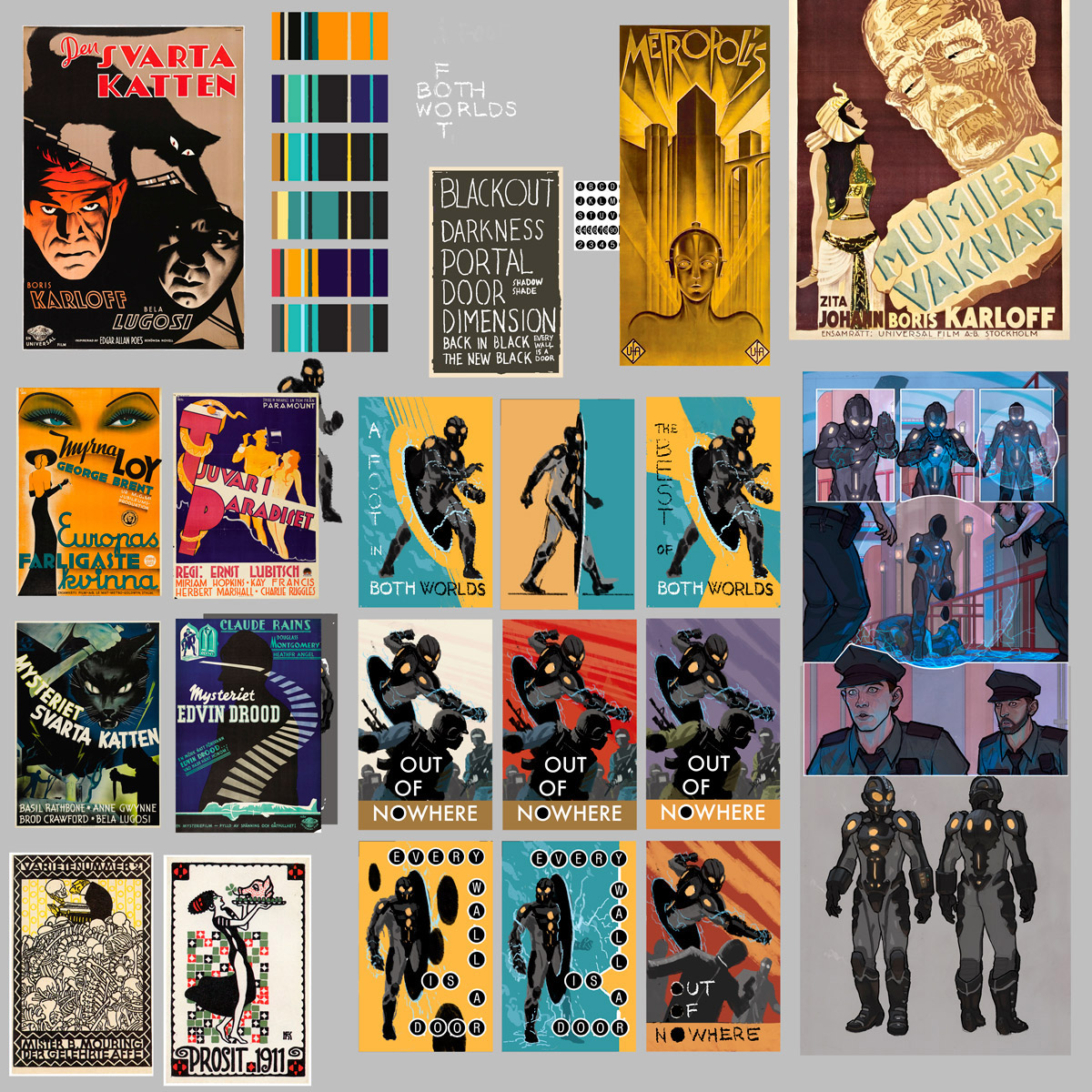 inspiration, reference, and early attempts
On to the questions:
In your experience what is the best paper to work on. I've read/heard some artists say that good quality is sometimes hard to find. 
For typical comic book pages, I use Strathmore 500 Series Sequential Art Bristol, 2-ply with a semi-smooth finish. This works well for penciling, inking, and even limited watercolor and gouache. The board is 100% cotton, which means it's archival and can withstand a deluge of water.
For fully-painted work, I use the same material, but in 3-ply thickness. I have to cut this down from larger sheets, but it's still thin enough (barely) to run through my printer for digital sketches and perspective guides. Occasionally, I'll upgrade to Strathmore's illustration board for larger paintings.




Daredevil #2 Pages 2-3. 2011. Pencil on bristol board, 22 × 17″.
My second question is about pricing. As an artist starting out, I've had people ask me to produce work but want to pay little to nothing for it. I know that you've worked professionally since college but in your opinion is there a base rate for comic art even if non established/professional.
Unfortunately, this is a question that can only be answered by the individual artist. We've all heard horror stories about artists "dying of exposure" — there's even a Twitter account that collects such examples — but whether or not artists accept said gigs is their prerogative. I've seen many attempts at guilds and unions to help combat the practice, but (in my opinion) the nature of our industry won't allow that kind of collective action. We are paid to be different, and the level of pay is proportional to our popularity. Our only true power is to say "no," and that ability varies from person to person.
All that being said, what can you do? Ask yourself how much money you need, how much time you have, and how much you want the job. I was extremely lucky to break into the comics industry when I did — I received a phenomenal rate for a 21-year-old rookie — but that rate stayed the same for the next 11 years (with no sign of changing) so I stopped accepting those gigs and pursued other opportunities. Eventually, I was able to quadruple my 2002 income just by getting faster and cultivating a market for my personal commissions and original artwork (a consistent 30-50% of my income).
My point is that every situation is different and only individual artists can decide what works for them. When I was 19, I took on several gigs from one of my favorite writers (whom I met at a comic convention). While low-paying, those gigs became the portfolio I used when the writer introduced me to Marvel. That teenaged decision would become the turning point in my young career.
I recently went to Comic-con in London and had a quick conversation about exploitation of artists being paid for their skill with David Lloyd. I would like to charge by the hour especially as I've been asked to put a lot of detail/work into the finished pieces and I don't work particularly fast. However I also have to eat and can't afford to do spec work that will build my portfolio but may/may not lead to a residual income. 

This brings me to my last question. How do you find the balance between meeting deadlines and completing a piece of art that you've put your all into that you are happy with?


I've never charged by the hour, not because I didn't want to, but because most clients (all right, all clients) aren't willing to write a blank check for anything. That's only fair — like us, they have limited budgets that allocate set amounts to certain aspects of a project.
That means it's up to the individual artist to keep track of their hours — not so they can charge for those hours, but so they can predict how long a potential project would take… and reject it if the budget isn't up to snuff. My 2 best-paying gigs this year took a combined 322.5 hours. Broken down hourly, they were my worst-paying gigs. But you know what? They were awesome gigs and I loved (almost) every minute of them. How did I get those gigs? I did art on spec — the difference being that it was unsolicited. It was my choice.
In closing, meeting deadlines is just part of being a professional. It takes years to get a sense of how long projects are going to take. I still get it wrong sometimes, but when I do, I simply take note and try not to make the same mistake again. Still trying…