Drew: The Man Behind the Poster is a documentary about the life and art of movie poster artist Drew Struzan. The movie, which had a limited theatrical release this past Summer, is actually already available for streaming on Netfilx!
The movie is honestly more about Drew than it is about his art, but it's really enjoyable and insightful nonetheless. They show a lot of art many may not be familiar with, and also discuss a few insider aspects of the movie industry that really shed some light on the matter. It's definitely worth watching, and makes for great company while you're painting.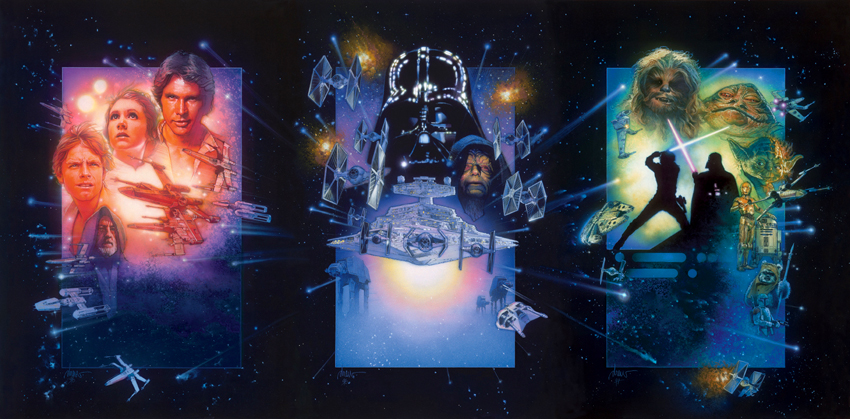 I've always enjoyed Drew's work, as I think just about any illustrator does, but in recent years I've really discovered a newfound appreciation for it. Drew has been such a staple of the industry for so long, and makes it all look SO effortless, that it's really easy to overlook his art. Like a family portrait that has hung on your wall so long you no longer notice it's there, Drew's work is so engrained in the public's mind that I oftentimes fail to appreciate just how compositionally brilliant it is. The more I study his work, the more I admire it.
If you have a Netfilx subscription, you can watch the movie right now HERE.
The documentary does touch on some of Drew's working methods, but for those that are really interested in learning the details of his process, I highly recommend his instructional DVD, 'Conceiving and Creating the Hellboy Movie Poster Art'.  It is a really informative look at his process from concept to final and introduced to me to several new techniques.
[youtube https://www.youtube.com/watch?v=Cf-xlYvR1CY?rel=0]
At just 90 minutes long, and a cost of $80, it's perhaps a little overpriced. But it is a great video and I have already watched it three times, so it's value is subjective. At the very least, find a friend to borrow it from!
You can purchase the DVD from Amazon HERE.