Wizard Magazine #77 (January 1998 issue) Magic Words Column.
I spent a few days in Savannah last month as part of a mentorship program for SCAD's Sequential Art Department. The number one question I got there (or anywhere, for that matter) is "How do I break in?" While a damn good question, it can only be answered in retrospect — it's completely different for each and every artist.
Since young artists can't possibly know where their "big break" will come from, they have to concentrate on the factors that are within their control, namely the quality of their work, coupled with the avenues through which it can be seen. Neither are easy to accomplish, but both are essential. Missing just one of those ingredients negates the other.
Thanks to the internet and social networking, it's never been easier to get your work out there. But as a result, the competition has never been higher. You're not only competing with your peers, not just the professionals already working, but everyone across the globe who wants the same career as you.
What I'd like to share today is a fairly detailed recounting of how I got my big break…
… over the course of 4 years.
Me and Alex Ross in Orlando in 1999
Throughout high school, I was entering contests in Wizard magazine, going to conventions, and practicing, practicing. Most importantly, I knew that while artists at cons could give me advice and help me improve my skills, they were essentially the competition — only writers and editors could give me work.
In 1999 (just before my 18th birthday) I attended Megacon in Orlando, FL, where I met Jim Krueger, the writer of a Marvel book called Earth X. He and artist Alex Ross kindly signed every book in my collection (I'm convinced that I'm the reason Ross no longer does shows). Afterward, I asked a friend of theirs to deliver a small portfolio of my work. When I later contacted Jim via email — I think I got it via the Wizard web site, but I can't recall for sure — he remembered both the portfolio and my entry to a Wizard contest (even though I hadn't won).
EARTH X FAN ART. 1999. Gouache on bristol board, ~11 × 14″.
Jim gave me a deal: if I did a piece of fan art for his creator-owned book, The Footsoldiers, he might publish it in a future issue. Furthermore, If he really liked it, he would commission me for more work in the future. By this time, I was already a freshman at the Rhode Island School of Design, but hadn't yet chosen a major — although Illustration was the natural choice for me, Industrial Design was a close second. Fortunately, RISD has a wintersession mini-mester that's tailor-made for trying things out. I signed up for Sci-Fi/Fantasy Illustration.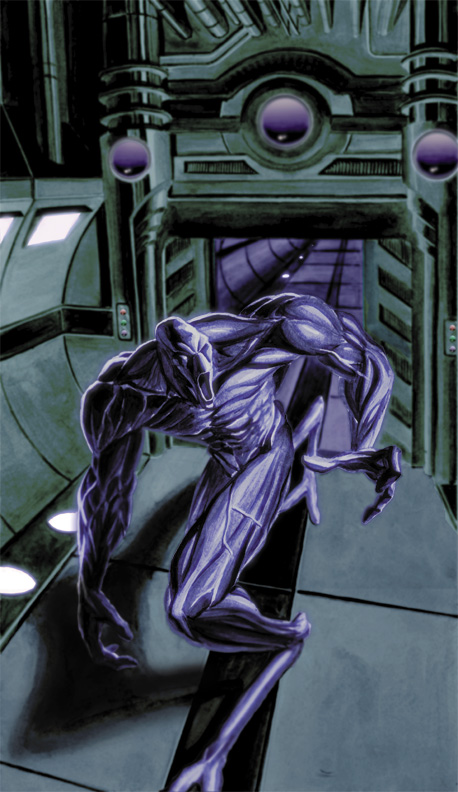 ALIEN. 2000. Gouache on bristol board
(with digital effects), 11 × 17″.
A GIFT FROM THE CULTURE. 2000.
Acrylic on bristol board (with Photoshop), 11 × 17″.
The class was taught by Nick Jainschigg, with a guest appearance by John Foster (and fellow classmates Joe Quinones and Sonny Liew). Although just 6 weeks in the Providence winter, it made me realize exactly what I wanted to do. Each week required finished assignments — really no different from what I do today — a mix of traditional draftsmanship, storytelling, and concept design.
Horrible, horrible color choices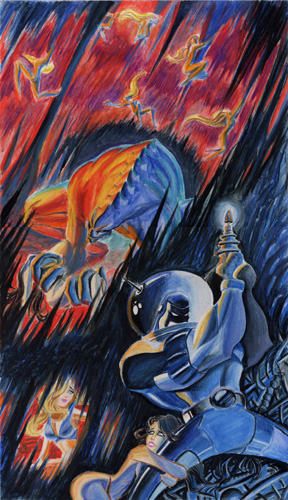 My week-long Joe Chiodo phase
Some of the work holds up… some does not. Looking back on it now, I think the ultimate goal was not to create masterpieces every time I picked up my tools, but to raise the lowest of my work to a decent level. That's really what being a professional is all about — even your "worst" is publishable, a baseline level of competency that clients can depend on.
The last assignment in class had a bit more leeway, and so I asked my professor if I could kill 2 birds with one stone and complete the fan art for The Footsoldiers. He agreed, and when my painting skills failed me, I used Photoshop to pick up the slack.
Luckily for me, Jim liked it, and hence commissioned 3 more pieces of art for the series. When not waiting tables that summer at Olive Garden, I painted at my parents' house in Daytona Beach, FL.
I was 19. Just 2 years later, I would be working for Marvel. In the next installment, I'll detail the events that got me into the office, and into a career.
THE FOOTSOLDIERS. 2000. Acrylic on illustration board, ~16 × 20″.