In preparation for my exhibit at the Last Rites Gallery opening this August 30th in New York, I wanted to include a few drawings both to provide various price points for collectors to obtain my art, but also to illuminate the processes I go through in developing the larger and more finished oils.  Often we are presented the final art as a thought brought forth fully from the artist's gifted mind, but in reality, as many of us know, there is a twisting and erratic road that leads to these finished pieces.
As I began to gather and mat various images, I realized the one aspect that holds them all together is my deep love of drawing.  More than the fact that they are all drawings created on toned paper, it is the process of exploration and imaginative play that I find so pleasurable in their creation.  Whether it be a futuristic astronaut, Gandalf marching through Moria or a mermaid contemplating those two legged walking creatures, the mesmerizing way I get lost in the drawing process is a constant reminder of how meditative this process is for me and how much I miss it when the deeds of business management take over my daily routine.
To tap into those moments once again,  I forced myself to to break away from the studio a bit early and catch the 6 pm start time at the Spring Street Studio in Manhattan last Thursday.  Spring Street is a wonderful place run by Minerva Durham for the past 20 plus years.  The doors are open 9 am to 9 pm with three hour live model drawing sessions running seven days a week, thus accommodating all kinds of lifestyles and visiting hours.  There is no excuse why you could not make it to draw here!
Years ago I was a constant visitor to Spring Street, drawing once and sometimes twice a week with many artist friends like Alan Pollack, Tony Diterlizzi, Steve Ellis, Dorian Vallejo, Eric Bouffard, Eric Wilkerson, and many others.  We would socialize a little between the breaks, but always we were there to hone our craft and get lost in the focus upon the model and mark making.  It was a great way to wind down from a long day the studio.
Some of the greatest benefits from these sessions are not just seeing the live model create shapes and dynamic positions you could never have imagined, but seeing various body types soft, ripped, fat, thin, as well as discovering amazing models which were available to help on commercial projects.  Minerva is very demanding in her model select thus you wind up with some of the greatest characters New York has to offer!
Minerva Durham
Minerva runs a tight ship, no talking, cell phone use, etc.  It is all about drawing, and for that reason I love it.  When I am in that seat, sharpening pencils, preparing my board, you forget about nearly everything else, focusing on the moment the model steps up to pose.  All is forgotten as you race your pencil across the paper attempting the capture the greatest amount of golden morsels the model is providing your eyes.  It is like a bounty of a thousand gifts cascading down at you, while you only have two hands to scoop what you may into your arms all in a single minute before the timer beeps!
This kind of timely pressure has been an enormous factor in how I have been able to drive my career forward.  I do not have time to fuss over every choice, detail and possible mark.  The pressures of life drawing instill a bravado, confidence, and coordination which are the attributes of a successful artist.  Yes marks go astray, and yes you miss that amazing highlight, that wonderful curve to the leg or the weight of the ball of the foot on the floor, but you captured something out of that pose, and that keeps you moving forward.
I think that has been my greatest lesson, that you do not try to get it all in one image.  You never can.  The choices required to focus upon one trait in a work of art requires that other aspects be sacrificed.  To make something shine, another part needs to be darkened.  And the best way to make those decisions is to practice.  And practice more.
So, break out your pencils/pens/brushes/tools and get lost in those moments that connect you to the passions that drove you to where you are now.  Make some art and learn and grow!
Spring Street Studio
64 Spring Street 
New York, NY
212-226-7240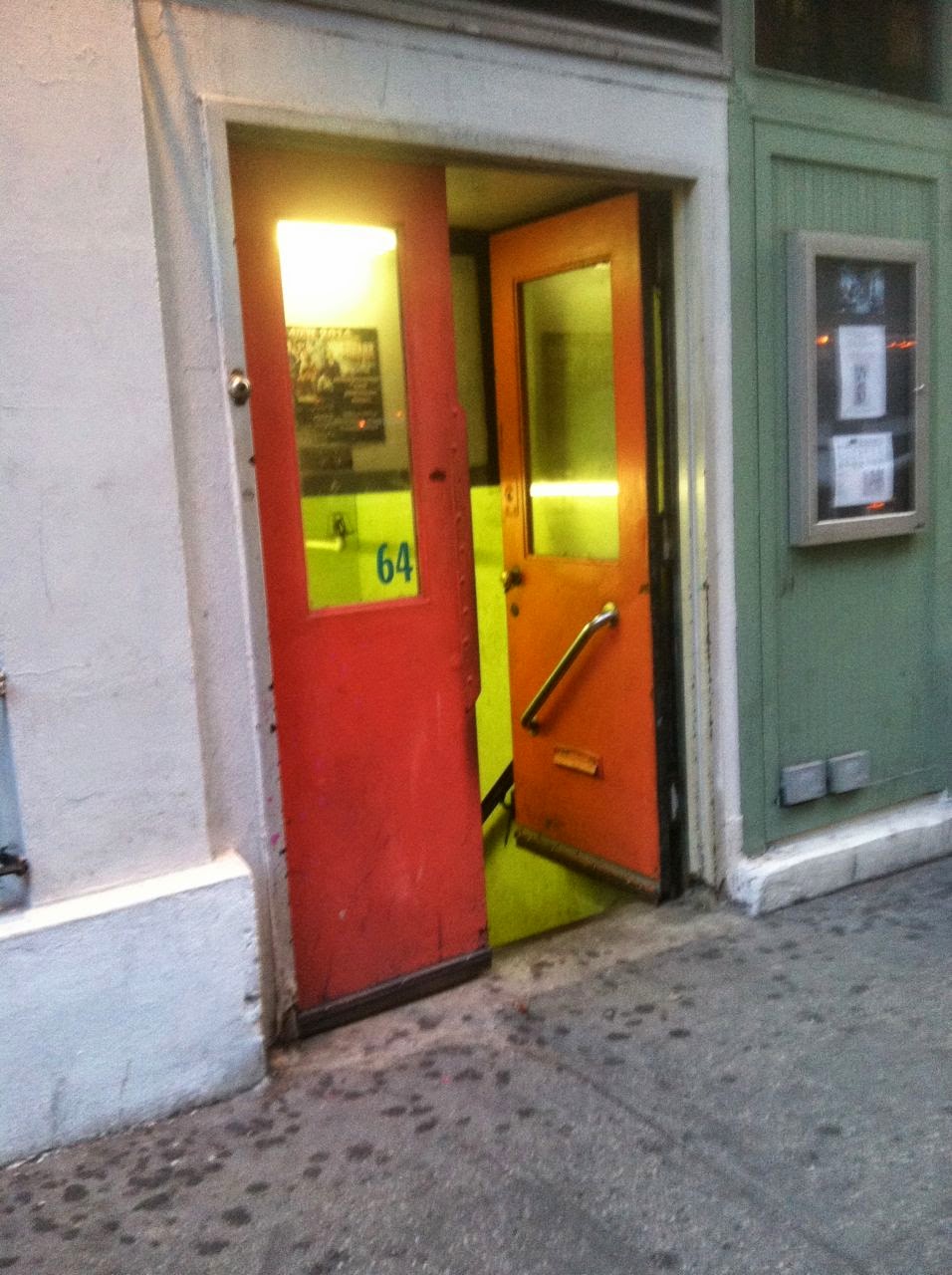 Through that unassuming red door at 64 Spring Street…
Scores of great drawing reference tomes line the walls.
Lastly at the end of the drawing sessions we would all head over to grab a slice of Pizza and  close down the joint as we talked shop, art and life into the late evening hours in SOHO…The Pizza shop is still there after 15 years, but our culinary choices in Spring Street have skyrocketed to include crepes, dessert/coffee shops, french and middle-eastern dining to name a few!