Kelley Hensing    Revenge of the Wild  oil on panel

 This Saturday will see the opening at Last Rites Gallery of a wonderful new body of work from painter Kelley Hensing, The Animal Within.  Kelley's work opens a dialog between humanity and the natural world and raises the questions, are we natures caretaker or its destroyer?  Are we one with the world or living a life disconnected?  There is a wonderful and powerful play of imagery in these works which leaves the questions unanswered.  Truth is in the eye of the beholder and the part we play is indeed left to our individual intent and actions.
Kelley's imagery blends together dynamic figuration with renderings of the natural world.  Her careful consideration of imagery selected to resonate with the custom, found frames for each oil painting adds to the mystic and beauty of the objects as art, and speaks to her high degree of craftsmanship and detail.  Care exhibited in her craft is mirrored in the passion in the content of her work.
Kelley shares her thoughts below:
I consider myself a lover of nature. To explore a forest, to watch wild animals in their environments, and to admire their uniqueness, reflects our origins as humans and inspires in me a sense of divine mystery. At the same time, I see how we dominate these beautiful things and put them to personal use. We've altered animals to serve us, we mow down entire landscapes to enable more humans to thrive.  In the process we often distort and cripple nature in our wake.  Because I'm not the one personally doing these things I somehow feel exonerated, but this is the big red curtain that feels more comfortable left in place.   I enjoy meat almost every day without connecting with where it came from or how it got to my table.  I allow someone else to birth hoards of animals and to do the slaughter for me. Yet I recoil at the thought of killing something, and donate money to save pets that have no homes.  For myself and many of us this is an unintended hypocrisy, and in defense of being human we have a right to thrive.  Yet now that we've become experts in human survival, I feel it's vital for the long-term existence of ourselves and the plants and animals around us that we begin rekindling a true reverence for the natural world.  The best way I know how to communicate this is through my artwork. 
I recall a moment a few years ago where a pigeon was fanned out in death against some pebbles.  The combination of beauty and decay was distinct, fascinating.  I took it's picture.  Death must have been invisible to me before, because now these dead and dying birds began showing up on my radar.  I started documenting them.  I found one under an overpass that someone had swaddled in paper towels. Another was half alive and half buried in leaves in a gutter.  A good number of the deceased were indirectly donated by Mitsou the cat.  It occurred to me, while these birds were experiencing their final moments of life, most of us living were walking right by, unaware that a solitary ending was taking place.  This began suggesting all sorts of tangents about death to me, both in a personal way and in the view of the human experience as a whole.  Will someone be around to care when it's my time?  I wonder if it will be violent or peaceful?  Does anything happen after that?  Birds are a seemingly universal symbol for the human spirit, so as I amassed my somewhat morbid collection, the artist in me began searching for ways to turn this into art.  The appropriate place turned up when I found a way of merging the bird portraits with a related concept I'd been waiting to create of a divine death tree. The result is "The Tree Where the Birds Go To Die".
The Animal Within
November 22- December 27th, 2014
Opening reception with the Artist, Saturday November 22, 7-11pm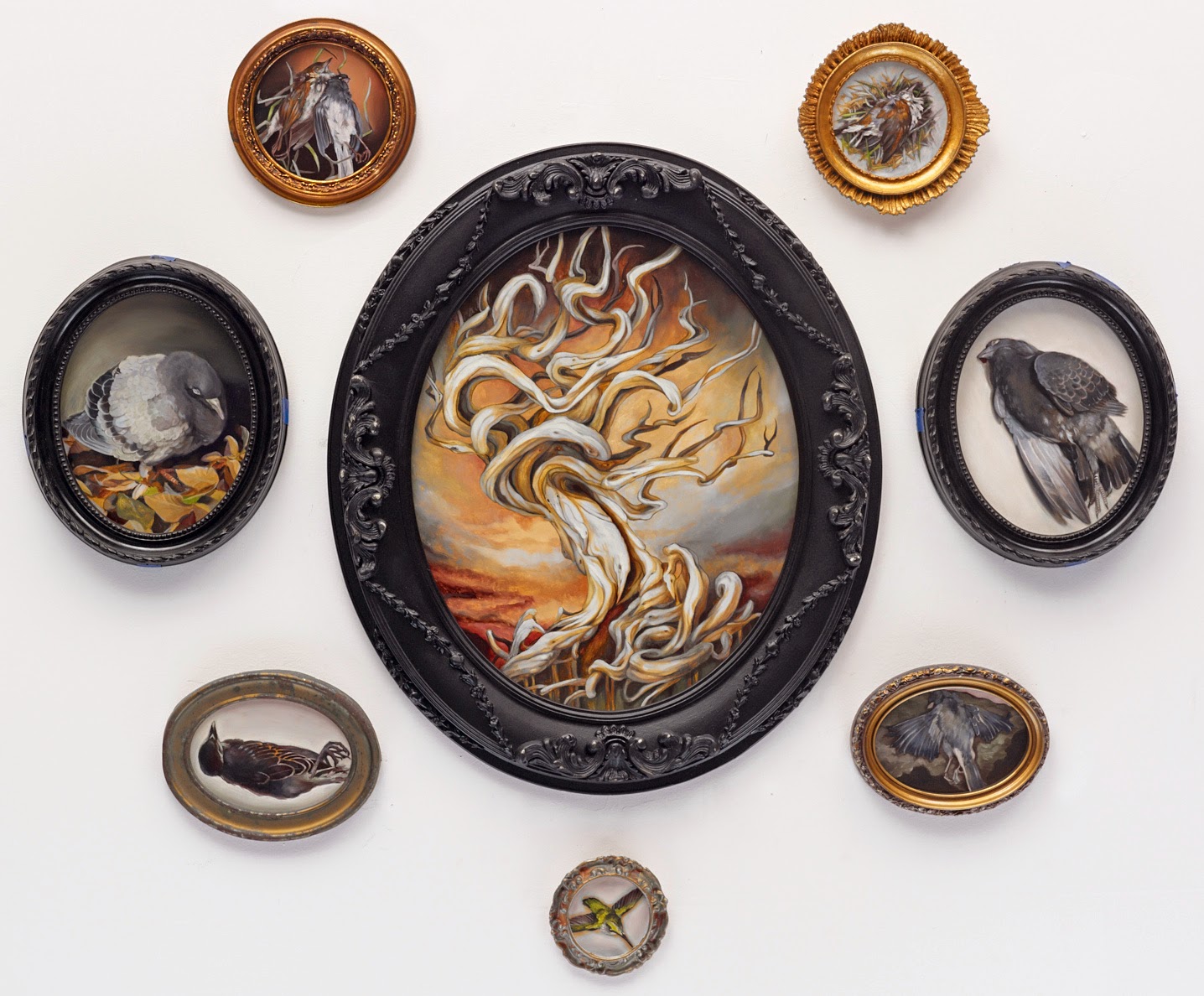 The Tree Where the Birds Go To Die   Kelley Hensing  oil on panel
Kelley Hensing    Paradox    oil on panel

Kelley Hensing      The Venus Twins       graphite drawing
Kelley Hensing    Parcae- Three Fates   oil on panel