by Greg Ruth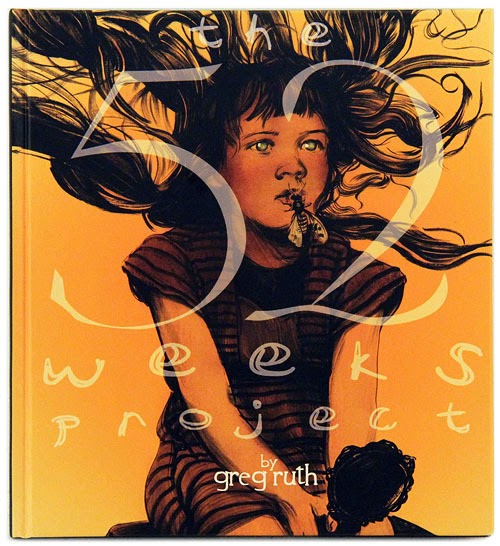 Well as is usually the case when I am absolutely inundate with work and see no light at the end of the deadline tunnel… I decide it's a great time to dust off the old weekly drawing assignment and codify playing hooky into a tangible act of making drawings that no one is asking for. 
To this I began the new arc with a series of portraits of ancient Egyptian Pharaonic Mummies, entitled mysteriously as MUMMIES. The inspiration actually derived from my having done a series of portraits of Boris Karloff's rendition seminal Universal Monster classic, The Mummy, and on the fun of that series decided to attack real and actual mummies. I've always had a secret desire to be an archaeologist and have been fascinated with the Pharaoh's obsessiveness with eternal life in mummy form. They have more than achieved a real level of immortality with these though not quite as they may have envisioned. SO these are a series of portraits of their afterlife as it is as opposed to how they may have imagined it to be. They have in all truth become eternal, but not necessarily retained even their humanity int he process that led them to this lower station. They are in fact objects, the mummy has taken over the person it's meant to preserve and like Karloff's, have no arisen as a whole new thing. Not so much a creature but as a relic and a physical expression of the epoch long desire to not only cheat death, but to conquer it. In many ways they have. 
Here below are the ones so far executed. To view the series and learn a bit more about them, please visit their home on my website,
here
: 
Any interest in purchasing remaining portraits can and will be found
here
.
Each original drawing comes with a free, signed copy of THE 52 WEEKS PROJECT book, with a forward by Ethan Hawke. 
RAMESES II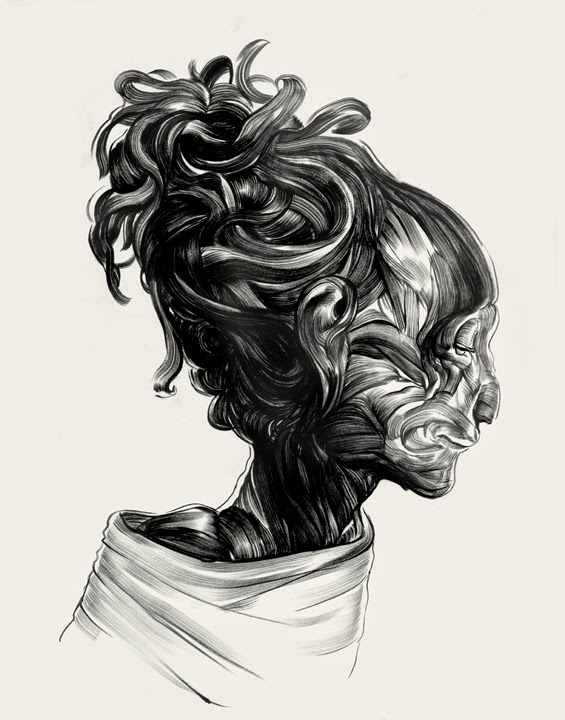 QUEEN TIYE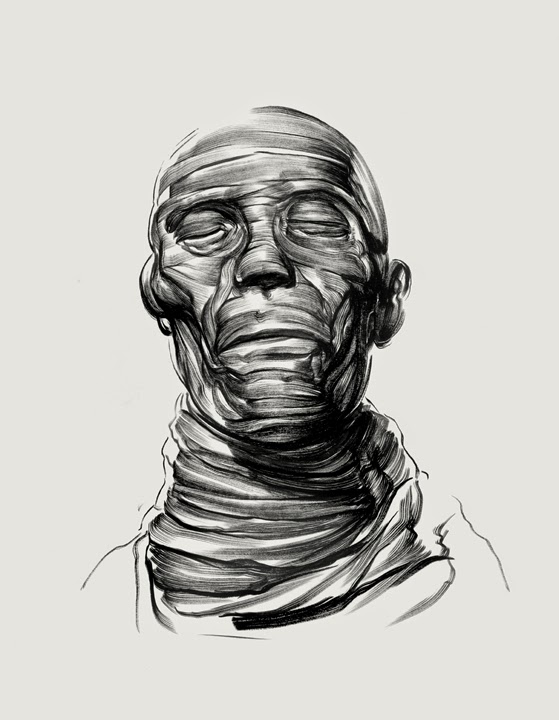 AKHENATEN
And before that series was even completed, I have decided to embrace the idea of a similar series of portraits of mythical deities from all over the world in a forthcoming series under The 52 Weeks Project banner, GODS. I managed to, in between edits for a pair of cover jobs, make a first trial portrait to see if employing my newfound graphite process into something that can be executed swiftly. It certainly lacks the general speed of the sumi work, and the immediacy of those drawings, but take on a kind of etheral quality I think might just be perfect for this series. Here's the first trial balloon of that series due to kick off this summer after INDEH is locked and finished. 
Frankly and in all honesty, this was far too much fun to do and I'm certain more will sneak into the schedule before it's actual launch date simply because the rules and ethos of the 52 Weeks Project remains as viable as ever- playing hooky like this actually makes the work it's aimed at avoiding better and the entire process of making art professionally a total joy. It reminds me why I started down this looney path to begin with. 
To see the final and purchase it before the series launches, please got to
HERE
. 
Each original drawing comes with a free, signed copy of THE 52 WEEKS PROJECT book, with a forward by Ethan Hawke. 
MACHA in progress
MACHA- Irish Goddess of horse and war final. (Graphite on paper)
As of this posting I am already down in NYC prepping for the 2015 MoCCA Arts fest, so if you're in the NYC area, please stop by and say hello!