Part of the faculty: Mike Mignola, Greg Ruth, Scott Fischer, Dan DosSantos, Brad Kunkle, Irene Gallo, and Rebecca Leveille Guay
Our 8th year of IMC and we're off to a great start. Not even halfway through the week and already students are starting to paint. Yesterday was a long, drawn (sorry) out day of thumbnail critique here on the campus of Amherst College in Massachusetts.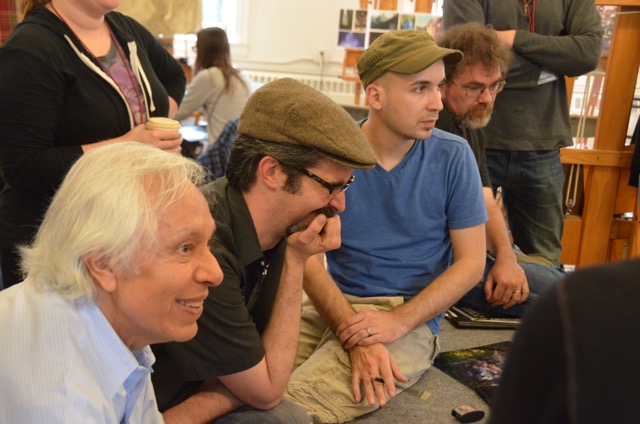 Pouring over students' initial thumbnail sketches
The first day is always long and everyone, including instructors, are working at top levels. Other days fly between hours of work and short breaks for lectures of all types: composition, value, color, technique, etc.
Getting to work…with lots of instructor input….
By today, I've given my basic composition lecture; Scott Fisher gave a lecture on his work and his multiple styles; Irene Gallo spoke about her Color posts on Facebook; James Gurney lectured on studying and using color; I gave a quick demo on tracing and drawing from projection, and last night, Dan DosSantos did a quick and beautiful demo using colored pencils and paint. More visiting artists are arriving each day with new lectures.
Talking about painting with my friend, James Gurney
Returning students are excited to be back and new students are getting their feet wet over the methods and camaraderie that Rebecca Leveille Guay has developed here. All the instructors are commenting on how skills keep rising overall every year and we're just as eager to watch all the ideas grow to finished paintings by week's end.
Tripling up instructors for one thumbnail review….
Dan DosSantos in his prime during an evening demo
I go home each time with renewed energy for my own work and the positive dynamics that the entire field will feel from this unique gathering of artists. If you've never been here, consider joining us sometime.