Many of you are familiar with the tradition of the MicroVisions show, curated by Dan Dos Santos, Irene Gallo, & Greg Manchess. Every year, a number of artists created and donated small originals to be auctioned off to benefit the Society of Illustrators Student Scholarship Fund. Over the many years that MicroVisions was held, it raised over $30,000 for the scholarship.
It's no secret that the MicroVisions show was part of the inspiration for Every Day Original, so Marc Scheff & I were especially honored when Irene, Dan, & Greg stepped down and asked us if we would take over the show. We were honored and excited, but also mildly terrified. Big shoes to fill.
We decided it wouldn't be right to just assume the name MicroVisions—it needed to be retired with honor. So we brainstormed a lot of ideas, and came up with a name that was new, but also felt related to the MicroVisions name. We came up with the name "Visionarium", and a logo—both of which, we felt, spoke to the fantasy illustration roots of the show, but left room for a wider group of artists.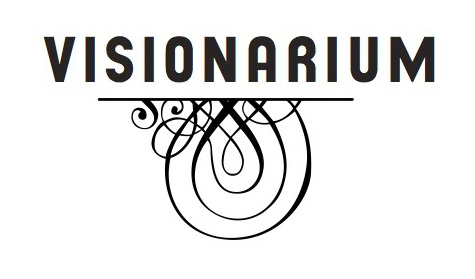 Curation and Art Direction are related, but very different. As Marc put it, an AD works at your target, and a Curator has to find it for you. In other words, as an Art Director, we have to give someone's idea to an artist to interpret. When curating, you're giving the artist only the barest of perimeters, and then pushing them to come up with their own ideas. We didn't have an assignment, this was one of those dreaded "whatever you want" situations. Personal work has a huge part to play in a show like this, because we to pick people who show dedication to their own growth outside of "work."
We want to thank all the artists who donated works, when their schedules are so overburdened. We appreciate that they didn't delete our emails initially because they were too busy—and we especially appreciate each and every piece of work that came in, because they are all magnificent! The internet doesn't do them justice, trust me.
The auctions are live now on ebay. They end October 7th. Bid now, and know that not only are you winning a gorgeous piece of art, you're also helping out a very good cause. And you can download hi-res images here.

The history of the Student Scholarship is an impressive one. Since its inception, it has bestowed over one million dollars to the award winners. A Jury of professional peers, including illustrators and art directors, review approximately 8,000 entries every year. From this selection the jury reconvenes to review the original paintings and honor select pieces with cash awards. Illustrators who have been featured in the show have gone on to become some of the field's brightest stars.