If you have been following my work, you know that have done a variety of fantasy/sci-fi illustration but also some religious work.  I have been wanting to add to that and do work that is more symbolic and even tackle some mythological subjects.
In addition, I have been very inspired by the lectures Micah Christensen has been giving here locally (Utah).  I posted about them a couple weeks ago here on Muddy Colors – Exceptional Art History.
I have also come across some wonderful sets of wings, from various birds and have been itching to put them to use.
Here are some of the shots of the wings.  In this case, from a duck, specifically a gadwall.  Absolutely gorgeous wings.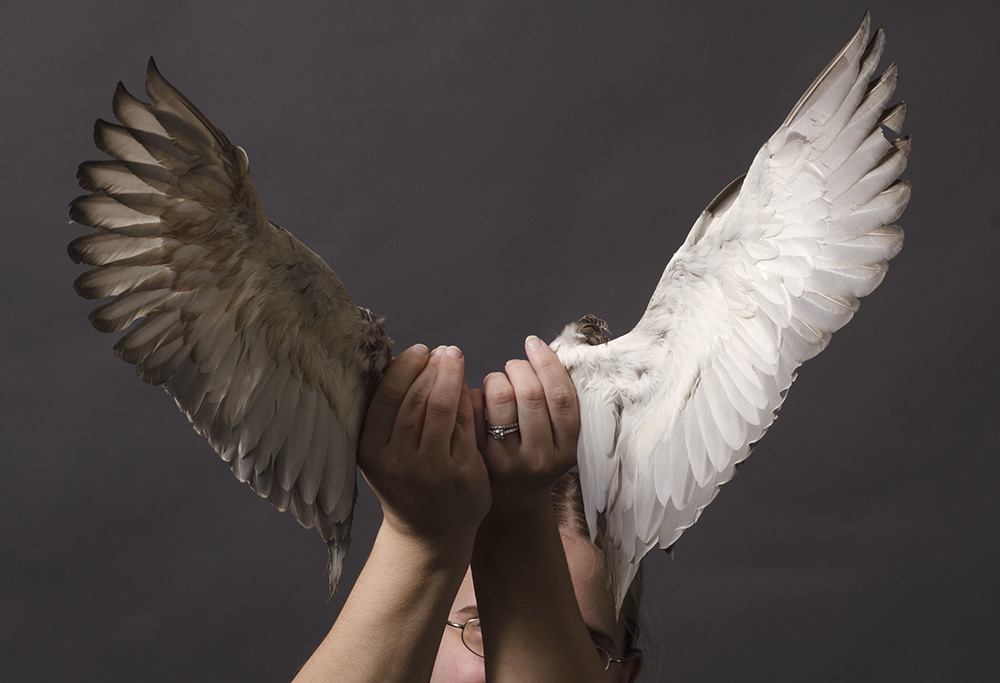 My friend, Kaitlund Zupanic helped me find the wings and also posed them for me while I was behind the camera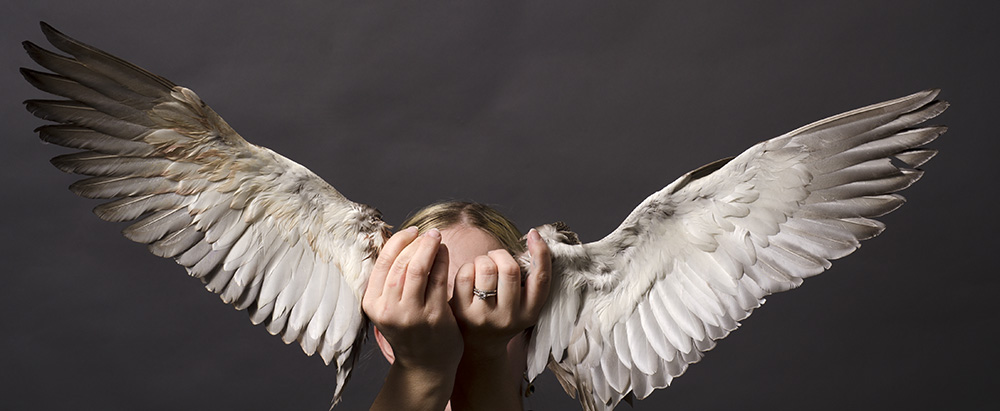 How could you not want to paint an angel, or pegasus… or just the wings by themselves?  Beautiful.
I knew that getting the right pose, with the sense of floating or flying would be tricky and most likely work best by compositing multiple photos together.
My patient wife, Shari, was once again thrown into the breach to pose for me.
Thank you Aragorn, for lending your sword!
 Wind machine, check.  Beautiful costume, check.  Gorgeous and willing model/wife, check!
Now to try and get some Bernini/Rubens fabric to work from.
I loved the twists and structure of the fabric as it piled up.
Lastly, the crown of laurels (some plastic leaves sprayed gold) for Truth to claim.
With reference gathered, I then composited them together in Photoshop so that I would have a cohesive idea to work from and do my final drawing.
I also shot a time-lapse of the oil painting process.  It jumps around a bit, sorry about that.  It makes it a little jarring at times, but hopefully there are enough stable parts to make it useful, or at least interesting.
[youtube=https://www.youtube.com/watch?v=wlkGal_AQP8&w=600&h=400]
Here is a still of the final painting.  I have yet to get a good color balanced image of it.  It went from my studio to a salon jury so I won't have it back until July.
And in a gorgeous gold leafed Florentine style frame made by Masterworks Frames.
I was fortunate enough to have the piece accepted into the long running Springville Museum of Art Spring Salon.  This is the 92nd year it has been going on!  It is a real highlight of the year for me so far to have a painting accepted.  If you are in Utah, or passing through, stop into the Museum and have a look at it and the amazing Russian art collection inside.
The first salon was in 1922.  John Singer Sargent was still alive and Norman Rockwell was just 28 years old.  I love that it has a history like that.  Expect a post in the near future on the Salon and some of the works accepted this year.
Thank you,
Howard Lyon