by Cory Godbey
Valentines Day? No sir, today is The Wind in the Willows Day!
At long last David Petersen's new, richly illustrated edition of the Kenneth Grahame classic is now available.
This is an astonishingly beautiful collection. The book has been a labor of love for David over the last couple years and across the 70 illustrations I think you'll see that love for rivers, cottages, and wild places pouring from the book.
David Petersen (of Mouse Guard fame) is a New York Times best selling artist and writer as well as a Spectrum, Eisner, and Harvey Award winner. I reached out to him to get a little insight into this project.
Tell me a little about your history with the story. What led to this project? 
The Wind in the Willows is one of those books I wanted to take a shot at illustrating before I died. I was aware of the story as a kid, and I think in high-school I even acquired the Cosgrove Hall stop-motion animated series on VHS, but it wasn't until I was in college that I read it. My Dad gave it to me as a Christmas gift knowing how much I still enjoyed animal stories. I read it over the break, home from school and was enchanted. When my wife Julia and I were dating, I read it to her aloud, doing my best to imitate the voices of the characters as I imagined they sounded in my head. IDW approached me saying that they wanted to publish some classic prose stories and use their contacts of comic artists to illustrate them. They'd thought The Wind in the Willows was the right fit for me and I couldn't have agreed more. This was my chance to illustrate it.
Did your process differ much from Mouse Guard? If so, in what ways? 
It differed in some ways and similar in others. The most obvious differences being that story was already written, and I had to go though and pick certain elements to illustrate as one single image, instead of telling an narrative with panels showing all the moments of a story. A less obvious difference was the amount of added texture and tonal value I wanted to add with line. But, just like Mouse Guard, I used the same process of doing traditional sketches that I'd resize and adjust digitally before printing out and inking traditionally on a lightbox. I also fell into my habit of making models of some of the architectural locations, furniture, and vehicles (though not Toad's motor car… I purchased a die cast model for that reference). 
How was it stepping into such a well loved (and well illustrated) story? What particular challenges did the book bring to the table? 
Several! Dealing with some of the size/scale issues presented in the book with animals who sometimes seem the size of animals and at others the sizes of human children was a trick, but the two biggest challenges were deciding what to illustrate (or what I'd have to pass on) and living in the shadow of every amazing Willows illustrator who came before me. IDW and I agreed on 70 illustrations (20 color, 50 black and white) partly for space in the book, partly for keeping the project scale manageable on my end, and it was very hard to still not illustrate some key moments in that count. And the list of folks like E.H. Shepard, Arthur Rackham, Inga Moore, Robert Ingpen, and many many others made it difficult to feel like I was bringing something new and worth saying visually to the illustrations of this book. In many cases, I'd draw something very close to one of their illustrations (Shepard's most often) and then force myself to adjust, draw the characters from another angle, get closer or further away from them, show the scene a second prior or after… and I'd come up with an inferior illustration and revert back to just doing my best to add my own voice to a classic layout of someone else's. 
Out of the entire collection can you pick a favorite image? Maybe that's an impossible question to answer. Which piece was the most satisfying or rewarding?
That is difficult. I really like some of the ending scenes with all four of the main characters geared up ready to take back Toad Hall (they were the first ones I envisioned when accepting the project) but a subtle one that I'm very proud of is the moment inside a tree hollow when Mole has gotten lost in the Wild Wood and Rat has come to rescue him. I'd mis-read the passage initially and was sketching out both characters sleeping in the hollow in a pile of dead leaves, but then found that Rat stays awake with his pistols drawn standing guard over Mole so the poor creature can get some rest. It changed the meaning of the illustration and helped me get into a better drawing for it. In the end, I also feel like it's one of the most 'David Petersen' pieces in the whole book.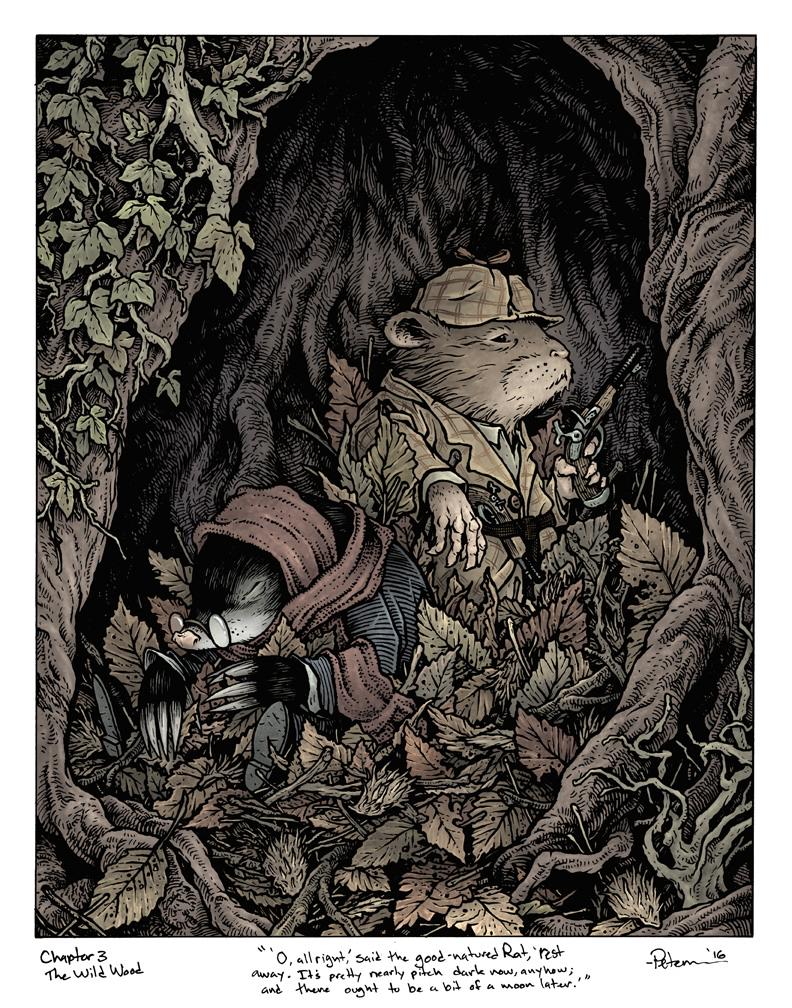 Ok! Favorite character question in two parts: favorite character to draw and with whom do you most identify?
Even this is a hard question. Badger was fun to draw at first, but found him a challenge to draw in various angles. Mole the same thing, foreshortening his shape of snout along with his black fur meant that I was limited if I wanted him to be readable. Toad was hard to keep consistent and I think he changes throughout the book. And Rat was also a challenge because he's not a 'rat' but a water vole… and it's easy to make that look odd or wrong. I guess I enjoyed drawing Badger the most. But Toad was a close second. Identify with? I think there is a slice of each in me… more Toad than I'd like, but enough of the rest to balance him out so that I'm not unbearable. 
Lastly, where can people find you online?
_____________________________________________
One final note that I wanted to add, David is releasing many of the originals from the book today as well! You can peruse the entire collection
here
.