After returning from Zion and getting back to work painting, I'm definitely seeing the influence of the textures in the surroundings in Zion in my latest work. I did do some studies of the textures of some dry, trampled leaves I had picked up from the trails, and a couple pencil sketches from memory of the experience, influenced by the strata in the rocks and mountains, the twisting trees along the trails, and by little dried weeds that were broken off and in the path that I picked up and stowed in my sketchbook, as well as some sketches in the field with my group from Legendeer.
graphite drawing with a dry weed pressed in my sketchbook
ink wash on yupo paper, with dry, trampled leaves
I'm influenced a lot by texture in nature, and I think that shows in my work. My influence comes out not necessarily always by having only done literal studies of the landscape and small objects in my surroundings, but also by allowing the experience to affect all of my senses, and to take note of that as well. So, much of the texture studies I do are based on how it feels to me and not only by observing what I see. I've posted many of my texture and mark-making experiments in past articles here on Muddy Colors, and it's pretty apparent in my finished work as well.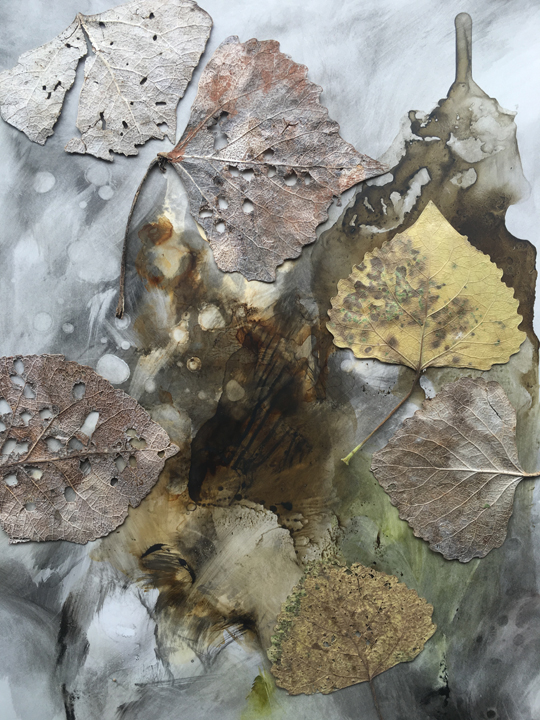 ink wash on yupo paper with dry leaves
mixed media abstract sketch on site in Zion – the massive cliffs/rocks on the left were the reference (note the tiny humans)
In the recent trip to Zion, the weather was hot and dry during the day, and the elevation was upwards of 5-6000 ft. or so depending on where we were. Much of the time we were hiking on the trails, there were long intervals of sun exposure and then occasional areas of shade which were notably cooler. As we were walking, I'd reach out many times to run my fingers and hands across the surface of the rocks and walls of the hillsides we walked through. Much of the landscape is sandstone there, and the surface was also notably different in temperature depending on the sun or shade. From a distance, the texture was jagged and angular, with distinct layering of sediment. Up close, the layers and angles provided steps and crags to climb. There were canyons to rappel into, and large expanses of mesas to view from overlook areas reached by uphill hikes. There was distinct vegetation that grows and survives there, the Virgin River was high at the time and was winding through areas we hiked, while small waterfalls spilled from the cliffs above our heads and over us, and there was even a short rainfall when we were there. In my opinion, there's no way that the experience could be separate from the observation.
a few pics from Zion, and one of my latest WIPs on the easel currently (cropped)
Much of the time we'd stop to take breaks and sketch for a while, the surroundings were relatively calm and peaceful. There were many other hikers on the trails, so that was all a part of the experience as well, and of course the friends we hiked with in our groups were there too. I personally had 3 separate sightings of Bighorn Sheep, and these were some my favorite memories from the whole experience. They are fascinating animals, with ridged horns that seem almost too heavy for their head. They're majestic and odd/neat-looking, and can stand on steep gradients with ease. There was also a large moth who made an impression on me after hanging out under a light in a corridor at our basecamp for a few days straight. I felt like this was a sign of some sort that I'm still taking heed to, but has influenced a recent redux on one of my pages in my kells transformation sketchbook (the last page to finish up! But currently still a WIP because of other work taking precedence).
I made some additions to one of the pages of my kells transformation sketchbook, influenced by the Zion trip (WIP)
The few images and sketches I've shown here in this article are from just a short moment in time relative to my otherwise much longer life span. The influence of nature on me has been there since I can remember, and will always remain an influence on me and the work I produce in the future. And it's the experience in its entirety – being immersed in it – that influences the marks and textures and images I create, from the literal recording from observation to mood and emotional content.
I have a huge amount of photos of clouds I've taken over the years, but my preference is still to sit and watch them in person
I also am very influenced by all types of water – especially the movement and sound of water
For me, the experience mostly comes out in the form of a memory and a feeling based on all of the above – the impression of what it felt like to be there, as well as what I saw, heard, touched, or smelled (or even tasted). The environments that inspire my work are not always large scale rocks and mountains or trees, but are also often times small details like woodgrain, thorns, rust, cracks in a surface or broken shards of glass.
roots, wood grain, and holes in the rocks at the cove
fragments of an abandoned building, tools in the shed, and an imprint of springs in an old leather chair at a restaurant
paths burrowed in wood by critters, a cocoon stage of a transformation I had the pleasure of witnessing from caterpillar to butterfly
Many of the influences I experience in nature are influenced by the mood created by light or weather, by movement and sound, and anything else that's playing a role in that present moment, including my own mood and perception. They are not always organic, but are manmade, urban, and dilapidated as well.
fog in the canyon where I walk in the mornings, the beach close by, and storm clouds rolling in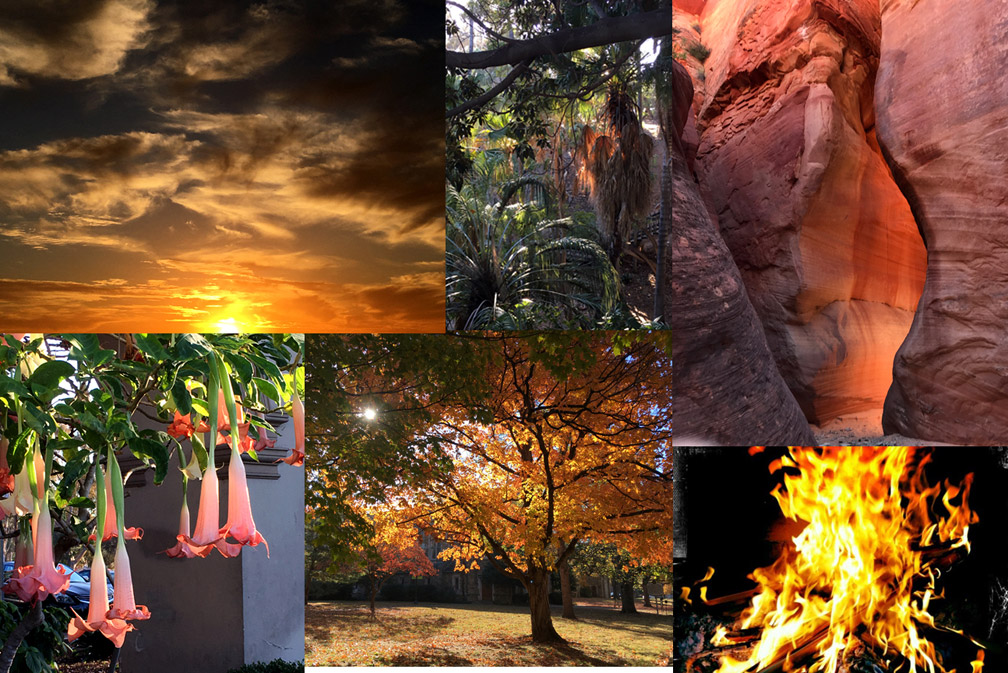 many times, I'm captivated by the light in all types of environments (interiors as well)
close-ups clockwise from top left – a succulent, a catcus, fried fish at a sushi restaurant, and paint on the palette
The inspiration is pretty much endless, but one thing is required – that I get out and experience it first-hand. That's how the inspiration ends up in my work. By truly being embedded in the experience – by being there and being present while having the experience. As artists, each of us are the filter through/by which our work is processed, and our experiences play a big part in what gets filtered through and out onto the page.
beer and rust
dew on the grass and reflections on the oily surface of a friend's coffee at a cafe
sunset, oak trees, and roots at the edge of a creek – Oak trees are a big influence on me, their imagery, as well as climbing in them as a kid, and adventuring in the oak fields at the river
What types of things in your environment influence your work?
BOOM (at an air show)