One of the things that I was hoping for when I was invited to be a part of the MC staff was to, every once in a while, share the work of artists from my corner of the world; namely, Argentina.
While there are many argentine artists working for the US and European market, I thought it would be more interesting to showcase the work of those who, by working mainly for the local market, might not get much exposure outside the region.
Such is the case of Sebastián Dufour, and for those of you who didn't know his work, you're very welcome.
Sebastián works as an illustrator for local magazines and newspapers, and I became obsessed with his work since I saw it for the first time, many years ago.
Why did I became obsessed? Well, despite the obvious quality of his work, what struck me the most (and still does) is how he manages to boil down the information to the minimum possible detail.
This is especially remarkable when doing portraits, where he manages to get a likeness with just a few strokes.
John Lennon.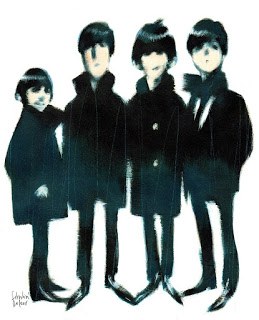 The Beatles.
Pete Townshend, from "The Who".
Writer Gabriel Garcia Marquez.
Often times, his work takes an almost abstract quality.
From the book "Samurai"
Published by Taeda, 2008.
From the book "Samurai"
Published by Taeda, 2008.
And of course, there's the textures, those wonderful textures…
Sebastian's work has a very unique voice that I thought was worth sharing, hoping that it would inspire you, the same way it inspires me.
As a bonus, here's a video of Sebastián painting a mural inspired in the Disney's animated movie Moana.
[youtube=https://www.youtube.com/watch?v=BBoCnFPxqoU&w=320&h=266]
To see more of Sebastian's artwork, you can go here
Or you can follow him on Instagram.