After years of holding out, I finally picked up an iPad pro late last year. Since then, I've found myself steadily using it more and more. Really impressed with the fidelity and precision of the apple pencil. As an artist who's worked digitally for almost 20 years, the simplicity of the iPad set up feels like a significant step forward in terms of digital sketching.
Ive been using mostly the Procreate drawing app. the drawing tools in particular feel great and behave how you'd want them to with few unexpected surprises. Its also cool how you can keep the app open and quickly load different files in a way that feels very similar to thumbing through a sketchbook.
I've seen some illustrators produce some insanely finished stuff on an iPad. To be honest I haven't taken anything into the realm of "finished" illustration, and I'm not sure if I ever could, but for thumbnailing ideas and quick life sketching its kind of becoming my go-to for farting out ideas.
Heres a little thumbnail sketch I did recently in procreate for a larger painting I'm preparing to start. Probably spent all of 15-20 minutes on this but it helped me lock down the placement of the major elements and general lighting/color scheme. Based off of this, I was able to shoot photos of everything and rough together a comp i can work from.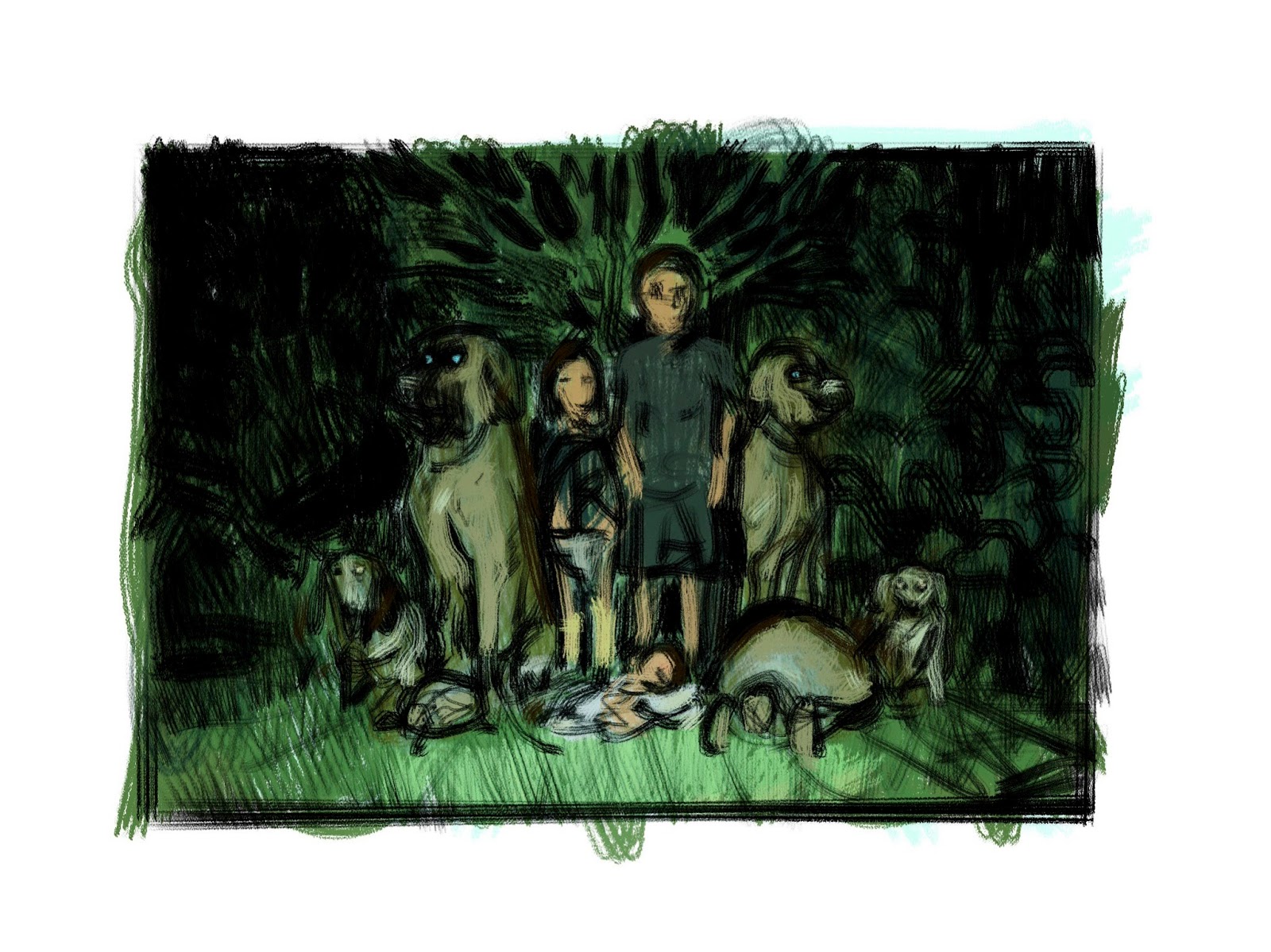 We've had a few new additions to our household over the past year so I figured it made sense to paint a new group portrait for our living room. Preparing to paint a 4×6 foot panel of this, which will probably keep me busy in-between work for the next few months. Excited to start on it. Aiming to break ground on it this weekend and hopefully ill be able to share an update on it next post I make.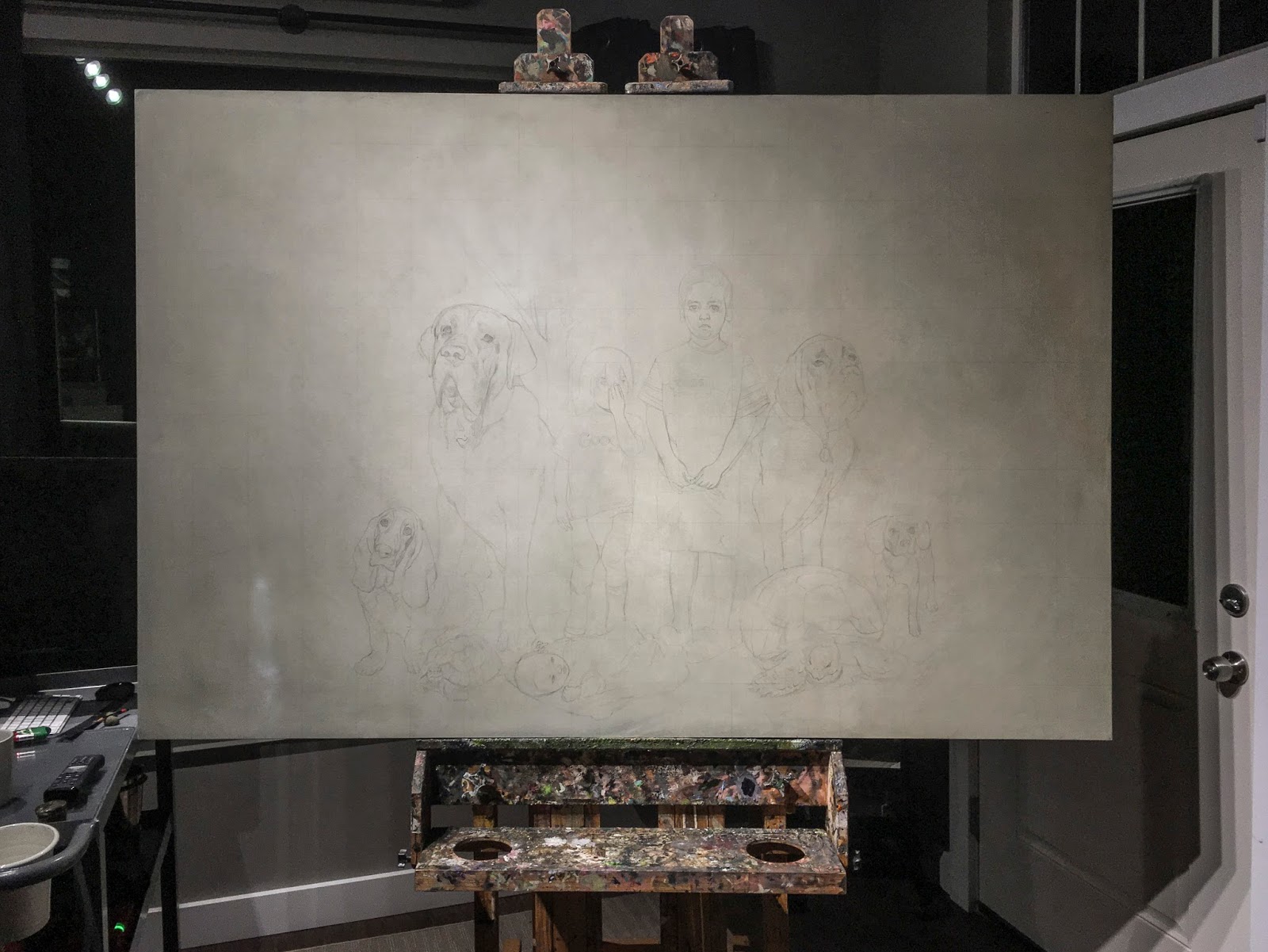 Another feature I absolutely love in Procreate is that you can set it to record a time-lapse of you're drawing. not only is this cool because you can go back and review your own process, but the accessibility and ease of use with this feature has a lot of potential as a learning tool for artists to share their approaches with each other. here are a few little recordings of random sketches I've uploaded to the youtube.
[youtube=https://www.youtube.com/watch?v=rUNr7JkJNqM&w=640&h=480]
[youtube=https://www.youtube.com/watch?v=C3cITTZUjeQ&w=640&h=480]
[youtube=https://www.youtube.com/watch?v=UDW4fM3nnwM&w=640&h=480]
I was also able to use if for a gig recently. A little while back, I recorded a series of drawings for my friend Aesop Rock's music video. He and the video director came up with a list of stuff for me to draw. I got to work, setting aside some time each evening to sit down on the couch and pick away at it. Took a couple of weeks and a lot of second guessing on my end, but when I was done, I uploaded the movies to the video Director, Rob Shaw, who took them and masterfully composited them into some footage of Aes he'd shot. They wanted it to kind of feel like a sketchbook of ideas materializing around him so I did lots of quicker stuff, some more detailed sketches and a fairly finished portrait of Camu Tao, who he wrote the song about.
[youtube=https://www.youtube.com/watch?v=lwoyo0Rt4Bw&w=640&h=480]
This process was much more low-impact than a music video id worked on for him about 5 years prior, where we did some similar time-lapse painting. Biggest difference being that time it was using spray paint on a wall and filmed over the course of one long day. I was sore for like a week after all that jumping, squatting and running around!
[youtube=https://www.youtube.com/watch?v=Dbd4h1kaFlY&w=640&h=480]
While an ipad and pencil setup is a little bit on the pricey side, id still recommend it to anyone looking for a quality digital drawing set up.