The Lady of Haschisch
I've been a fan of Santiago Caruso's work for more than a decade now. I came across his work for the first time when I was 22 years old and, to witness such a talent on a guy my age (we were both born in 1982) was devastating. Completely heartbreaking. I'm 35 now, and I make a living as a full time Illustrator, but every time I see Santiago's beautiful, insightful work, I feel the same I did 13 years ago: Like absolute crap. Come on, you all know the feeling…
Creative Creature – Gouache – 2012
Creative Creature – Detail
For those of you who might not have heard of him, Caruso is a Painter/Illustrator from Buenos Aires, Argentina, and while his work is mainly associated with the dark/horror genre (to narrow it down) he has worked with a wide range of themes through his career, doing pieces that can be found in magazines, Illustrated books, book covers and album covers for several bands across the globe.
I won't bore you with a huge list, but if you want to know exactly which books, which Albums, or which magazines he's illustrated, here's a link to his Curriculum 
What I think is important here, what I think many of you will be happy to know, is the fact that Santiago has recently released a 192 page book, full color, Hardcover, with a selection of his work from the past 15 years. This book is "Materia Oscura – Dark Matter", and it's absolutely beautiful (in a very special and haunting way).
Cover of "Materia Oscura – Dark Matter"
Beside of his works, the book includes a few texts from Santiago himself, both in English and Spanish (Although the content of the book is 90% images). You can take a quick look at the interior pages in this video.
I got the chance to talk a bit with Santiago and here's what he has to say about the book:
Styria – Scratch – 2014
"I wanted to gather all the art that I made for covers and other single projects with my absolute free creations, all together in the same corpus, separately of my other illustrated books, you can find with many artworks. During the process of selection, I find that the book could be a manifest, a new body that represents the work of art I've been doing for 15 years. So the art is not ordered as a catalogue, it is displayed as some kind of poetic thesis, and then the need of the writings intervening the series of images."
Looking at the quality of the book (The paper and printing is impeccable), it's hard to imagine that the book was fund by himself. No crowdfunding, no backup from a publisher.
"As all the thing was a personal creation, I didn't want to call a publisher to release it. The idea, selection, display, design, calibration of color, writing, printing and part of the distribution. I had savings to cover the printing costs, and I used those to avoid the whole complication of crowdfunding."
Styria – Detail
As mentioned above, Santiago has worked with a wide range of themes and genres, but it's worth mentioning that the selection of images in this book includes mostly his darker works.
"Yes, I've started doing children illustration. However, my heart is with the fantastique and decadent symbolism, since I've read Marcel Schwob, Poe, Baudelaire, Rimbaud, and many others. It is literature what ties my step into many territories that show us the fissures of the order we put over reality".
"I believe that the strange perspective that the genre of horror opens in our vision is a key to discuss the order and the corsets of injustice. MATERIA OSCURA – Dark Matter, is about that. The artworks I've been creating talk about that."
Jonas
Album cover for Big John Bates – "From the Bestiary to the Leathering Room"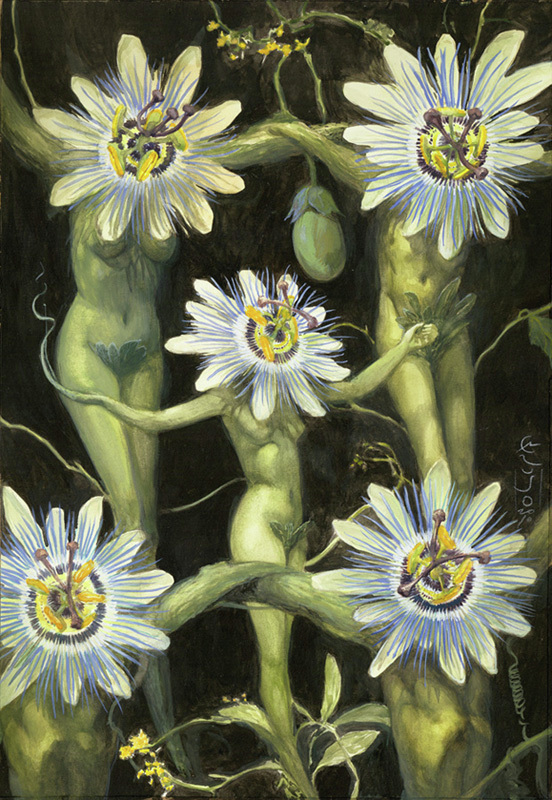 Juventud Pasionaria
One of the think I like the most about Caruso's work is that it doesn't fall in the many clichés of the horror genre. There's always a haunting quality in his images, but never in an obvious way. What is also an unusual choice for a young illustrator is the medium he tends to use the most : The scratching.
"Since 2002 I developed a special mixture of techniques on the line of ink and scratch, washing or scratching with hard brushes, using rags, rubbers, etc. The other line of work, of color schemes, is done with gouache, mostly."
"The technique of ink and scratch offers me the chance to explore the darkness and to use the liquid shapes of the ink to have a background of influence, a space to move into. There, I can extract some things from the dark, and bring them into a style that is related to old engravings, a kind of art I love so much."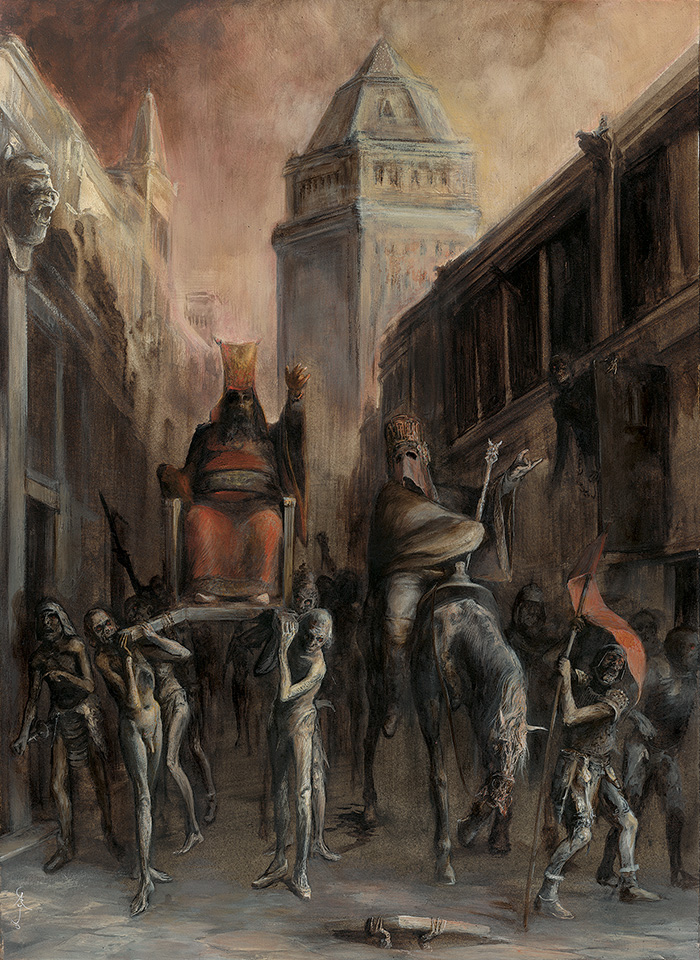 Zottique, Empire of Nigromancers
Sucubo – Sketch
When asked about his influences Santiago states "I think I can mention Kent Williams, Mike Mignola and Quique Alcatena and Jorge Zaffino from comics. Klimt, Mucha, Goya, Kupka, Redon and Nerdrum from painting. I would be satisfied if something from their sensibility and wisdom remains on my artwork"
"Materia Oscura – Dark Matter" is a limited edition of 1000 copies and it's available for purchase here. If you have any questions regarding the shipping costs, you can get in touch with the distributors here. I already have my copy and I strongly recommend you to get yours.
Caruso is one of those artists who seemed to know who he was from a very young age. It's rare to find a young artist with such mature and vast body of work on his back, excellent craftsmanship and such a personal and complex visual language. The guy is 35 years old and has already an artbook with almost 15 years of work!
As a bonus track, and to show you Santiago's range of styles, I'll leave you with a selection of works from when he's not visiting the dark side. Because he's good at that, too.
Mujer al Poder
Lovers
Maleducados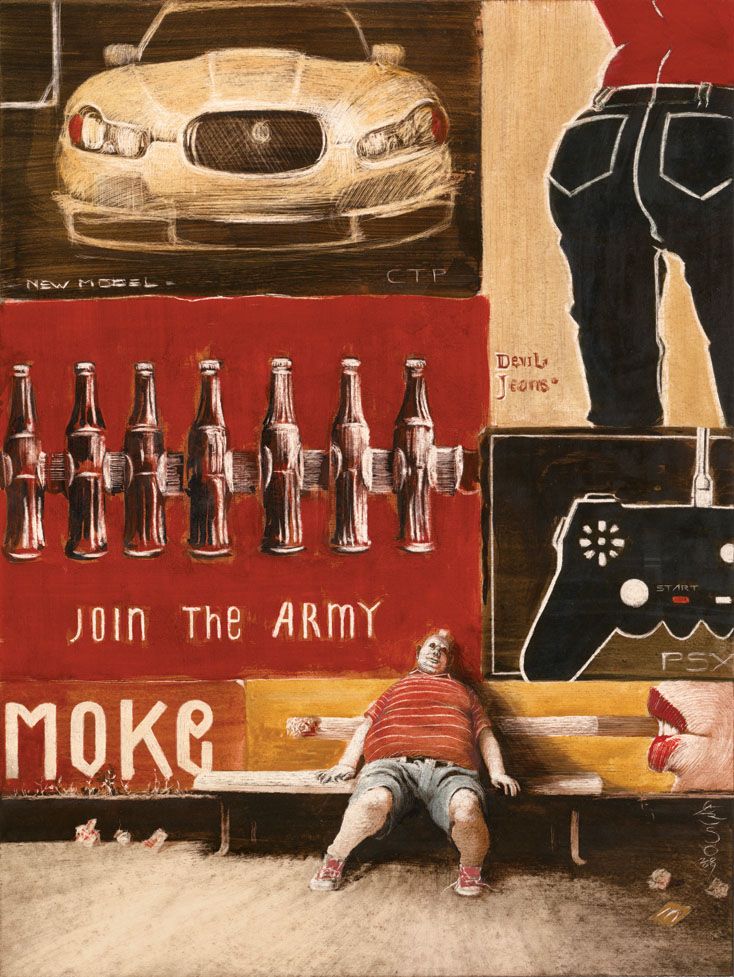 Over the Berlin Wall
Mummification
To get in touch with Santiago Caruso, you can write him at: carusoimago@gmail.com