Helping a young artists get a great start is one of our primary missions here on Muddy Colors, so we are really excited to help promote this amazing opportunity!
The Kevin Workman Foundation was created by three friends, Rene, Paul and Brian, to honor the memory of their late friend, and artist, Kevin Workman. Kevin was a particular fan of comic conventions and an avid exhibitor. So these three friends decided there would be no better way to honor Kevin's memory than to sponsor an aspiring young artist, and provide them with a full booth at San Diego Comic Con, along with badges… totally free!
For those of you who have never exhibited at SDCC, acquiring a booth there is not only insanely difficult, but also really expensive to purchase even if you could get one. And rightfully so, as SDCC remains one of the largest, and most popular pop culture events in all the United States, typically drawing more than 125,000 attendees! Many professional artists have made huge industry connections while exhibiting at this convention.
All you have to do to potentially win this free booth, is go here and apply:
http://www.kevinworkmanfoundation.org/comic-con.html
Seriously… That's it.
No gimmicks. No fees. Just some really good people doing something really nice to remember a friend, and help bolster the community at the same time.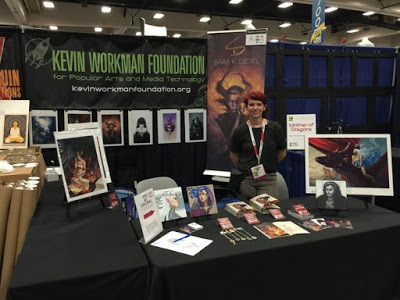 The Kevin Workman Foundation has been providing this scholarship for years now, and has helped some amazing young talent along the way. In fact, some of you may even recognize previous years' winners, like Kelly McKernan & Sara Diesel.
So go ahead, take a chance and submit! But don't wait too long, the deadline is this Monday, January 15th!