Last May, I had a post on my friend Bryan Mark Taylor. He is an extraordinary artist, but he is also an inventor and entrepreneur. Bryan is the inventor of the STRADA Easel line of paint boxes and continues to innovate on his initial design. Because he is first, and artist, the easel shows his years of experience painting in the field. I own two, the Micro and the Mini. I love them and use them weekly for my portrait painting nights and when I travel. I can't recommend it enough. They are built to last. I think these will be functioning in my studio for the rest of my life.
I wrote a review of the STRADA for Imagine FX Magazine (released in August 2017) last year and can share it here now with some additional images of Bryan's work and a free plein air painting demonstration.
The STRADA Easel was first released at the 2011 Plein Air Convention and has quickly become the favorite of many leading painters. The easel is lightweight, very simple to use and highly durable. The inventor and owner, Bryan Mark Taylor, came up with the easel after going on a painting trip and having his expensive wooden pochade box get smashed in transport. Taylor said that he has seen other artists get to their destination and have a traditional wood box not make the trip either. He determined to come up with a better solution that was in his words, "bulletproof."
From the beginning the STRADA Easel was recognized as a great step forward. The simplicity of the design is compelling from the first time you open it. There is only one knob to adjust. That is for the lower canvas support. The upper support uses friction and is very solid. It is made of a high-quality aluminum and there is very little that can wear out or break down. The easel probably could actually take a few bullets and still work just fine.
Torsion hinges make getting the right angle for your canvas simple. Just angle the lid where you want it and it holds firmly in place. The whole easel mounts onto a standard tripod mount.  With a quick release plate, setup takes less than a minute to go from backpack to ready to squeeze out paint. A sturdy tripod is a must and get one with a good ball head or other adjustable mount. Between this and the easy adjustments on the easel you will be able to find the optimal position to avoid glare and keep your work and palette in the same light.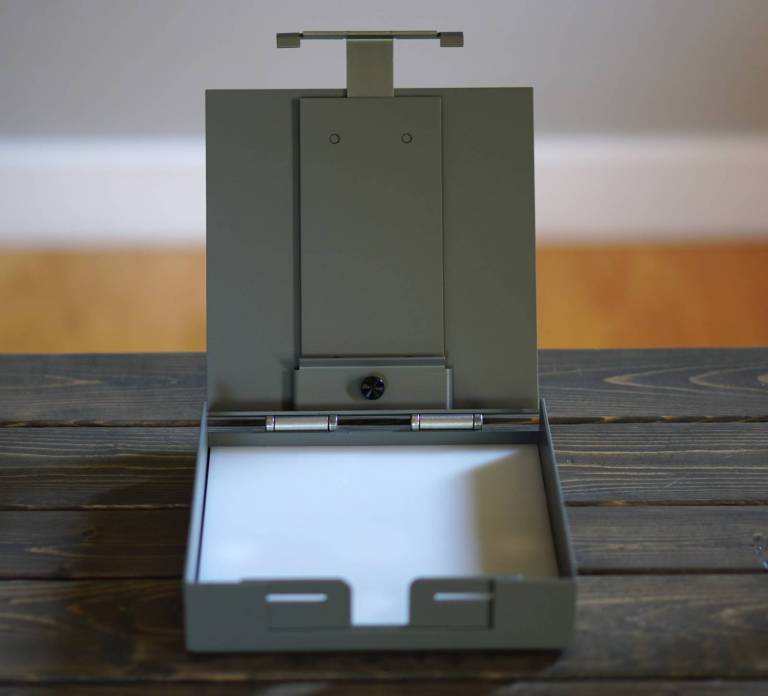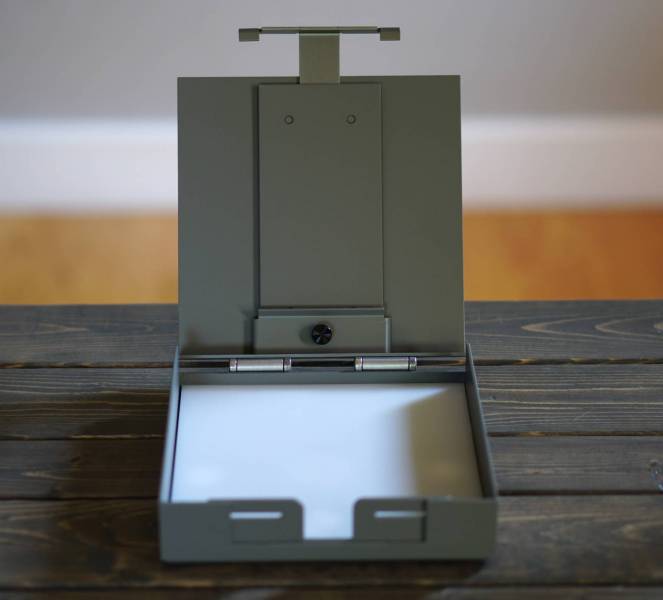 The base easel is upgradable. Trays can be purchased that firmly attach to the easel on either side. One can hold paint and the other brushes while the center space in the easel itself can then be preserved for mixing paint. A small hook is available to hang a brush cleaning can from the easel. A high density plastic palette, much lighter than glass and friendlier for travel, is available for both the easel and for the side trays. The plastic makes for quick cleanup and adds very little weight. The trays will also stack and store inside of the easel keeping everything compact and organized.
STRADA Easel has a YouTube channel with helpful videos sharing tips and demonstrations to help you get the most out of your easel.
After using the easel just a few times it quickly becomes apparent that it was designed by an artist with great expertise and experience with what an artist needs to get to work quickly.  
I am also excited to show here a just released product from Strada, the STRADA Mark II. This new easel is a mast style easel that allows for a slightly different ergonomic setup, large canvases or panels while still keeping with the same lightweight and easy to setup gear. It weighs in at 3 lbs. 8 oz.
The tray has a simple and versatile mount. It attaches to two legs of the tripod
The mast style easel allows for a larger potential canvas or panel to be held and can also put the panel higher up potentially.
The STRADA Mark II can be used with an 18″, 26″ and 34″ upright element. Below you can see all the elements of the easel laid out together. It is compact enough to store in a backpack and very light.
Here are some of Bryan's recent paintings. I am including them here… because they are awesome.
Here is a shot of Bryan's setup in China:
Here is a painting demo from Bryan. It is over an hour long. He talks about his palette, approach an mentality when doing plein air. He is a real master of this kind of painting. It is a fast demo and he is talking through it, so the work isn't as developed as it might be otherwise, but there is a ton of wisdom in the video. It is neat to see where he pushed colors, values and shapes to create a portrait and not a copy of what was in front of us at that time.