I recently completed a cover for the next book in the #1 New York Times Bestselling 'Mercy Thompson' series, written by Author Patricia Briggs. The cover was spoiled this week over on USA Today, so I figured I would share some of my process for creating the cover here.
This next novel is titled 'Storm Cursed' and once again follows the coyote shapeshifting protagonist, Mercy Thompson. Mercy must go up against an unknown enemy, facing deadly witchcraft in order to protect her pack.
This cover started fairly typically for most books in this series. Because the book is advertised so far in advance, there isn't actually a formal manuscript for me to read when I begin working. So instead, the job begins with a call to the Author. The Author and I speak on the phone for several hours, going over the story, discussing specific events and locales, and in general, how these events shape our main character.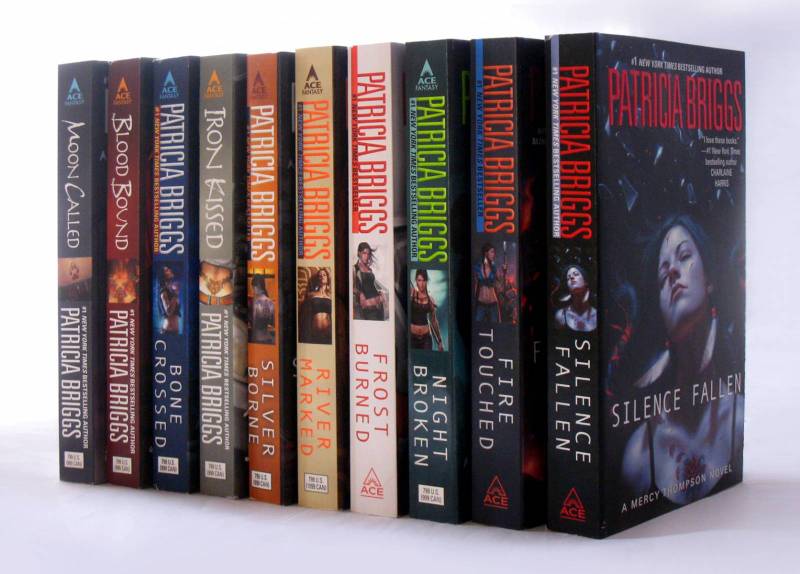 Once, I have a good feel for what the story is about, I go about sketching potential cover concepts. It may seem silly, but my biggest consideration when coming up with an idea is to consider what came before this cover. I have done a lot of Mercy Thompson covers now (even more than what's seen above), and so I need to be careful no to repeat myself. I want to cover to look different than the ones before it, but it still needs to look consistent enough that readers know it's part of a series. It's a fine balance between consistency and redundancy.
From there, I begin sketching as many ideas as I can. I take the ones I like, and develop them into more detailed sketches, and abandon the dozens upon dozens of sketches that I don't like. The ones that do make the cut usually develop into monochromatic color comps. Since I know what the type for this series already looks like, I sometimes add type into my sketches in order to give the Art Director a better impression of what the final cover would look like.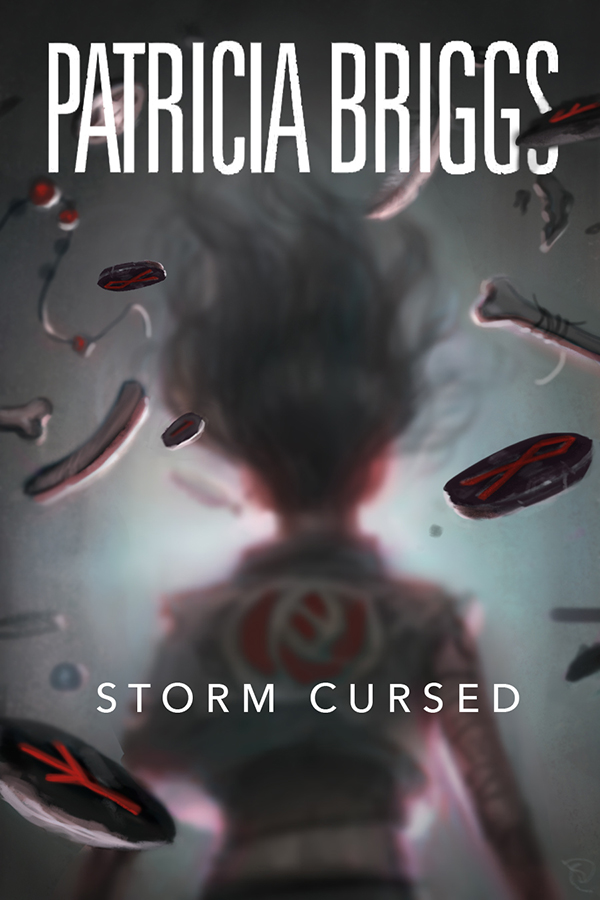 The Art Director presents the sketches to her team of Artists, Editors, and Marketing people. Collectively, they decide what works best for the book, letting me know if they have any concerns or revisions. In this case, they selected the second sketch. They liked that the cropping was similar to the last book in the series, but asked that I make sure I differentiate the two as much as I could through the use of color.
Once I have sketch approval, I begin the process of creating the original painting.
This painting began with a highly detailed pencil drawing. I don't always work this way, but this series of covers has a specific look, and so I typically opt for a detailed underpainting to ensure everything goes as expected. Certain parts of the painting, such as the hair across the face and the tattoos on her arms, are deliberately left off at this phase, as they usually just get in the way of me painting the skintones below them.
After the drawing is complete, the rest is really just 'coloring'. For this piece, I decided to do as much of it as I could using acrylic and colored pencil. These two mediums require almost no drying time, so I can work a lot faster than I could in oil paints, my typical medium. Below you can see the first pass of color which I applied using an airbrush. I created a mask to help keep any unwanted paint off the face. I then peeled it off and did the same for the sky while I painted the face.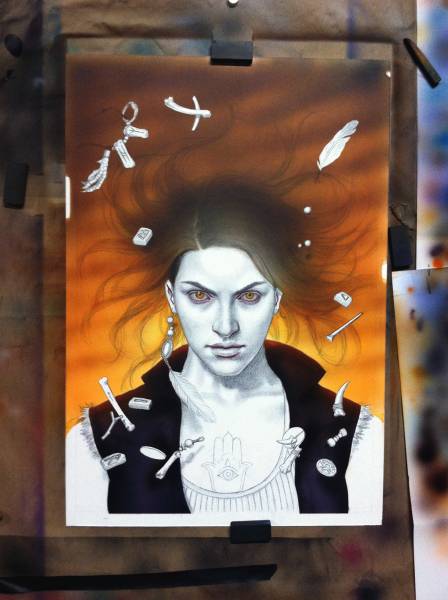 Lots of airbrushing, tons of colored pencil, more airbrushing, more colored pencil, and at least one pass of oil paints later… you get the final painting you see below.
Although I liked the colors in this piece, and they were fairly accurate to the approved sketch, the Art Director decided they wanted something a little more eye catching.
We experimented to several different color variations, ranging from grey to blue, to yellow. Ultimately, the publishing team decided that a yellow background would look really striking on the shelf, and also helped capture the sense of other-wordly magic.
It would be far too much work to make these color changes to the original painting, essentially requiring a completely new painting, so I make the alterations using Photoshop instead.
And finally, here is how the final painting appears on the cover of the book. You can see how the Art Director used the green type to help push the overall yellow palette in a new, even more vibrant, direction.
'Storm Cursed' is the 11th installment in the Mercy Thompson series by Author, Patricia Briggs. 'Storm Cursed' will be available in March 2019 from Ace Books.