Above: Donato in his studio. Photo by Greg Preston.
Donato Giancola: Grand Master.
When the announcement was made at the conclusion of Dan dos Santos' presentation speech during the Spectrum 26 Awards Ceremony at the Folly Theater in Kansas City March 30, 2019 it was a suprise to…well…no one. Considering his extensive body of work, considering the influence he's had on individuals and the field of fantastic art as a whole, it was such a natural—such a right—choice that you could almost see a collective thought balloon over the audience's head as they stood to applaud: "Donato! Of course!"
Born in 1967 and raised in Colchester, Vermont, Daniel Giancola—"Donato" is his professional name—filled his days building dioramas or drawing D&D characters, RPG maps, or scenes from comics or Star Wars. Originally attending the University of Vermont with a focus on electrical engineering, he eventually had to answer art's Siren call and transferred to Syracuse University to major in painting; he graduated Summa Cum Laude with a BFA in 1992.
Above: The cover to Shadows Fall by Simon Green, Penguin/USA, 1993. 18″x27″ oil on panel.
Donato's career began shortly after graduation, with his first commercial works appearing in 1993. His client list rapidly grew to include virtually every major market for illustrators: LucasFilm, National Geographic, CNN, Tor Books, Playboy Magazine, Wizards of the Coast, and Scholastic among many others all benefited from Donato's enviable skills and uncompromising quest for quality. Though his success came rapidly, it was only achieved by overcoming multiple obstacles (including health scares) and the application of intensely focused effort. Art directors could always count on him to deliver his best work, regardless of deadlines or budgets, whether the theme was fantasy, science fiction, or historical.
Above: The cover to The Hobbit by J.R.R. Tolkien, Ballantine Books, 2001. 37″x67″ oil on panel.
Exemplary art gets noticed and awards and accolades have come Donato's way: multiple medals from Spectrum, three Hugos, an armful of Chesleys, and the prestigious Hamilton King Award from the Society of Illustrators have all found their way to his shelves. But winning awards has never been a motivator behind Donato's art: he's never been in deliberate competition with anyone but himself.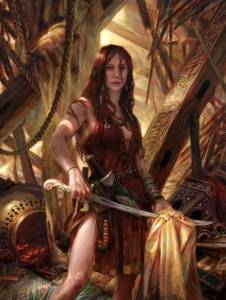 Above: "Red Sonya: Lover's Quarrel" a painting Cathy and I commissioned from Donato. 24″x30″ oil on panel.
Even as he worked for print, he also set aside time to refine his craft with both private commissions and personal paintings and drawings. Constantly challenging himself, Donato's art can be epic in content (and scale) or quiet and intimate; it can be outlandish and phantasmagoric or grittily realistic. Patrons have lined up and patiently waited for their turn to add one of his originals to their walls and been ecstatic with the results. Each finished artwork, regardless for whom or what it is created, is his learning experience, a problem to solve or an idea to capture and express. Stories, as we know, can only resonate and have life when they're told and, fortunately for us, Donato is a natural—and tireless—storyteller.
Above: "2001: A Space Odyssey Revisted," a portrait of Arthur C. Clarke for Playboy Magazine. 22″x18″ oil on paper on masonite.
He also gives back. As Dan dos Santos pointed out in his speech, Donato has routinely taken young artists into his studio and mentored them as apprentices, has trained and nurtured them, with no goal other than to help them achieve their potential. He teaches at the School of Visual Arts, at the IMC annual summer workshop, and through the online SmArt School. Donato has lectured at Syracuse University and the Pratt Institute among many others and in the past has co-chaired the Student Scholarship committee for the Society of Illustrators. Honest and engaging, Donato is a positive influence on students (as well as fellow professionals) of all ages.
Above: The cover to The Golden Rose by Kathleen Bryan, Tor Books, 2007. 36″x48″ oil on panel.
The Spectrum Grand Master Award is not a life-time achievement award; it's not a conclusion to a career but is, rather, another step forward. It's an affirmation. It's a celebration not only of craft and skill, but of leadership and continuing vision. The Grand Master award is intended to honor an exceptional artist and person. Many certainly qualify as one or the other, but being both is a rarity. I've repeatedly said that awards aren't won, they're earned, and I can say in all honesty no one has worked harder or is more deserving of the Grand Master title than Dan Giancola.
As thrilling as his past works are, as important as his contributions to our field have been, and as significant as his help and influence has been on his fellow creatives, I think it's safe to predict that the best is yet come. I know I'm not alone when I say that I can't wait to see what he accomplishes in the next 26 years (plus).