As you know from all my posts about Art Business and Art Careers and all my work with Drawn + Drafted and Make Your Art Work, I care very deeply about Artists (by which I mean the umbrella term including Visual Artists, Authors, Makers, Performers, and all kinds of Creatives) making a decent living. I truly believe Artists act as a critical part of our society and a healthy culture supports it's artists. Unfortunately, we're not living in an Art Utopia, so artists have to worry about earning enough money to put food on the table and a roof over their heads. And in a world where technology is changing so quickly, I try to keep tabs on the changing ways artists find to support themselves and their work.
Do you remember when there was no Patreon? No Kickstarter? How about no Facebook, Twitter and Instagram? These platforms have utterly changed how artists learn, share, and find work. I am immersed in social media most of my work day, to keep tabs on my Orbit Books authors, to keep aware of what artists I may commission are up to, and to stay on top of what trends are bubbling up that will affect art in general, and science fiction/fantasy book covers in specific. I see a lot of complaining online, because it's human nature to complain loudly and be more quiet about our successes. I also know very well that social media is a little skewed — the busiest/most commissioned artists are often the ones on social media the least. (Which I know because I am often harassing them for work and know how little browsing time they have.) Because of all that I know what I hear on social media is naturally skewed towards the negative, so I go out of my way to talk to artists in more personal settings before I form my general opinion of how things are going in the Art World — especially when I am writing a Muddy Colors article. I wanted to get a better handle on how new technology has changed how artists make money over the past few years, and since I like to check myself in more scientific, quantifiable ways, I thought I'd send around a simple question on twitter:
Artists! Doing some research for a @muddycolors article. What's your rough income breakdown? (copy/paste these categories)

For example, I am:

Inhouse: 90%
Freelance: 1%
Teaching/Speaking: 9%
Merch/Prints/Kickstarters: 0%
Patreon/Kofi/Subscribers: 0% pic.twitter.com/9qyIHMmdRO

— Lauren Panepinto (@Planetpinto) August 14, 2019
I knew I'd get a good number of responses online (meanwhile I've been asking folks via email and text as well) but I didn't expect to be bowled over by responses. And also, by how many subquestions and qualifications to the answers immediately sprung up. It was pretty obvious that we needed a finer instrument than a twitter question for this, So I've made a quick, 10-question online survey instead, trying to be a little more specific and get cleaner data.
It should only take you 5 min tops. I've kept it as simple as I could to get you all back to working on your art as swiftly as possible. The answers are completely anonymous (we're not even tracking IP addresses) but even so, the answers are pretty general, yet still important. If you can spare 5 min, I'd really appreciate you filling it out below.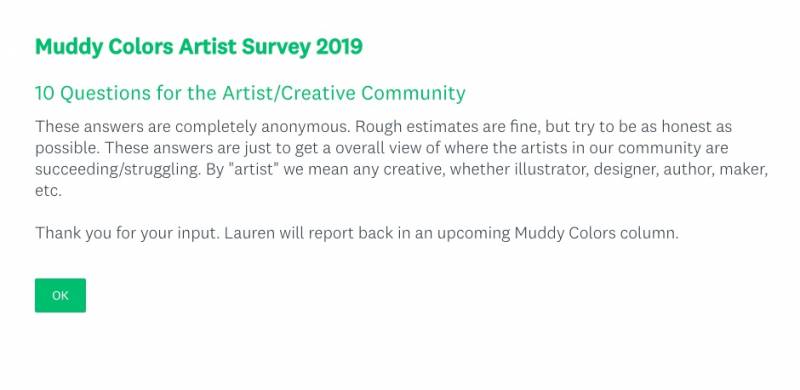 If for some reason the survey isn't embedding properly in your browser, you can also access it here: Muddy Colors Artist Survey 2019
The survey will be open for 1 month (give or take a few days) until my column is due for next month, where I'll publish the results and any trends/insights I can pick out.
For now, definitely check out the responses to the Twitter post and the same question on Facebook. The answers are really interesting. Especially once you compare the level of success of the artist (which is a hard thing to really define, but in general ADs know who's making the $ that people don't talk about publically) to what category they are making their money from. But I'm going to save the analysis for next month! Stay tuned!