This was a gray scale marker only drawing on Yupo paper, picking out the negative spaces with the clear marker.
October 1st, you open IG to find the wall filled with ink drawings posted by all of your artist friends and artists you follow, from beginner to comic inker pro.  You are in way over your head with deadlines, life, and managing the daily routine as it is,  yet you want to do this too but how to find the time and squeeze in a few, if not one for every day of the month is going to be the challenge.
This is the month of October, or to those artists on the interwebs, Inktober.  And just to name a few more, there is Sketchtember, Drawloween, Aquavember, Drawcember March of the Robots, MerMay, Junebug/Junicorn, and many more that art communities and individuals like Jake Parker who started Inktober, in hopes to generate a work and study routine throughout the month to improve their skill sets.  These motivational challenges are similar to the speed paint and quickdraw threads of the art forums from the early 2000's.
A slight variation on the theme of being in over my head again…
There is a category for every month but the one month that seems to get the most attention is Inktober.  Ink seems to intrigue every artist from the fine artist type to the casual manga fan.  I can only speculate why this particular event over many of the others is so popular, but like Jake Parker, I am doing this to improve my inking skills.  It is not so much that I don't ink anymore and that this is a way to satiate that need, but rather, inking takes a certain kind of exactness, a dexterity to carry out the various line weights and knowing it has to be correct, whatever that means, because of its finite properties.
I also use this month to experiment since most of the work I do is for clientele and is already preset in the way it should look and feel, giving me little wiggle room to expand my dialect and experiment in different variations of delivery.  Digital is really not a fun "experimental" medium unless you have the program you are experimenting with totally "mastered", and even then, experimenting is something more procedural than organic.  Traditional media on the other hand is so random and is so interdependent on your bodily motions that there is always room for "err" and/or as I like to call it, "room for exp"err"imentation".
A splotch to one is a-creature, character, environment, city- to the conceptual minded thinker.  Ink is such a great material for both the Rorschach test blotches, washes, dashes, and so much more that it really is a fantastic exploration medium.  Water it down, try it with a brush, use a spoon, a straw, a toothbrush, a rag, your fingerprint; ink is a pure mark making medium that can help you see the bridges that connect design with objectivity if you are open to the deceptively obvious pathway.
If you aren't sure of what to do for Inktober and are trying to break away from your usual approach, here are some inspirational artists that might not necessarily be on your radar of influence but should be for their unique and inventive approaches to the medium.  The first one especially since he did pretty much everything you can do with the ink medium in the art world.  This first artist I am referring to is Virgil Finlay, an amazing painter and draftsman but is most noted for his extremely far and wide use of the ink medium.  While he was mostly pen and ink, he experimented with brush techniques, washes, and every other form of ink application the medium could possibly stretch into.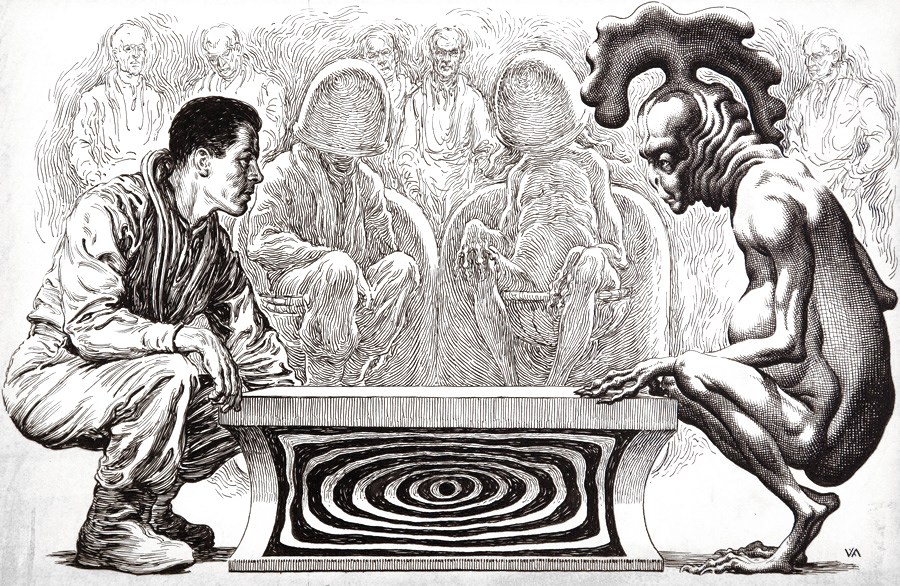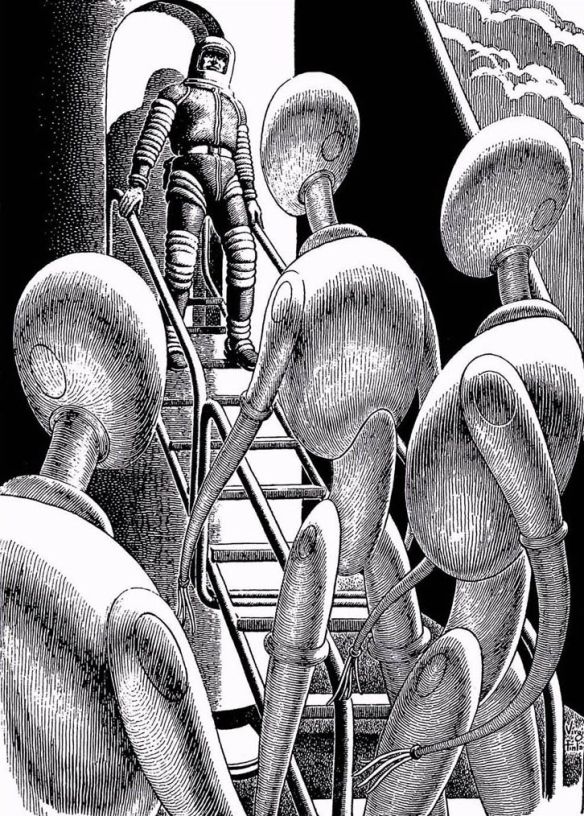 Moving in a different direction here are a few amazing designer inkers starting with Rick Griffin, an artist that worked mostly with the surfing industry in the 60's and 70's then moved on to religious art before he passed on.  His work inspired many designers in the action sports industry during his time.
One of his famous character designs is Murph the Surf.