Above: A mixed media portrait of Bram Stoker by C.F. Payne. I love the connection to his character Dracula with the pointed ears and elongated, clawed fingers. Chris has produced a number of paintings and drawings of authors and artists over the years that he often offers for sale though his Etsy store (where Cathy and I happily purchased this one for our collection).
Tales of vampires in one form or another exist in virtually every culture around the globe, but none have captivated audiences—or cast a longer bat-shaped shadow—than has Dracula. Written by Bram Stoker and first published in 1897, Dracula wasn't the first literary bloodsucker ("The Vampyre" by Mary Shelley's friend John Polidori in 1819 and Joseph Sheridan Le Fanu's Carmilla in 1872 predate it) but it most certainly was and is the most influential. Stoker's novel not only established many tropes and conventions of subsequent vampire stories but itself became the basis of innumerable  sequels, prequels, parodies, spin-offs, comics, theatrical productions, films, and television interpretations. The image of the aloof, aristocratic monster in formal evening wear (along with his femme fatale "brides") has become something of a visual cliché through the years…and yet there is still an indisputable power, an allure to the character and the story, that has resulted in some affecting and memorable artworks. Since Halloween is just around the corner, I thought just for fun I'd share some of my favorite images of the Prince of Darkness.
Above: Cover painting for the 1960 novelization of The Brides of Dracula published by Monarch Books by an uncredited artist. It reminds me of the work of Louis Marchetti [1920-1992], but I could be—and probably am—wrong. Anybody know?
Above: The late great Mark English's cover painting for the Bantam Classics edition of Dracula in 1983. The lividity in the Count's fingers is an absolutely brilliant, pardon the pun, "touch."
Above: This is such a breathtaking painting of Dracula and his victim, protagonist, and ultimately the moral center of the novel, Mina Murray/Harker, by Spanish artist Arantzazu Martinez.
Above: The late Bernie Wrightson always said he didn't particularly care for vampires because they were "snooty" and preferred to draw and paint other types of monsters. Regardless, he produced more than a few images of The Count, including this poster from 1976 of some enthusiastic vampire hunters entitled "Taking No Chances."
Above: Mike Mignola illustrated the Topps comics adaptation of the 1992 film Bram Stoker's Dracula (directed by Francis Ford Coppola). Each film adaptation of the novel—from Nosferatu on—have taken major liberties with the story and characters and this one is no exception. Still, Bram Stoker's Dracula is the most faithful movie to date and certainly the most visually stunning (thanks in no small part to storyboards by Iain McCaig and costumes by Eiko Ishioka). Mike's comics so impressed the filmmakers that he was asked to contribute some additional concept art late in production; he created the above drawing for the cover of the graphic novel compilation.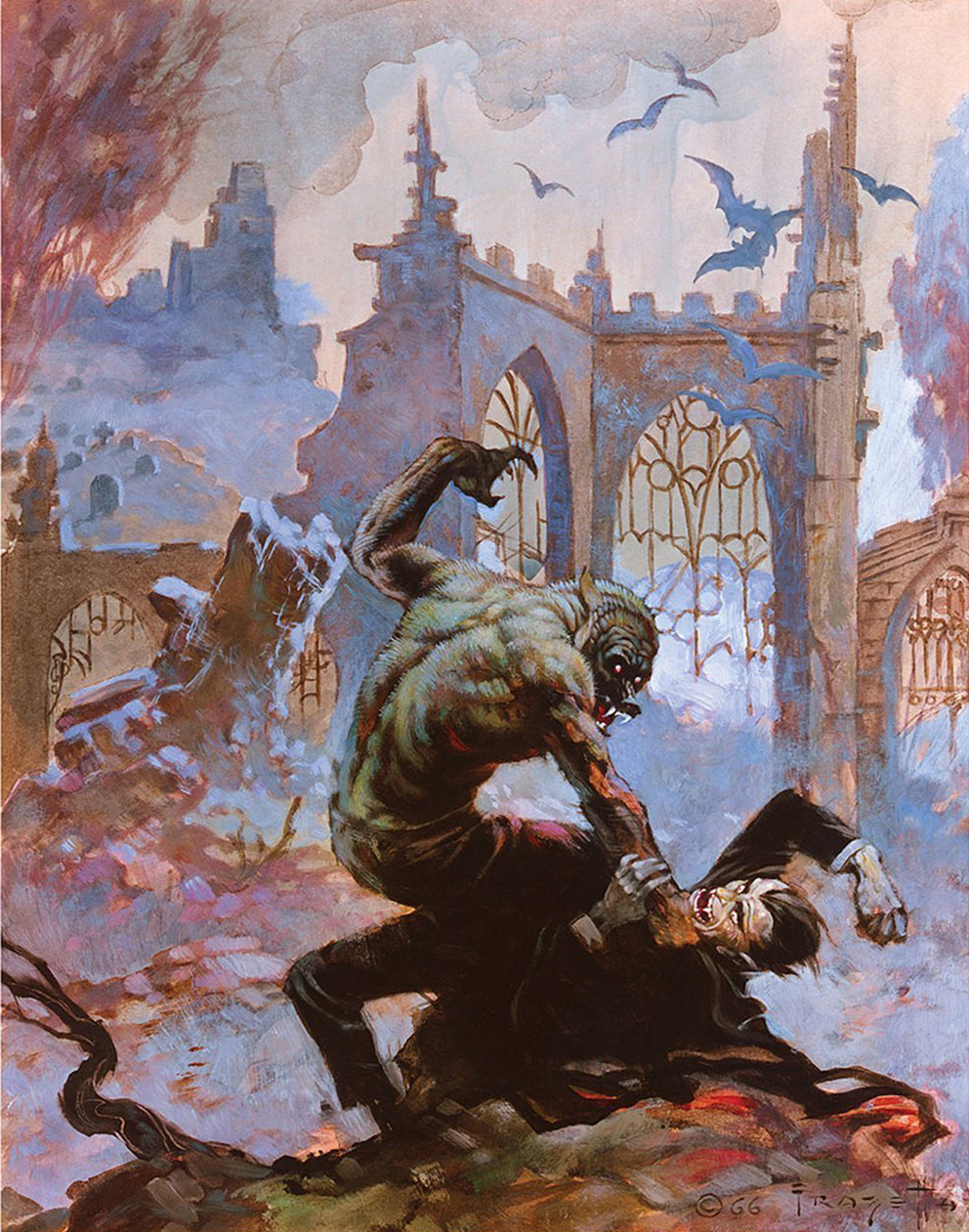 Above: Naturally I couldn't resist including a pair of Frank Frazetta's seminal 1965 & '66 Creepy magazine covers, from issue #5 and #7 respectively. Frank's friend, Roy Krenkel, did a pencil rough for #7's cover featuring the Wolfman pounding on Dracula; Frank totally ignored Roy's figure roughs but used the ruined church in the background virtually unchanged from the comp.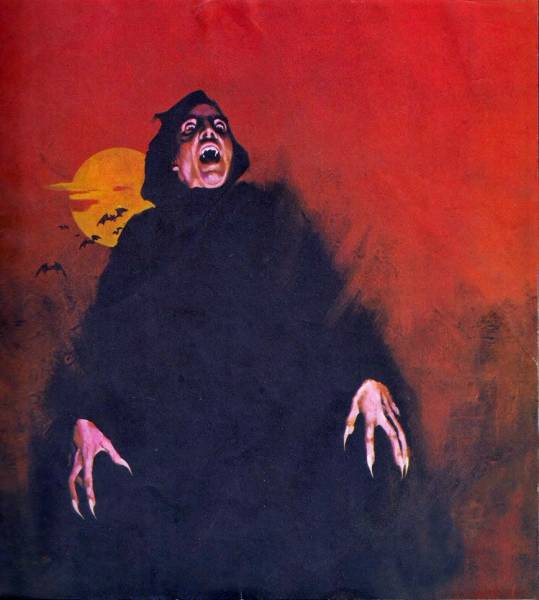 Above: Enric Torres-Prat's cover for the Spanish anthology comic Dracula (published in English by New American Library in 1972)—which, beyond this first issue's cover, never featured anything including Dracula at all. Presumably the name was considered familiar enough to convey the idea that it was something fantastic (and the comic did include several vampire stories). It lasted 12 issues.
These are just a handful of my favorites. If you have any, feel free to chime in. And remember: "The blood is the life!"