What up my muddy buddies! Figure id post a couple things this month, something I finished and can show now, and something I'm currently working on.
First up, I made this album cover a few months back for my friend Aesop Rock. Aesop is a rapper who I've been friends with for a good many years. Done a handful of covers for him in the past, and always jump at the chance since he's a homie and tends to grant me a good about of creative leeway on these efforts.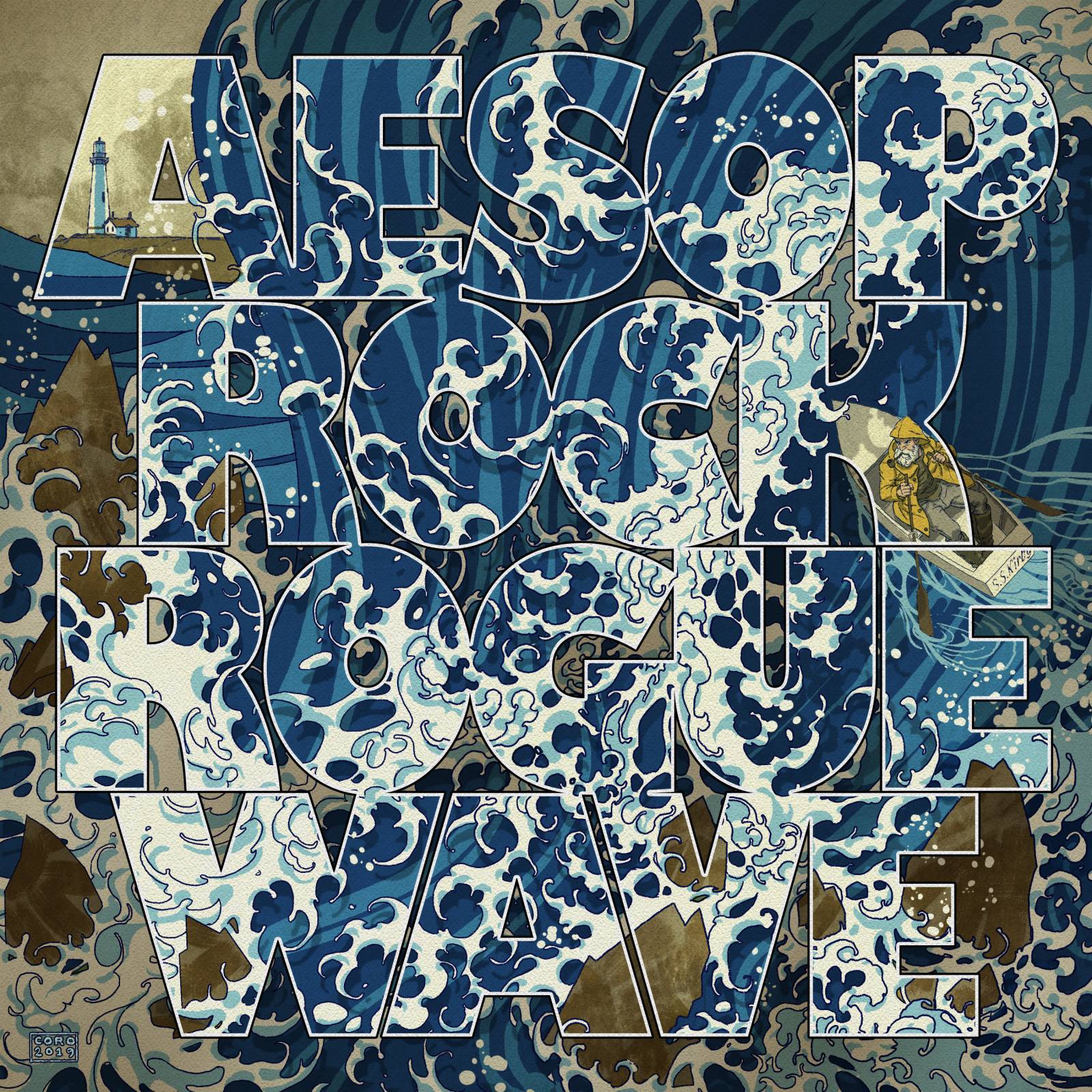 The title of the song is "rogue wave," and while it wasn't exclusively a maritime themed song, it made the most sense to riff off of the wave title.  Spoke to Aes and we settled on the concept of some guy rowing into a giant wave. Tried out a few different ideas to start with, different camera angles, framings, etc, but ultimately settled on something more pulled back so you could see the actual wave. It's a 7 inch vinyl album, so I knew I wanted to do something more graphic in order for it to read at that size. A Hokusai tribute seemed like the best approach.
Here's a process video of thumbnails and how far i was able to get it in procreate
Haven't done a whole lot of stuff in that style, and while I wouldn't say I pulled off 100%, it was a lot of fun to step outside of what I usually do and try something different. I kept to the same palette and borrowed shapes and conventions where it made sense, but still tried to maintain a good amount of "me" in there too.
In the end I was pretty happy with how it turned out. The serendipitous text placement, the flatter colors, and exploring more decorative shape language made this one of the most satisfying assignments from last year.
Also did a back cover illustration and a shirt graphic to round out the maritime theme.
Also thought I'd post some shots of this big painting I'm working on right now. This one's a 4×6 footer, which is really large for me these days. It's finally all blocked in and I'm at now elbow-deep in the refinement phase. This is based off of some photos I took of our pond last time it snowed. Stuck my camera on the tripod in the middle of the creek that feeds into the pond, and walked around with my flashlight for like an hour or so shooting stuff. It's a very contrasty scene to shoot so I had to experiment a bunch with exposure and lighting. Sure was cold out there, but in the end I got a few cool reference pictures out of it.  Had some difficulties last time I tried to paint snow, so thought id make it hard on myself and take a deeper dive into the subtleties of painting the fluffy white stuff.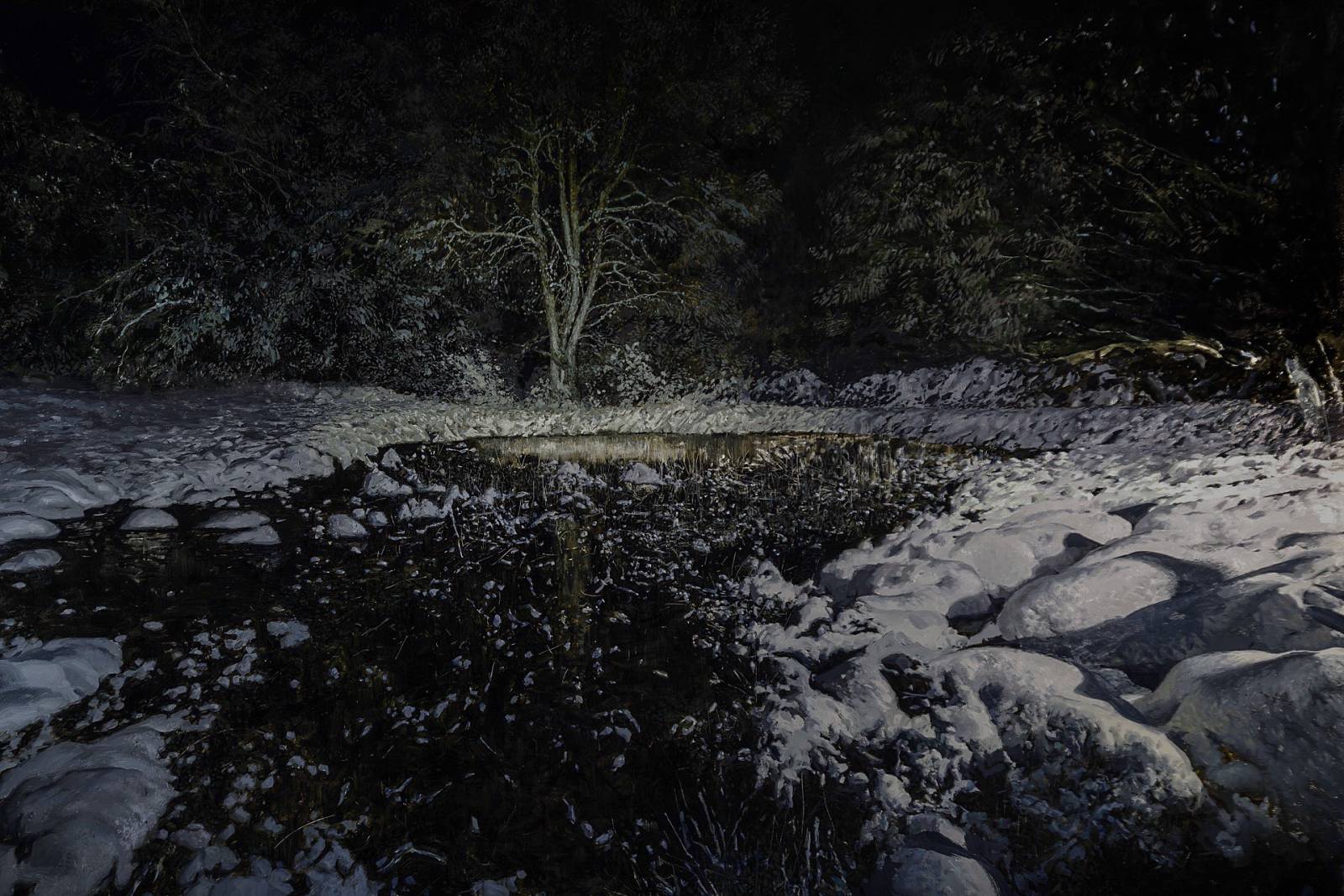 Was fairly mechanical with the blocking in process, concentrating almost entirely on values and keeping the drawing tight. Now that everything is for the most part blocked in, I'm concentrating a lot more on edges and the overall paint surface. Here are a few close ups of where its going.
Its fun painting large because you can really get in there and build up some cool textures. Next steps are to let it dry,  and then do some very light glazing before a (hopefully) final refinement pass with opaques again. Where I hope to really build some texture up and make it something thats fun to look at up close. I'm painting this with intentions of showing it in a three man show Im participating in with my good friends Shawn Barber and Carl Dobsky this June. Definitely feeling the pressure so I hope I can bring it to a confident finish.