Well if there was one thing I loved in the 80's it was METAL! But I already did a top 10 Album Covers list a couple months back. So if there was another thing I loved… it was Twinkies! But a whole article on the artistic merits of twinkies is a snoozefest.
So, what would I do while listening to metal and eating twinkies? I'd skate. I skated so much I got the nickname "The Boneless King" Which is either because I crashed a lot and never broke a bone, or because the one trick I mastered was called a 'boneless' and it was all I'd do.  But for that decade, all I remember was making art and skating. (And D&D.)  And sometimes I'd make art on skateboards (Painted a sweet Rat Fink on one BITD. Wish I had pics of it.) But I remember pouring through the skate mags and dreaming of what decks I would get if I could afford them.
So here is my list of most memorable decks. Which means these are the decks I wanted to own. Had little to do with the name on the board, either company or skater, cause they were all better than me! This is just what I lusted after for their vibe.
Rider: Neil Blender  Company:G&S  (Gordon and Smith)    Artist: Neil Blender!
Neil was one of a few riders that did his own art, and I am so glad he did. As you will see later, a lot of 80's skate art has that in-your-face-rock-and-roll-punk-metal-bad-ass-fantasy-art vibe, and skulls, did I mention the skulls? All of this I obviously love, but Neil's art was something else. Something so modern about it, and so different than everything on the half pipe! My brother had the first deck with the multiple heads, I remember it was really long!
Rider: Steve Caballero   Company: Powel and Peralta    Artist: V. Courtlandt Johnson
V. Courtland Johnson is a name that will come up a MANY times on this list, having created some of the most memorable deck graphics of all time. VCJ had it all in his work: Dragons, skulls, swords, (and more skulls). Cause the thing was, when I wasn't skating, or being metal, I was playing D&D! It was this cocktail of influences- Skate art, Metal art, Fantasy art- that made me the artist I am today. I am certain of it.
VCJ tapped into that D&D side of my brain. Which was probably for the best, because I mentioned the twinkies… and skating was the only exercise I got back then. I needed art inspiration to go outside.
But before we look at the bottom of the boards, just look at the main logo that VCJ did for the top of the skate deck. Legendary. I need a 20-sider right now! Seriously that could be inside the OG monster manual.
Now lets check out a couple dragons which he did for skater Steve Caballero! You know I think of the line work and patterning I do today, and see the influence here.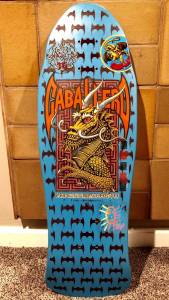 Rider: Team Deck    Company: Powel and Peralta     Artist: V. Courtlandt Johnson
Now VCJ's skulls. I heard somewhere that Powel and Peralta bought a skeleton for the office to draw from for this art. Here is about the most famous image in skating to my mind. The P&P RIPPER!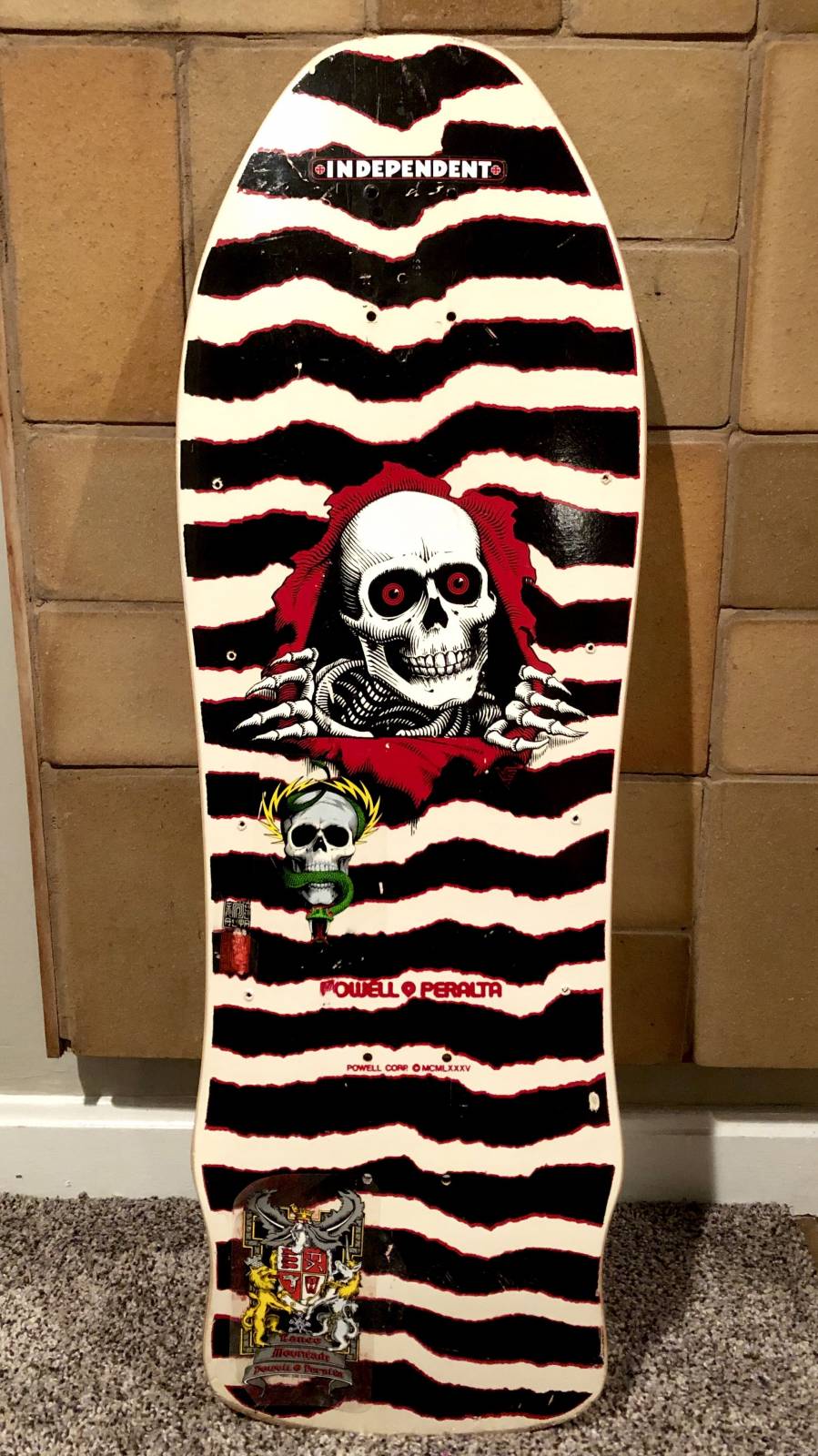 Rider: Team Deck    Company: Powel and Peralta     Artist: V. Courtlandt Johnson
To be quickly be followed by another seared into the minds of impressionable youth. The P&P Skull&Sword. Now the D&D is really coming into play.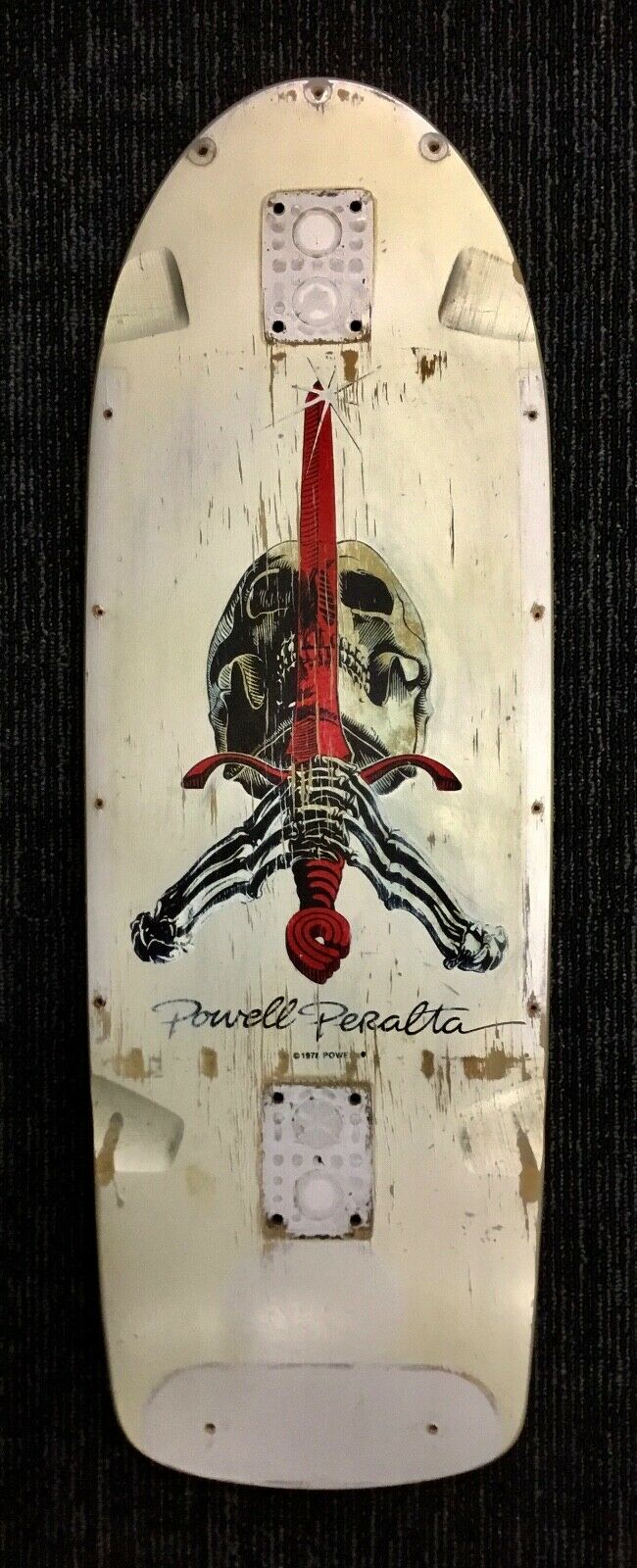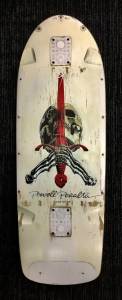 Rider: Per Welinder    Company: Powel and Peralta     Artist: V. Courtlandt Johnson
And I so lusted after this one. So many things that light me up about the "Viking Skull"
Rider: Mike McGill   Company: Powel and Peralta     Artist: V. Courtlandt Johnson
Gotta wonder how many times this Mike McGill has been tattoed on people! It got so much attention that John Mayer (Not exactly metal) has a rad Charvel Custom guitar with this art on it!
Rider: Tony Hawk    Company: Powel and Peralta     Artist: V. Courtlandt Johnson
And no list of VCJ decks would be complete without the skull that probably outsold them all. Done for a rakish 14 yr old rider named Tony Hawk. Maybe you've heard of him?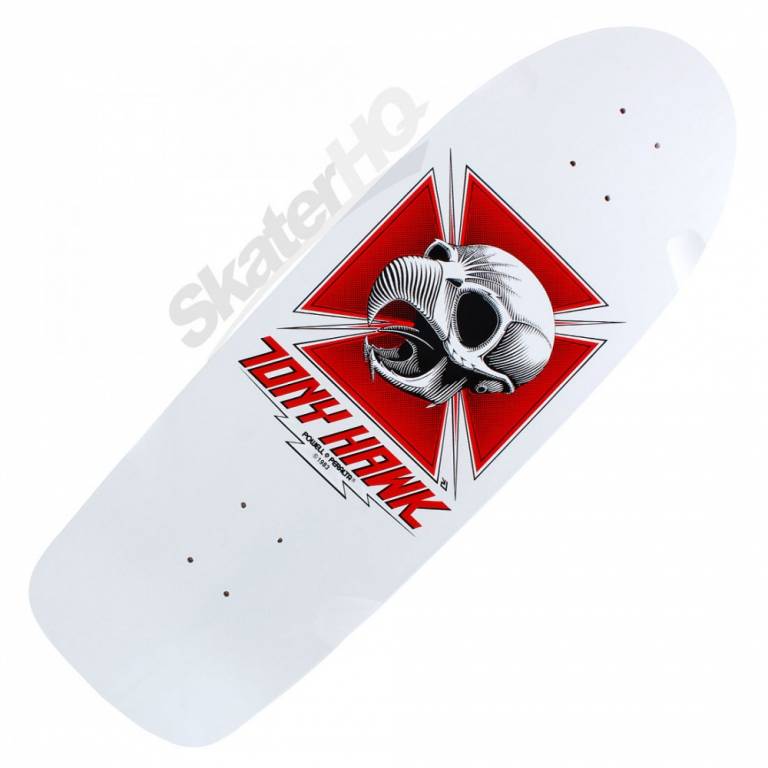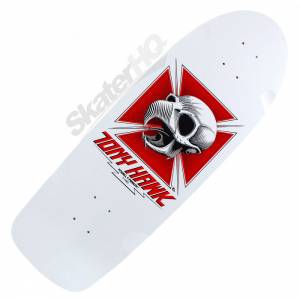 Rider: Rob Robskopp    Company: Santa Cruz    Artist: Jim Phillips
But though I lusted after all these boards I owned none of them. But I did own this one! The iconic Rob Roskopp full face in green! Created by the one and only Jim Phillips. This made me happy every damn time I looked at it. I liked looking at it as much as riding it!
And the cool thing about Phillip's Roskopp decks is they were actually a series that progresses from a monster breaking out of a target, and he gets closer and closer till eventually he is just an eyeball.
But as cool as those decks were, there was a company and an artist that that pushed things even further. The company: Zorlac Skateboards.  The Artist: Pushead!
Now if you read my post about the best 80's metal album covers, Pushead is no stranger to you. Having even worked for Metallica. Hell that dude was so cool he brought Metallica to skateboards! And Misfits! He had IMHO the most bad ass dark imagery and amazing line work going. He was and is a massive influence on me to this day. (If only he did D&D he would have touched everything I love.) So here we go. Pushead! (I mean c'mon, the Misfits one is shaped like a coffin!)
But to me, there was one deck that ruled them all. It doesn't have skulls or dragons. It was not attributed to a specific rider, but was a team deck for Vision Skate Boards.
But what it is, is the first skateboard I saw that made me want to skate. The 'Psycho Stick'! The colors, the zaniness, the weird shape of the board. It is the epitome of 80's skate to me. I owned one ever so briefly. Got it used. Beat to hell. And I think a friend wound up with it and had it painted white with a skull on it.  Ahhh well. I told you skulls are a thing with skaters.
And to prove that skulls are a thing with skaters even more. Here is a skateboard that I oil painted on for charity 10 years ago. (Benefiting a skatepark.) And what is the first thing I went for? In fact I painted two of them on the same deck! Thank you Pushead and V. Courtlandt Johnson. To this day I have never done a pro skate board deck, it is on my bucket list. So hey, if you skate companies are reading this and need some art, hit me up! Sincerely, The Boneless King