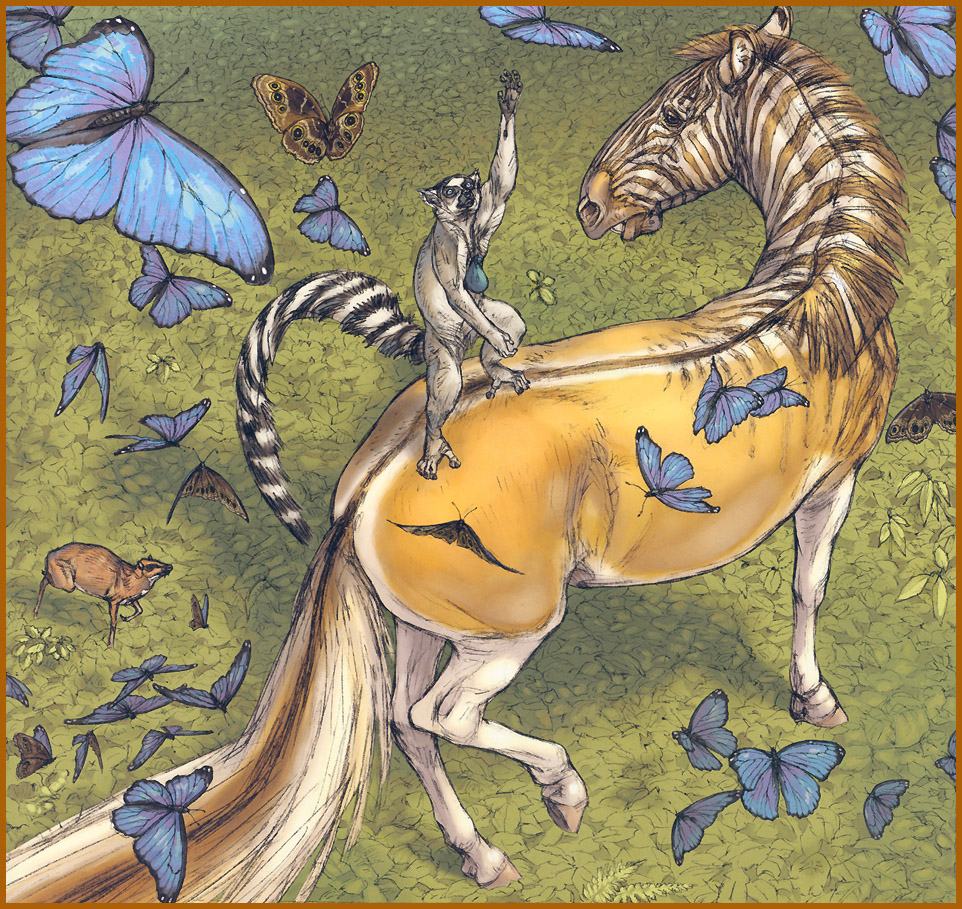 Terryl Whitlatch was born in Oakland, California, and started drawing at less than three years of age. Blessed with a mother who was, and still is, a talented artist-illustrator, and a father who taught biology, her fascination with animals started early. Countless weekends were spent visiting zoos, aquariums, and museums, and her father was constantly bringing home mounted skeletons, creatures preserved in jars, and living animals as well – chicken hatchlings, bullfrogs, iguanas, and insects.
After studying illustration at the California College of Arts and the Academy of Art University, Terryl began a career that has spanned over 25 years. She has worked with many major studios and effects houses as a highly sought after creature and concept designer. Clients include Industrial Light and Magic, Lucas Film Ltd., Pixar, Walt Disney Feature Animation, PDI, Entertainment Arts, LucasArts, Chronicle Books, and various zoos and natural history museums.
She also teaches courses in animal anatomy and creature design at the Academy of Art University in San Francisco, and is the creator and illustrator of three books, The Wildlife of Star Wars: A Field Guide , The Katurran Odyssey, and the newly released Animals Real and Imagined.
I am a BIG fan of Terryl Whitlatch's work, and as many of you know, a certifiable art book junkie. So it should come as no surprise that I jumped for joy when I heard that Terry had a new book out called, Animals: Real and Imagined.  The book far exceeded my expectations. It is over a 150 pages, beautifully printed, and is jam-friggin-packed with art from cover to cover. It literally took me about 2 hours to go through it all on my first sitting. When I was done, I felt that jittery combination of simultaneous discouragement and inspiration that only really great art can instill in you. I think it's safe to say that the combination of Terryl's creativity and her comprehensive knowledge of animal anatomy is unparalleled in this industry.
Originally I had planned to do a simple post showcasing Terry's work and touting the brilliance of the book (which I strongly encourage ALL of you to check out), but instead, I decided to step it up a notch and try to get Terry herself to answer a few questions for us. Luckily, she was kind enough to oblige me.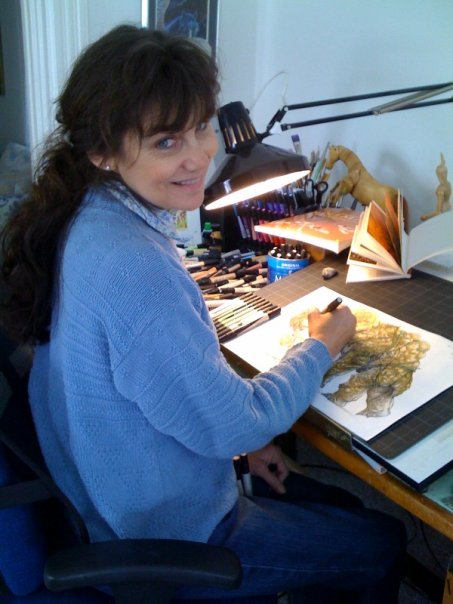 Dan: Seeing as 'The Katurran Odyssey' was a collaboration with writer David Weiger, and your 'Wildlife of Star Wars' was all commissioned work now owned by Lucas, I believe this is your first book that you can truly call all your own. Congratulations. Do you feel that personal freedom has shown itself in any way in your newest book?
Terryl: With every book that I have worked on, it's always a team effort. That includes not only the author and illustrator, but the publisher, editor, designer, the list goes on. With this most recent book, my associate Gilbert Banducci wrangled in over 3 decades of artwork, categorized it, organized it, and acted as art director. While he respected my opinions, he oversaw the layout and design of the book, and his hard work kept it on schedule. I owe a great deal to him.
Dan: Many professional artists dream of the day they will be able to work on a personal project of this scale, but rarely find the time to do so. How did you manage to accrue such a large body of work during your personal time? Was this a project in the works for a long time, or did you take time off of work to specifically work on this? Any tips for others wishing to do the same?
Terryl: For others wishing to do likewise, if you are a busy artist, and working with deadlines, you really need to have help to do a book like this, whether it be friends, a spouse, etc. I was really blessed in that Gil is a professional art director and producer, as well as being a good friend.
Dan: Please tell us a little bit about your process. It is obvious that you are drawing your work traditionally, but it is difficult to discern your coloring process at times? Is this traditional as well, digital, or a combination of the two?
Terryl: I have worked both traditionally and digitally, depending up on the project. I do indeed draw traditionally, with pencil and paper, and then scan it if working digitally. However, I have been doing mainly traditional work over the last 5 years, as there is something very visceral and dimensional about tangible artwork, in that it exists in real space, and will not "go away" or get lost if the computer crashes. I've never missed a deadline. I've been exploring high tech markers such as Copics very intensely, the effect they give can look very digital, or traditional, depending on how one handles them—they are exciting, fast, and addicting to work with, they are so hands on and gorgeous!
Dan: Working in the field of concept art, which seems to be primarily dominated by digital artists, have you felt any pressure (due to deadlines or otherwise) to go entirely digital as well? If so, what is your reasoning for not doing so?
Terryl: No, I have not felt pressured to go digital as I've had no problems making deadlines. Quite the contrary—the response to the marker work has been extraordinary, and also keeps one's work from looking like all the other digital stuff out there. Traditional knowledge and practice also in turn makes one a better digital artist as well.
Dan: You have a LOT of impressive film credits to your name.
Is there a particular project you enjoyed working on most, and why?
Terryl: Gosh, that's a hard question. All of the productions were unique and special. Star Wars, of course, was an tremendous and exciting ride, and I loved every minute of it. Brother Bear was also fun, but in a different way, more quiet and intimate.
Dan: Being a concept artist, part of your job means working as a team. Sculptors and 3D modelers need to work from your drawings. Do you have any knowledge of these other techniques, and does that inform/restrict your work in any way?
Terryl: Yes, I have a basic working knowledge of these techniques, and while it is helpful, it is not absolutely necessary. The main thing is to be able to draw well and accurately, and also access the situation concisely, and give the artists what they are asking for.
Dan: What is your favorite drawing in the whole book and why?
Terryl: Well…if I could only choose one or two, I would choose the painting "Nebula", and the developmental stages leading up to the Marine Mare. But then, I'll always be biased towards horses! I also like the color acrylic sketch of the little squirrel monkey perched on a branch.
Dan: Anything else you would like to add?
Terryl: It was really neat seeing this book come together. Sometimes, it was hard, as all artists see things they would like to redraw or "fix". I'm no exception.
Thank you Terryl for taking the time to speak with us!
---
Terryl currently has three books out from various publishers, as well as 4 instructional DVDs from Gnomon Workshop. To purchase her newest book, Animals Real and Imagined, please click HERE. To learn more about her instructional DVDs, click HERE.