When we think of sculpture, we tend to think of the more ubiquitous sculptural materials – clay, bronze, stone. These days, we might think of Sculpey and resin too. But sculpture as an art form features some of the most diverse materials we can imagine. If it can be carved, molded, assembled, shaped or squished, someone's probably made a sculpture out of it at some point.
One material that we usually associate more with 2D art – paper – offers some fabulous options for creating 3D works. At one point or another in life, most of us have made some manner of papier mâché objet d'art or might have tried folding an origami crane. But here we're taking a closer look at sculptors who are taking this humble, yet historically civilization-shifting material into new directions in the service of creativity.
In this article, we take a look at the work of a sculptural illustrator in the 3D Shop Talk video and towards the end of the article, I talk briefly about working with Italian Crepe Paper to create a large-scale sculptural installation.
In the new "3D Shop Talk: Presenting Process" videos, we have the opportunity to poke around another sculptor's studio and take a peek at the processes and tools they use to create their pieces. From work arounds we've developed, methods we've learned through trial and error to tools we've invented to get the job done, here's where we get to learn from and celebrate other sculptors' creativity.
Today's episode features Nicole Grosjean, sculptural illustrator working in paper. I first met Nicole at Spectrum Live and was astounded by the detail, precision and artistry of her work. Each sculptural illustration seemed to feature thousands of tiny bits of paper – a most complicated puzzle carefully sculpted and assembled into a complete story of its own. It was a treat to get an inside look at the complex and meticulous process she uses to create each of her pieces. Enjoy!
3D Shop Talk: Presenting Process
You can see more of Nicole's work at: www.paperfauna.com
Italian Crepe Paper
Yes, last month I mentioned that today's post was to be about working with models, but sometimes, I have to go with the flow since most of us aren't getting to work with models these days anyway. Info on working with models is coming in the future, I promise.
Back to sculpting with paper, earlier this spring Colin and I installed one of our sculptures at the San Angelo Museum of Fine Arts. "Flora, Zephyros and The Blossoming of Creativity" features a life-sized fired clay figure suspended 14 feet off the floor from a 40 foot ceiling. There are around 400 Italian Crepe Paper flowers blossoming from her and spiraling down to the floor.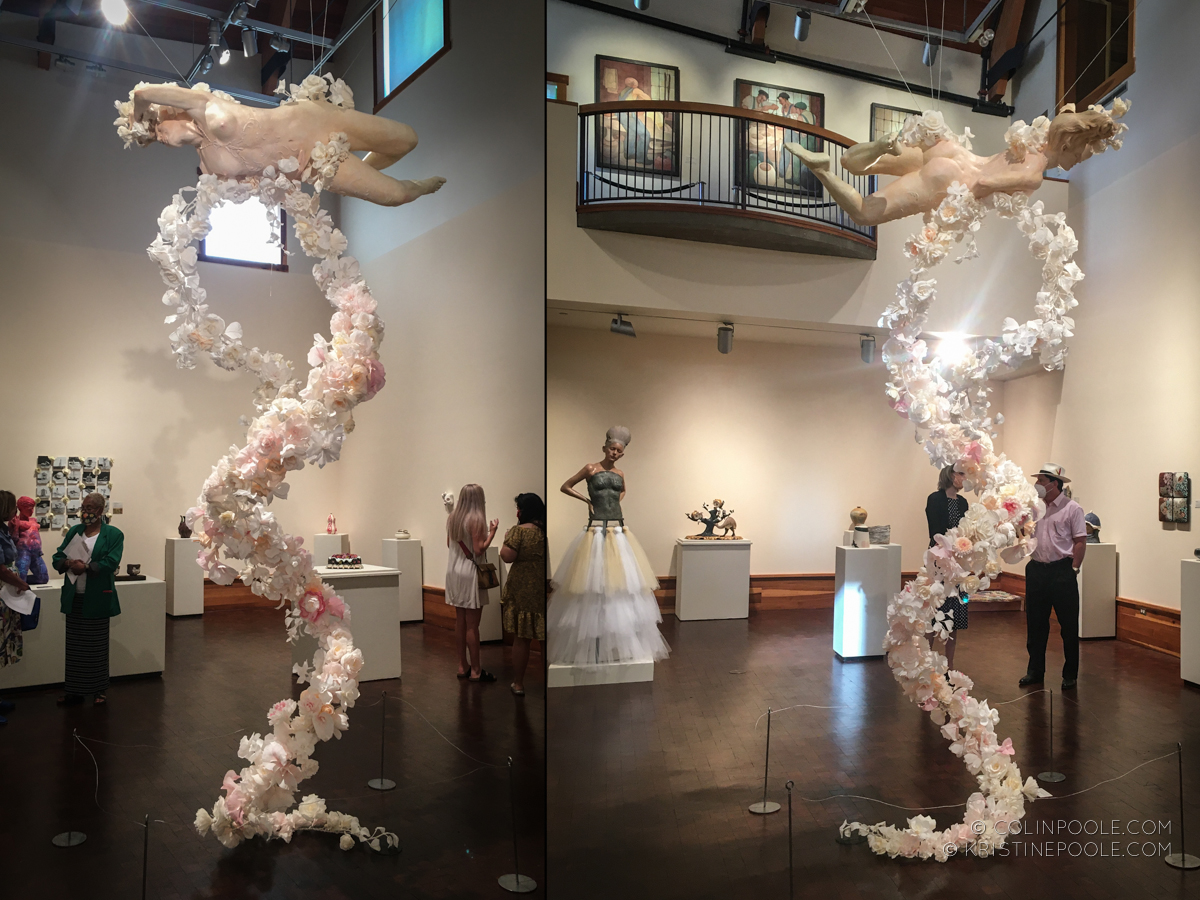 Italian crepe paper looks similar to the paper streamers you would use to decorate for parties, but comes in large rolls and is much thicker and more durable. To create the flowers, petals are cut and assembled on a floral wire using hot glue. The paper petals then can be stretched, rolled and formed, ultimately sculpted into realistic looking flowers. The result is being able to create a huge mass of forms that remarkably weighs less than 30 pounds ("remarkably" because a life-sized clay piece weighs between 120 – 160 pounds. Every time we move one, Colin suggests I might consider taking up painting unframed watercolors 😉 )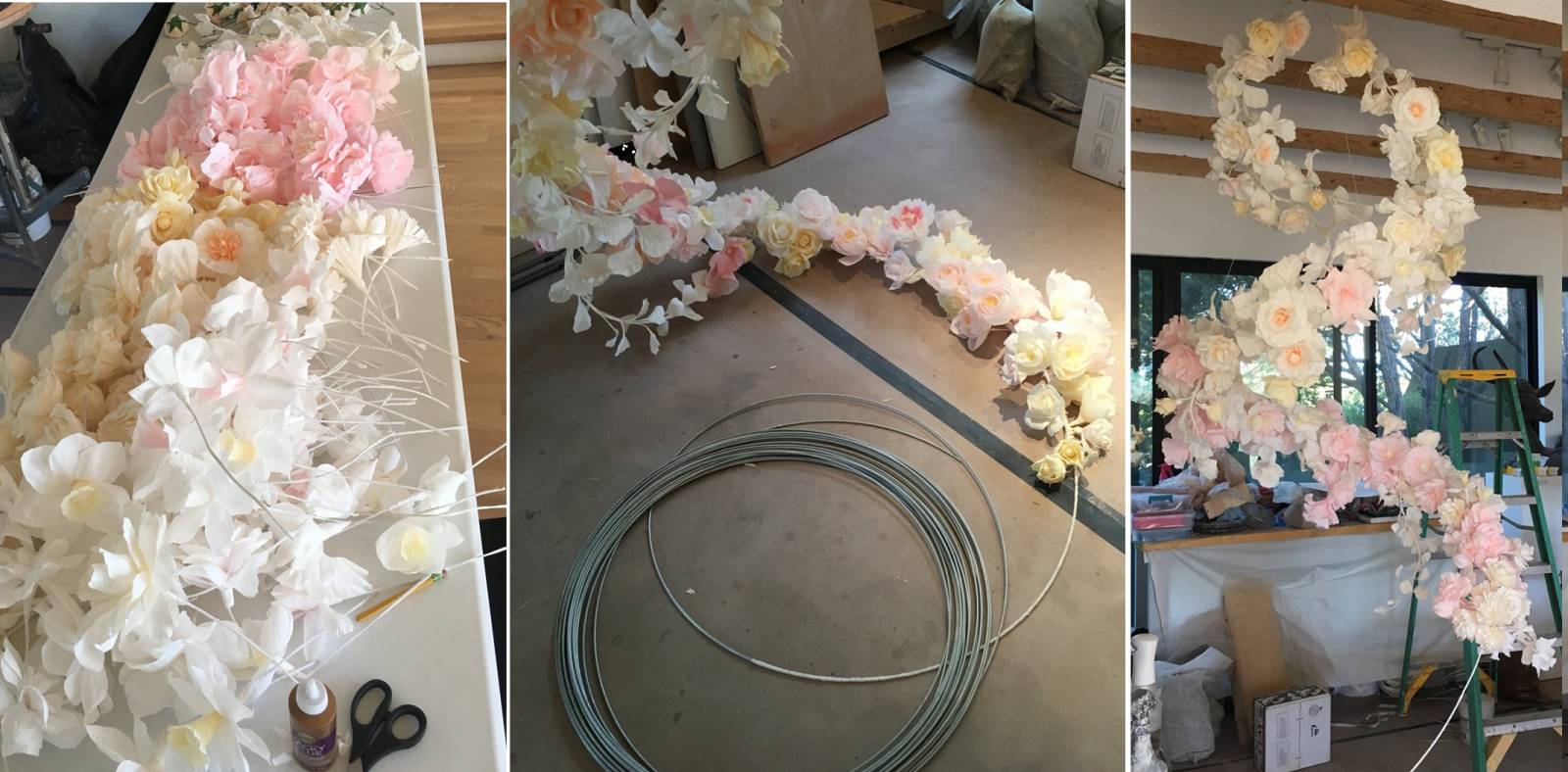 In Greek and Roman mythology, Flora is the goddess of the blossoming of flowers. She is married to Zephyros, the God of the West Wind. In this sculpture, from the blossoming of their love, Flora gives birth to flowers, springtime and creativity. 
Inspired by the merging of my life with Colin's when we met in 2008, this is a sculpture I dreamt of creating for many years. It is a metaphor for the creativity that springs forth from love. When people love, they are inspired to write poems and songs, they imagine and they dream, they dance and…they create, showering the world with the gifts of creativity.
So, then…until next time, keep creating! K