There are a couple of projects that I want to share with you because I think they are both worth backing on Kickstarter!
Monsters Don't Wear Underpants – link to the Kickstarter
The first is a really wonderful book by my friend, author, artist, and art director for Brandon Sanderson's publishing company, Dragonsteel Entertainment. I am biased about this project, but I think I can objectively say this is a book that you will enjoy reading with a child in your life.
Reading to kids is of course a wonderful thing to do. It increases their vocabulary, excites the imagination, encourages creativity, and creates a wonderful relationship between the reader and the listener as they explore new worlds together. I loved story time with my kids when they were little and I look forward to the day when I have grandkids (it won't be for a while still) that I can read to as well. Having burned through many great books reading to my kids, I can say that having a few in your collection that deals with monsters are always a good idea! It's fun to see eyes get big and that magical combination of wonder and trepidation at the thought of monsters. Plus you get to read monster books out loud with all kinds of dramatic and silly voices (okay, any book is more fun with outlandish voices).
Isaac has captured a really beautiful style with this book. I asked Isaac if I could share some of the sketches and process! Here is a shot of some of the ideas he had for the cover image of the book. You can see, even at this small scale, how well he has developed the visual style of the characters.
It's great to see how the ideas progressed from the monochromatic digital sketches into the rich and colorful finished pages. The book is a classical lift the flap book where kids can interact with the story and lift the flaps to see just what kind of underwear a dragon, the Invisible Man, or even Fish Man might be doffing under the murky waters of the local swamp.
One of the things I love about the style for this book is the soft, clean sense of light that Isaac has imbued into the art. There is a wonderful falloff of temperatures from warm to cool throughout the book, drawing the eye and adding depth. I fully believe that kids respond to well-crafted art. I once had my own little game company the goal of which was to create the highest quality visuals we could with the purpose of creating a deep visual world for kids to get lost in. I think Isaac has had a similar aim here and doesn't downplay the connoisseurship of his audience.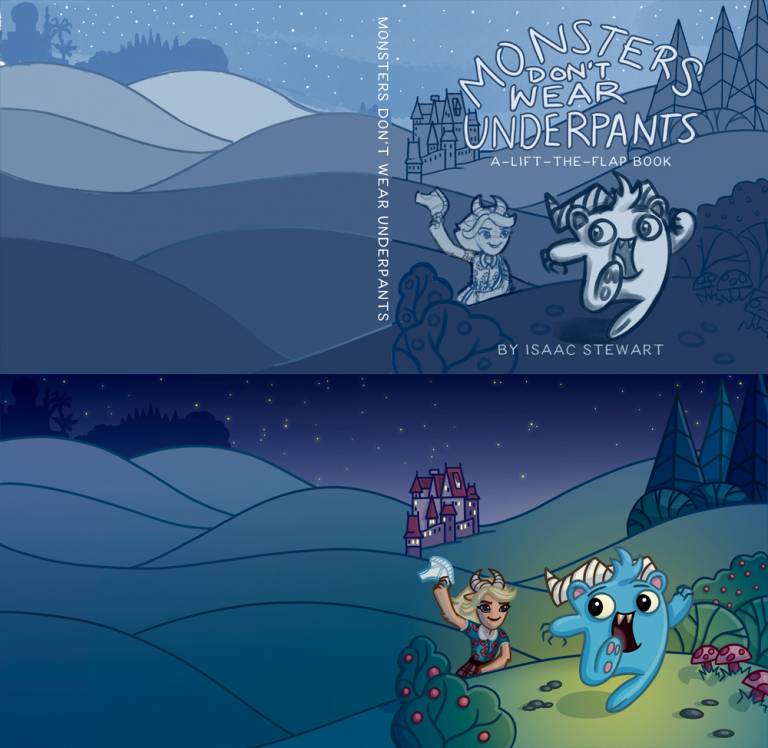 We have entered into a new era of publishing. Sanderson recently had a wildly successful Kickstarter, raising nearly 7 million dollars for the leatherbound version of The Way of Kings, book one of the Stormlight Archive. If you have listened to the audiobooks of the Stormlight Archive you'll be familiar with the wonderful vocal talents of Kate Reading and Michael Kramer. I don't know Isaac pulled this off (actually, Isaac is a really nice guy and people that know him are most certainly happy to jump in and help out!) but he got them to do a read-through of his book. Here you go!
I had the chance to sit down with Isaac and ask him some questions about the book and the process
How did this story come about? – "I never really set out to do a picture book. I had finished creating a graphic novel that we were shopping around and nobody wanted it because it was too experimental/strange. In the middle of it I was trying to put one of my kids to bed and I told her "make sure you put on underpants" and she responded in a monster voice, "But Daddy, monsters don't wear underpants!" By the end of that night, I had a dozen ideas for a lift the flap book! I pitched it to my agent and he loved it."
Why did you choose Kickstarter? – "My agent shopped the book around in NY to many publishers and have 4 who took it to acquisitions. Many other companies thought it was great, but they only did internal board books, or it didn't fit into their catalog. 1 of those decided that they wanted to move forward with it. I worked with that publisher for about a year, but at the end of that time, it was clear that our goals were different. I made the difficult decision in March to pull the book. I knew that I was going to be getting familiar with Kickstarter with Brandon so I decided that after that experience I would try my own Kickstarter in October. Basically, I know how to publish a book so let's try Kickstarter! They have been fantastic to work with at Kickstarter and the people that have backed it have been wonderful. It shows real trust to back something on Kickstarter and I take that trust very seriously."
What was your artistic process and how did you come up with the style for the book? – "This was a little different from my normal process. I usually am creating maps, not cartoon characters. After writing the book I had enough to start sketching. I did one finished spread of the book and then sketches for the rest. I wanted to have something finished to send to publishers. Getting the style of the book was the first big challenge. What would the rendering style be for the book? Will the angles be hard or rounded? At first, I went for a very gouache looking style, but it didn't feel right. Once I went for the defined shape-driven style that felt better. Each spread of the book became two spreads, because of what was under the flaps. It was almost like frames of animation. It was very important to account for the cuts of the flaps in the book so that the artwork feels seamless when you lift the flap. I would start with thumbnails, then polished drawings, then adding color and refining the shapes and color. Almost all of the work for the book was done digitally."
Do you plan on creating more books in this world? – "I have plans for two more books down the road. Monsters Don't Like Babies and a third one Monsters Don't Wear Underpants Too. Little Blue (the main character) will have to teach his new little sister to wear underpants!"
What's next on your plate? – From a creative standpoint, I do art direction for Brandon which is the bulk of my time. But I am working on a story for Brandon in the White Sand world and it is called The Arcanist. The setting is the other side of Taldain, a world that never sees the light of the sun and is the Cosmere Universe.
Isaac wanted me to also add that he is always on the lookout for artwork for Sanderson's worlds, so if you create some fan art then be sure to tag Isaac so that he can see it! Here is a link to his Instagram. It's a great opportunity to get the eyes of an industry-leading professional art director on your work!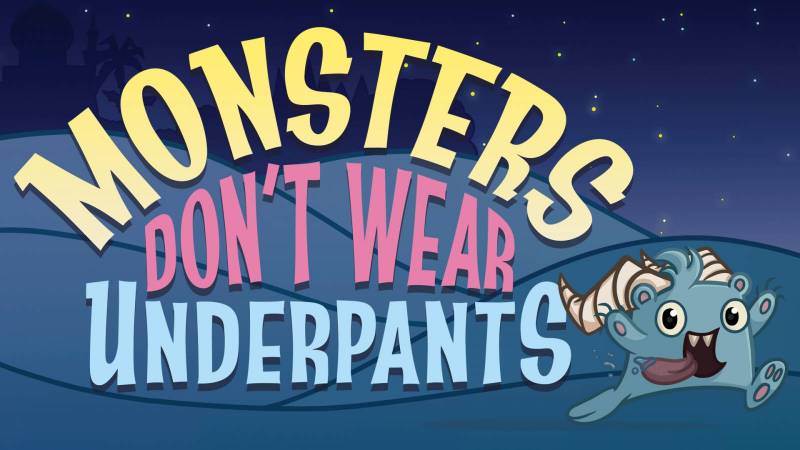 Monsters Don't Wear Underpants – link to the Kickstarter
The second project that I want to let you know about is one that ends today! It is for a product that I have used and carried with me literally around the world. That is a Sketch Wallet!
Sketch Wallet 2.0 – Kickstarter
I love my Sketch Wallet! The name says it all, it is a wallet that holds a sketchbook and the new version has a pen/pencil holder built into it too. They come in two sizes, the original and medium. I currently have version 1, large fabric edition. You can fill it with a range of widely available sketchbooks, from Sketch Wallet, Moleskine or Stillman and Birn. Here is a flip-through of mine:
As you can see it is rough, but always with me and ready to go to get an idea down. I find that when I have an idea that I like the best time to sketch it out is right then. I asked Ralph Thomas if the leather was the same thickness as the canvas (the original leather one was a bit thicker) and he said "The leather is the same thickness as the canvas. It's genuine leather, not full grain like the first leather one. Full-grain would be very thick." That's great news! The leather one looks great too.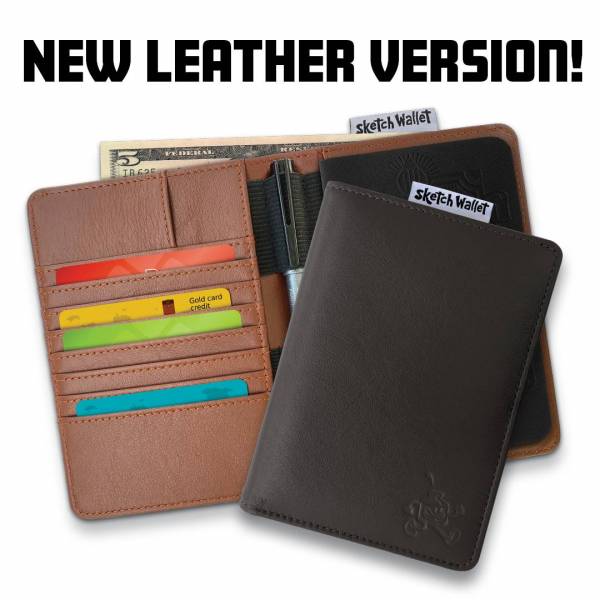 I think I am going to go for the medium leather one… but I do like the fabric version I currently have. Here is what the medium fabric version looks like as well as a couple of new colors.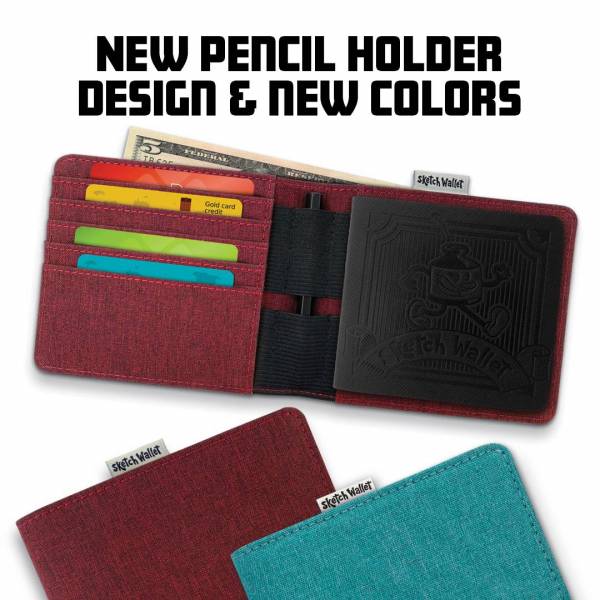 If you like to have something with you to sketch with, go check it out and it ends today (10/8/2020) so don't wait too long!
Sketch Wallet 2.0 – Kickstarter
Another little tip, I like having a fine little pencil inside my wallet. I use the Zebra Mini Mechanical pencil. It's very tiny, but perfect for a travel pencil! You can see it and the companion pen in my video tucked into the wallet. The new 2.0 version of the wallet has a dedicated pencil holder which is great!
Sincerely,
Howard