I often listen to self-help or nonfiction audiobooks while I do housework, and in many of them their examples of "successful people" are other self-help book writers, life coaches, motivational speakers, etc. It's not as common to find books with an emphasis on people with careers that require the particular mix of energy, imagination, and fuzzy-mental-edges-allowing-unrelated-concepts-to-intermingle that is needed to be a prodigious creative.
I've just finished a couple of really excellent books for the long haul of creative career stress. Between Burnout by Emily and Amelia Naogski and Rest by Alex Soojung-kim Pang, I have been renewing my efforts to structure my days around non-negotiable recuperation rather than constantly saying "once I finish this."
Here are Emily and Amelia Nagoski giving a talk on their book, and Alex Soojung-Kim Pang giving one on his.
Right now one of the ways I recuperate is by taking of solo walks. I'm stuck in an urban environment but there's a little spit of nature I can go to, where waterfowl and the occasional hawk add some wildlife-viewing spice to my life, and the waters of the Delaware River give me a feeling of peace.
It's actually the ruin of an old pier, now overgrown and turned into a very small park.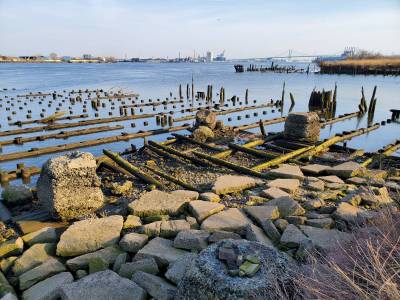 Not a great photo, but here is some documented evidence of beaver landscaping…
The view earlier today… Same place, higher tide.
There are always a few cormorants on these old pilings, mixed in amongst seagulls and crows. There are also mockingbirds in the shrubs here, and the evening birdsong is off the chain.
Even when you don't think you have time for a break, take one. Just go for a damn walk. You'll feel so much better afterward.