Today I'm pleased to share the work of the American painter, illustrator, muralist, and printmaker Joseph Hirsch. (1910-1981)
Hirsch grew up in Philadelphia, Pennsylvania to German and Jewish parents. At 17 he entered the Pennsylvania Museum and School of Industrial Arts (a school that taught in the realist tradition  of Thomas Eakins). Post graduation he studied with George Luks in New York City who introduced Hirsch to the Social Realism movement.
In the 1930s he worked for the WPA, and during WWII he created imagery for war bonds and was embedded as a war correspondent. Post war he worked as a commercial artist and portrait painter who also produced extensive lithographs. As he matured he experimented with the compositions and space in his painting by layering flat forms on top of each other. He aimed to capture people mid-action, not posing.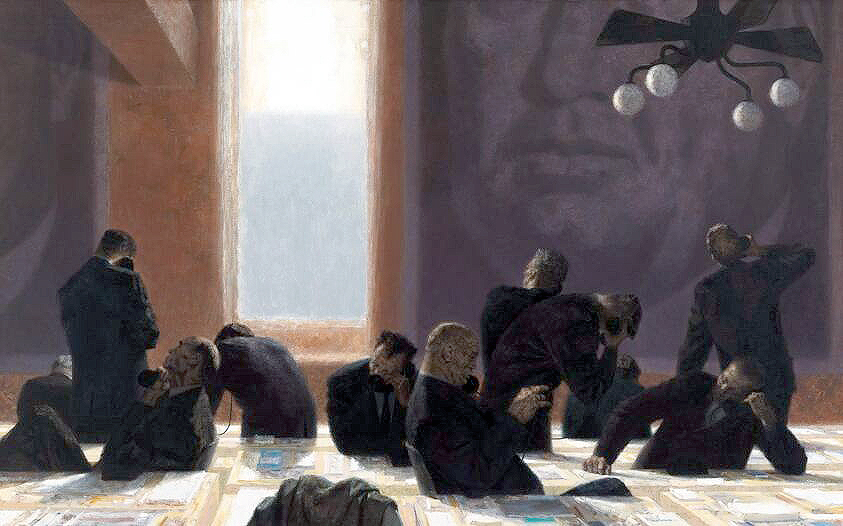 He taught extensively. Institutions include the School of the Art Institute of Chicago, The American Art School of New Yo9rk University, the National Academy of Design, and the Art Student League of New York. He was an artist-in-residence at the University of Utah, Utah State University, Dartmouth College, and Brigham Young university.
His lithographs:
Hirsch was a founding member of the Artists Equity which was an organization created to protect the rights of visual artists. Soon after was was awarded a Fullbright Fellowship resulting in an extended stay in Paris.
As a social realist and humanist, Hirsch frequently portrayed heroic images of ordinary people doing everyday tasks. For Hirsch, all paintings were a celebration of life and everything within the realm of living circumstance was a font of inspiration of almost equal measure. He noted in a 1970 interview, "I usually know where they come from when I think about it. I don't care where they come from…On one of the streetcars in Philadelphia I was coming home late at night and saw one tired passenger whose hand was draped over the front seat…I mention these merely because I happen to remember these things. I've never painted anything that I've seen that I can remember. I've seen things, which have led to paintings." (1)
Below are a number of his figure studies: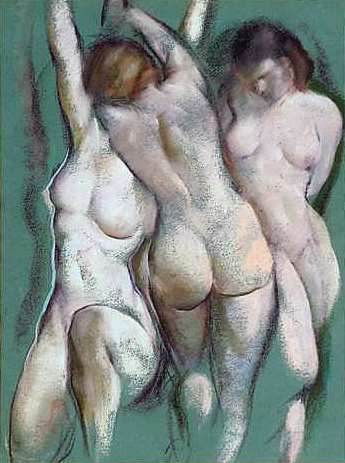 Finally, here are a number of more commercial and portrait pieces from Hirsch's career:
For me, Hirsch has obvious facility, but beyond that his exploration of picture making, shapes, and themes is notable. He appeared to have lived a rich artistic life and made a real effort to document it. All things to aspire to.
Enjoy!