David Petersen, award-winning artist and writer, made his long-awaited return to the world of Mouse Guard with The Owlhen Caregiver & Other Tales earlier this month.
Which of life's biggest lessons can be learned from the smallest amongst us? A young mouse learns that compassion and kindness are the great virtues in "The Owlhen Caregiver." "Piper the Listener" finds a brave mouse venturing into wild country to learn the tongues of other beasts. And a grizzled oldfur shares the lesson of putting a whisker out too far in "The Wild Wolf."
A poignant and beautifully illustrated set of three self-contained tales, The Owlhen Caregiver, showcases the particular qualities that sets David's work apart. Each one thoughtful and moving with that quiet, gentle strength that gives Mouse Guard its deep resonance.
In equal parts the stories are steeped in grief, compassion, and the hope for mutual understanding.
Herein we find David's blending of the symbolic and more grounded aspects of the world in the spotlight, the results weaving together a wholly distinct visual voice to this collection. To be sure, the pages of Mouse Guard are no stranger to iconic and more graphic elements. Look no further than "The Tale of Thane & Ilsa" or "Oh Day Away" in Baldwin the Brave or, to a degree, Lieam's vision at the conclusion of The Black Axe.
These, along with the tapestries and borders which appear throughout the books, give a glimpse into the world as the mice themselves might tell it.
Finding illustrative inspiration in the works of Ivan Bilibin, the first tale, that of an owl who cares for an ailing mouse, is no doubt the most visually striking and emotionally profound story.
"Not all battles are fought with sword and shield– but rather with compassion."
While the second story, "Piper the Listener" stands on its own and can certainly be enjoyed independently, it is all the richer to the reader familiar with the world.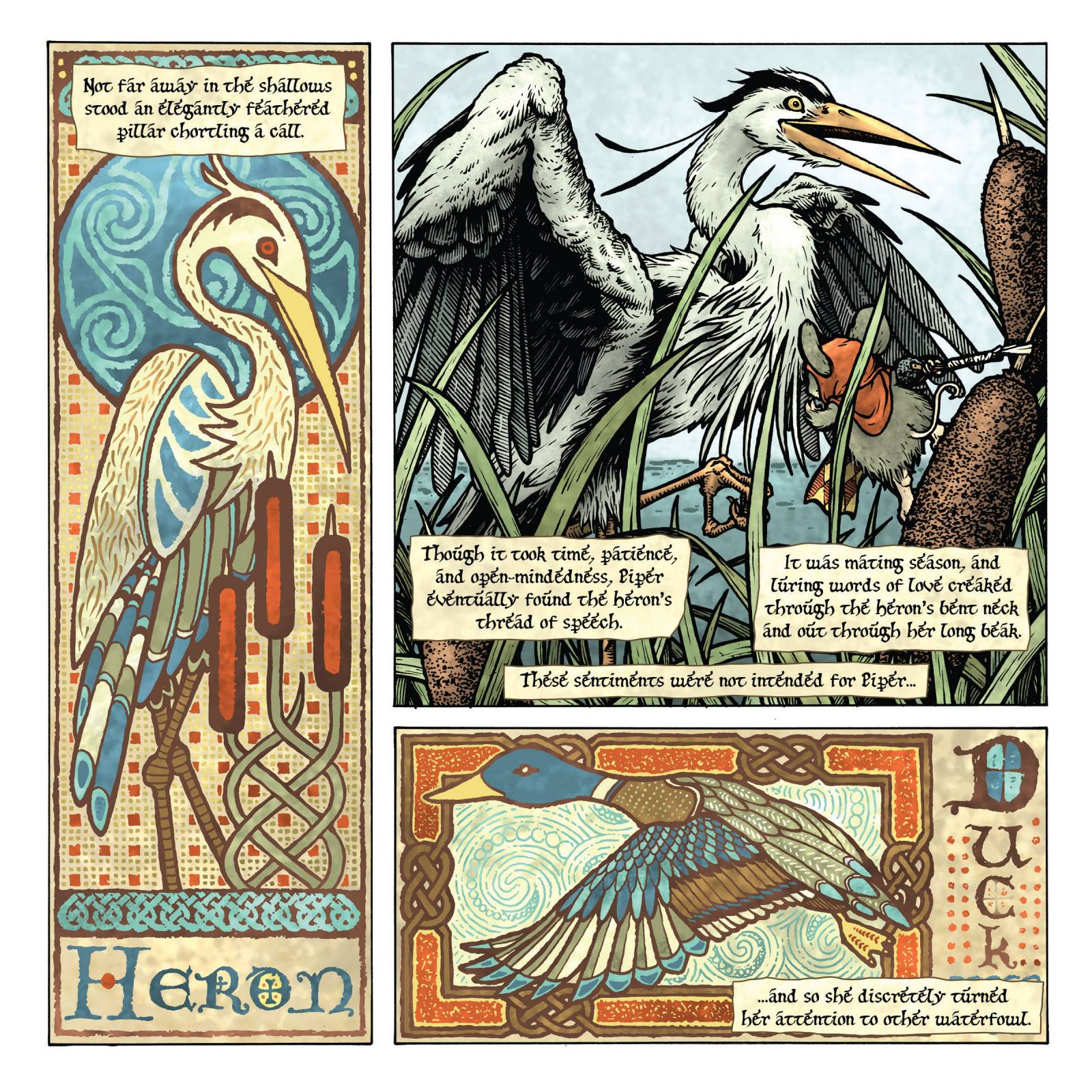 As David writes in the Afterword, "Talking animal stories have inherent pitfalls when used as human allegories. Any predator to your hero species is then seen as evil, a villian–born into that role as an unchangeable fact. In this tale, I wanted to address fan questions about both animal languages and culture, while also trying to show a patient, curious diplomacy that can lead to understanding even one's foes."
"The Wild Wolf" is a call to tread carefully and not be careless with life. Service greater than self and sword.
The Owlhen Caregiver & Other Tales can be found at your local comic shop!
David Petersen's work and the world of Mouse Guard can be found at his site.
If you're looking for more, he's also very active on his Twitter and Instagram. And, he's recently begun a Patreon!