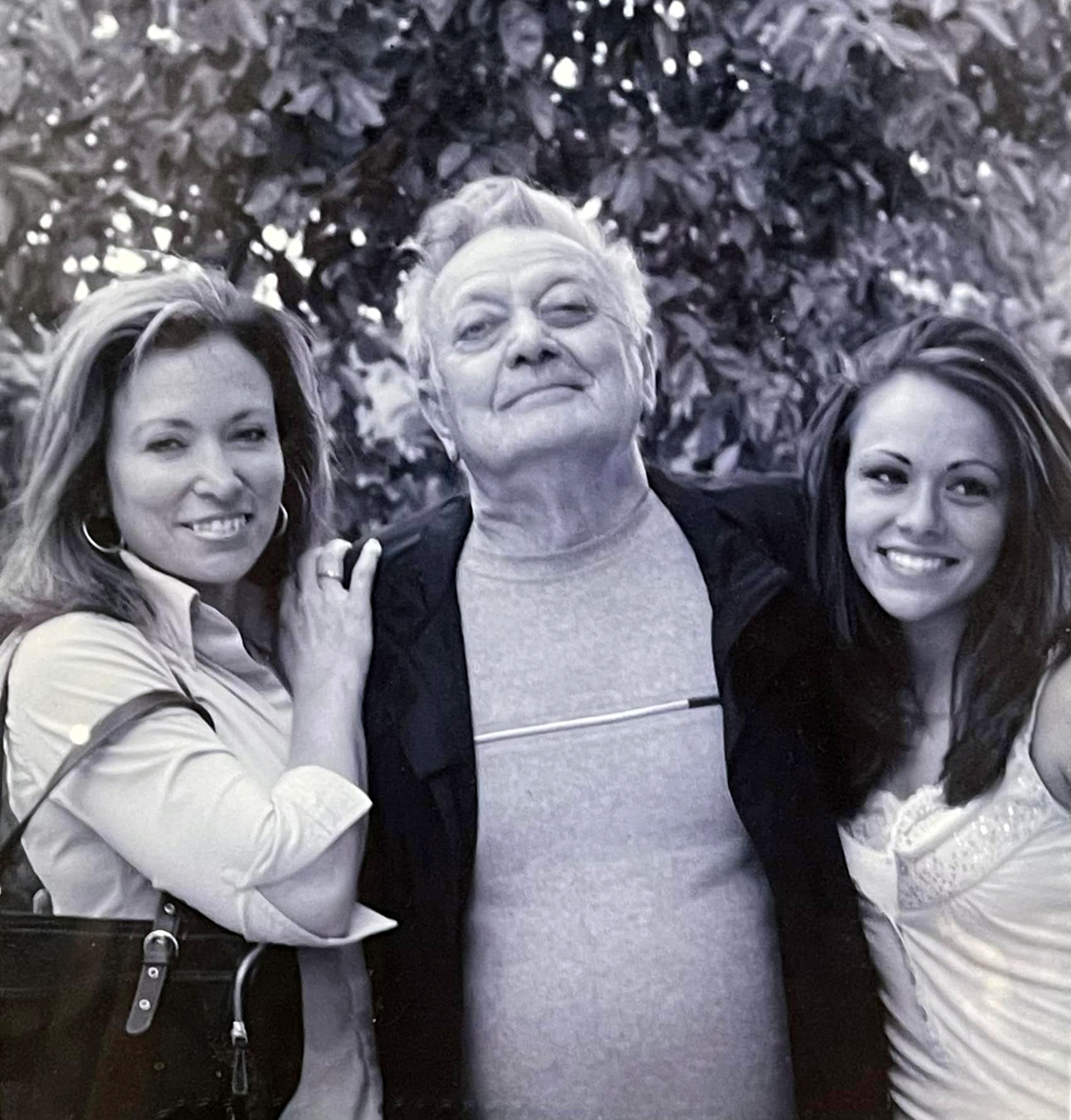 Above: Daughter Holly Frazetta and granddaughter Sara Frazetta flank Grand Master Frank Frazetta.
After their 18-month adventure in California for the filming of Fire and Ice, Frank and Ellie Frazetta returned to Pennsylvania and purchased a block-long former Masonic Lodge building in downtown East Stroudsburg. On the street level were various retail shops, two that were owned by their sons: Bill owned Frazetta's Costumes, a business he started out of his van in 1981, while Frank Jr. operated a golf equipment store, Golf World. Sometime between 1983-1985 (accounts vary, depending on who you talk to) Ellie opened the first Frazetta Art Museum on the upper floor of the building. "We were always getting calls from fans asking if they could come see the originals," Frank said. "The best we had done through the years was to have some exhibits at various conventions, but that got to be a risky hassle. We did the museum for all the people who have had fun with my art over the years. It was all Ellie's idea."
The museum was open (though only sporadically) throughout Frazetta's roughly 8-year battle with misdiagnosed thyroid disease; once the problem was finally identified and treated he began painting again and exploring new opportunities. The Frazettas also began thinking about a winter retreat; according to Ellie, a small fire in one of the rental properties on the first floor of the Masonic building—none of the art in the upstairs gallery was damaged—prompted her to close the museum and start looking south. Granddaughter Sara Frazetta takes up the story next: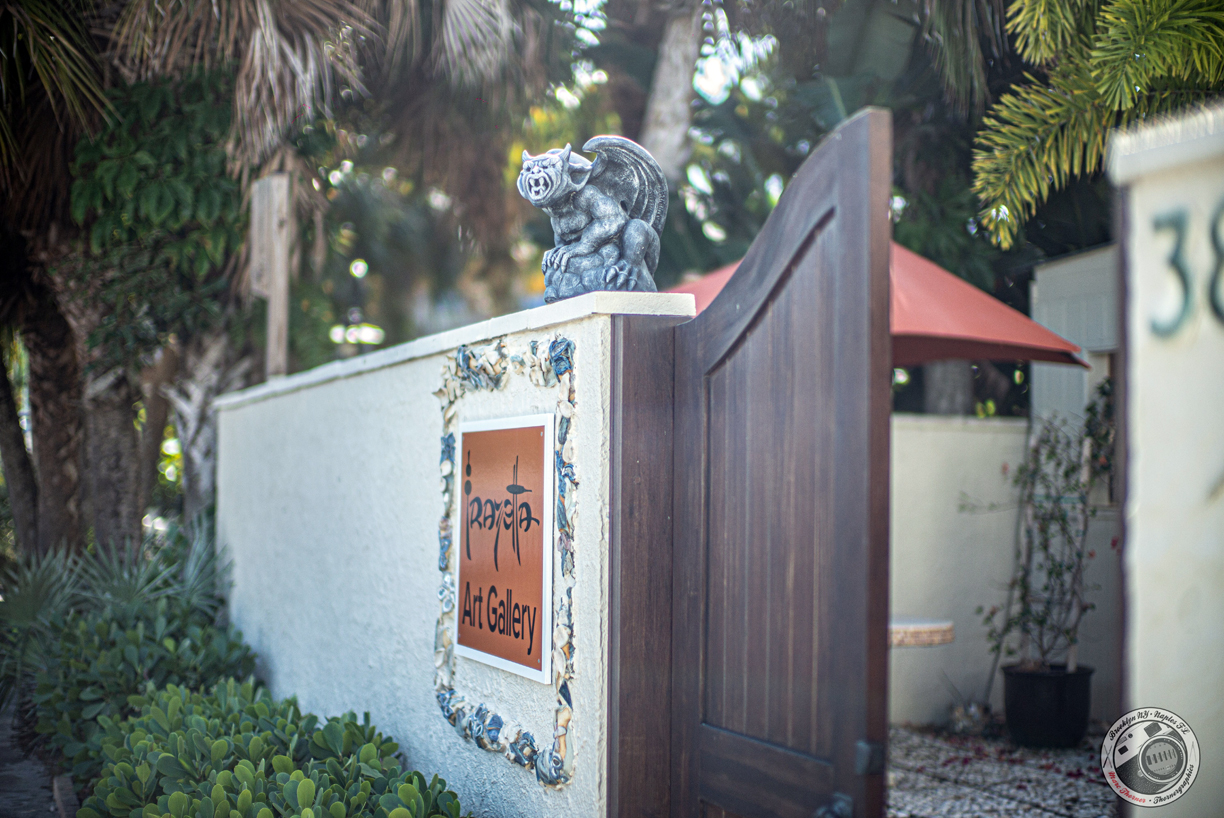 Above: The gate to the Frazetta Art Gallery in Boca Grande. Photo by Marc Thorner.
"In 1994, Frank and Ellie visited Southwest Florida to search for their winter home. They initially visited an island called Sanibel, which is when they were advised to also explore Boca Grande, an island two hours north. When they arrived, they knew Boca Grande was their new home away from home. Within a week, my grandparents purchased a beautiful condo overlooking the Gulf of Mexico. Frank was adamant on staying in Florida for most of the year, so he began looking at commercial real estate in hopes of finding a new location for his museum. When he found a downtown gem—383 Park Ave—his vision became a reality. They purchased the building in 1995 and opened his second museum. Sadly, Frank suffered a major stroke in early 1996 and was forced to move back to Pennsylvania for care. This location has been closed ever since."
Ellie, of course, was always busy and in 1999, while Frank was still recovering from his first stroke, she began building a new museum (this one fireproof) in Pennsylvania next to their house where their garage originally sat; it had a "soft" opening in 2000 and was enthusiastically operated by Ellie until shortly before her death in 2009. Though the Frazettas had retained many of Frank's most popular works, they had also sold originals throughout their lifetimes and everything was always potentially for sale if the money was right: Ellie was very savvy in making sure to limit the availability of paintings at any given time and increased the demand (and the prices) as a result. The museum was privately nicknamed "Ellie's Sales Room" among those in the know, but there was no denying the pleasure Ellie felt when meeting fans from far and wide and conducting tours. Shortly after she passed away, Frank sold "[Conan] The Berserker" for $1m; not long after he sold "[Conan] The Destroyer" for $1.5m. Following Frank's death in 2010 and per his will, all of the art still in his possession was equally divided between the four Frazetta children, Frank Jr., Bill, Holly, and Heidi. Frank Jr. also retained ownership of Ellie's third museum and his parents' house next door; he displays the originals in his collection along with Frazetta memorabilia and prints of the art owned by his siblings in his East Stroudsburg museum. Bill, Holly, and Heidi have each exhibited works in their collections in various pop-up shows over the years in San Diego, Austin, and New York—and now Holly and Sara have reopened the second Frazetta Gallery in Florida.
Featuring originals that Holly had inherited from her father, the gallery includes oil paintings, watercolors, roughs, drawings, photographs, and some of Frazetta's camera collection and mementos. There are multiple iconic works as well as previously unpublished art. This location will only be open for the month of February and March 2022 with plans to reopen again in 2023 and visits are limited and by appointment only. Contact them via the Frazetta Girls website to schedule a day and time to visit the gallery: https://www.frazettagirls.com.
Above: Some of the originals on display in Boca Grande. Photo by Marc Thorner.
Above: Cabana Macabre, Deryk Wehrley Manky Bruner and Bo Bradshaw at the opening of the gallery Feb. 4th. Photo by Marc Thorner.
Above: Sara Frazetta signs an autograph. Photo by Marc Thorner.
In the video below, Sara Frazetta gives a tour of the Boca Grande gallery, shares some anecdotes, and answers a few questions.