Over the past few years I've written a fair bit about Frank Frazetta and some of the stories behind his work; today I thought I'd share a little more.
Frank's relationship with publisher James Warren began in 1964 and was both rewarding and, near its end, tempestuous—but in between he created some of his most popular and influential artworks. By my count he produced 30 covers for Warren's magazines Creepy, Eerie, Blazing Combat, and Vampirella, along with various drawings and comics, easily making Warren one of Frazetta's biggest (though not exactly financially lucrative) clients.  And one of Frank's most famous assignments was designing the character Vampirella.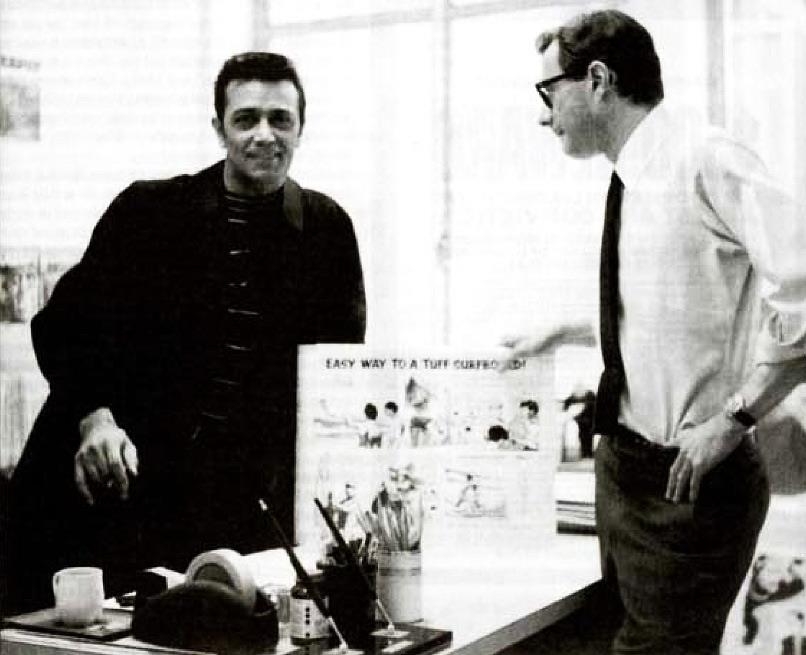 Above: Frazetta delivers an anti-smoking ad that Warren commissioned and published in all of his magazines. Note the cigarette in Frank's hand.
Warren (born James Warren Taubman in 1930) originally worked as the advertising assistant manager for Philadelphia's Caloric Range Company in the 1950s. Inspired by Hugh Hefner's runaway success with Playboy magazine in 1953, he turned his hand to publishing and produced an imitation titled After Hours in 1957—which only lasted four issues and ultimately led to his arrest on charges of obscenity and pornography in Pennsylvania and New Jersey. When the cases were eventually dropped, he turned his back on adult entertainment and focused his attention on another genre entirely.
Above: After Hours was far from pornographic—but it still landed Warren in hot water.
Teaming with über science fiction fan, collector, writer, and literary agent Forest J. Ackerman, he published the first issue of Famous Monsters of Filmland in 1958: the magazine was an instant success. FM offered short articles—illustrated in black and white with publicity stills and art—about horror movies from the silent era to the current date of publication, their stars, and the filmmakers; the content was respectful but purposefully light in tone and "Uncle Forry's" text was often filled with puns. Warren's and Ackerman's decision to aim the content at late pre-adolescents and young teenagers proved to be astute and the first issue sold out several printings, totaling over 200,000 copies. Local TV stations had started running late-night horror movies on weekends around the same time FM appeared and monsters suddenly experienced an explosion of pop-culture popularity among kids. Impressionable readers like Steven Spielberg, John Landis, Stephen King, and many more future filmmakers, writers, and artists were inspired by the magazine.
Above: That's publisher James Warren modeling the Frankenstein Monster mask on the first cover of Famous Monsters.
Famous Monsters prompted a variety of spinoffs from Warren, but none had the same impact as the original and most didn't last long—until 1964, when he produced the first issue of the horror comic Creepy. Though Creepy was inspired by the EC classics of the 1950s—Tales from the Crypt, The Vault of Horror, and The Haunt of Fear—Warren avoided the restrictions of the comic industry's moral watchdog, the Comics Code Authority, by publishing it in a magazine format, much like Mad had done several years earlier. The idea of Russ Jones or Larry Ivie or Warren himself (depending on whose story you choose to believe) it featured the work of writer/editor Archie Goodwin and many former EC artists including John Severin, Reed Crandall, Angelo Torres, Al Williamson, Alex Toth, and, of course, Frank Frazetta; each story was introduced by the magazine's "host," Uncle Creepy.
Above: Besides "Werewolf!" Frazetta drew 2 single-page "Loathesome Lore" stories for Creepy. Warren was still deciding on a "host" for the magazine while Frank was working on the story and this was the only one introduced by the skeletal "Julius." Frazetta loosely based the villainous hunter in "Werewolf!" on Ernest Borgnine's sadistic sergeant in "From Here to Eternity."
Creepy not only featured Frazetta's last full-length comic story ("Werewolf" in issue #1), but it also boasted—along with its subsequent companion magazine, Eerie—an outstanding series of Frank's cover paintings, as I mentioned at the outset of this essay. Unfortunately, after several years of enviable success, Warren experienced a serious financial downturn beginning in 1967; Goodwin, Frazetta, and virtually all of the leading artists left when their pay was cut and Warren was forced to rely on reprints (for which he paid the creators nothing) for Creepy, Eerie, and Famous Monsters of Filmland for several years while he reorganized and recovered.
Above: John Phillip Law and Jane Fonda in a publicity still for Barbarella.
By 1969 things were looking a bit better; Warren began purchasing new stories and art, raised the pay (slightly) again for the creators, and began thinking about adding a third title to his horror comics line. There had always been at least some women heroes and villains in comics since their early days, but other than Wonder Woman and maybe Sheena Queen of the Jungle, few could compete with their male counterparts in popularity and sales. Without having to worry about the Comics Code's restrictions, Warren decided to create a deliberately sexy female character who could also kill the bad guys (and other monsters) rather than take them to jail. Inspired by the 1968 film adaptation (starring Jane Fonda) of Jean-Claude Forest's erotic Barbarella comics, Warren phoned Frazetta and commissioned him to do a drawing to use for promotion for the new magazine, much like Frank had done of Uncle Creepy some years before. "Warren never paid very much," Frazetta said, "but he had the gift of gab—and he'd always give me a kind of special 'bonus' when I delivered a job, so I thought, 'Why not?' We discussed the character and I did a few drawings. [Jim] told me about this funny costume: Vampirella was a kind of vampire-type girl and it was really pretty silly. I just drew a sexy girl." But Warren had a very clear idea of what he wanted and Frank wasn't providing it.
"I told [Frank] I wanted the new character to have an aura of sexuality and mystery," Warren said in an interview with Horror Biz magazine in 1999. "I specifically wanted red and black as her signature colors: red costume with long black hair and black boots. Frank originally saw her as blonde, but I insisted she have black hair." Warren knew what he was looking for (he also didn't care for Frazetta's initial costume design, either) and wanted Vampirella to resemble his teenage sweetheart, Gloria Reif, but he was having a difficult time explaining his ideas.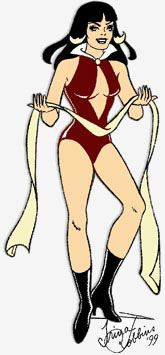 "I was sitting in Warren's office," remembered cartoonist Trina Robbins, "where he was talking to me about the fact that my artwork was nowhere good enough to appear in his magazines, which was very true. Frazetta called to discuss a sketch of Vampirella that he'd sent to Jim. Warren said it wasn't right. Frank had drawn her wearing, more of less, a basic bikini, but Jim had something else in mind. It became clear that Frank wasn't getting the idea as Jim tried to describe it, so Jim turned to me and described the costume, the way the top was open in front and attached to a collar, the boots and so on. I drew it as he was talking.'That's it!' he said, pointing at my sketch. 'Now describe it exactly to Frank,' he said and handed me the phone." On that day before fax machines (much less email), Trina went back-and-forth with Frank over the phone carefully describing the sketch that had gotten Warren excited (which she recreated several decades later as shown here). "Frazetta's original cover art of Vampirella looked a lot like my idea," Robbins has said, "but her costume shrunk. Over the years her costume has gotten skimpier and skimpier—now it doesn't bear any resemblance to what I designed." Despite her help, she never received any other work from Warren; in return for her costume design, Trina was given a "lifetime subscription" to Vampirella in lieu of money.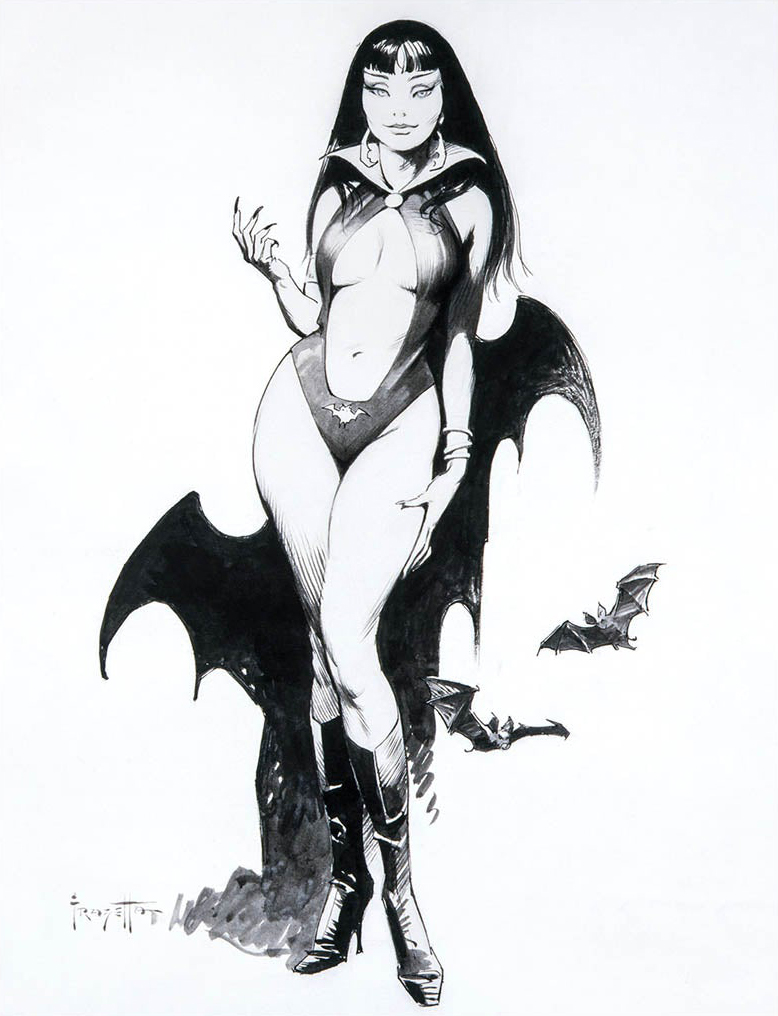 Above: After the look was determined, Frazetta's first Vampirella drawing. Below: His additional drawings that Warren used for promotion or as lead-ins to stories.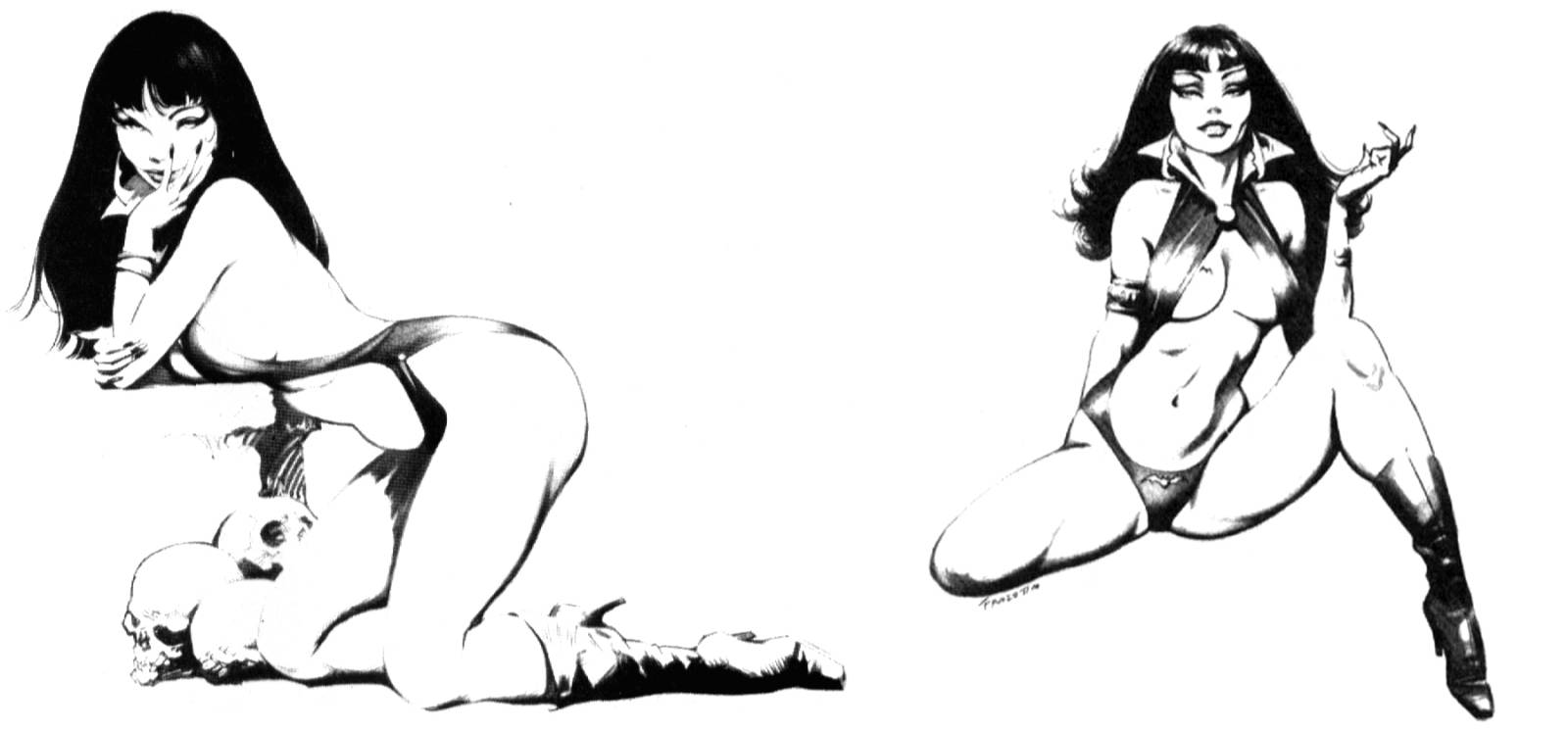 With the costume finalized, Frazetta produced 4 ink drawings of Vampirella, with the first appearing as a teaser ad in Creepy #29. Warren hired Ackerman to write an origin story illustrated by Tom Sutton and, in keeping with the Barbarella inspiration, commissioned French pin-up artist Alain Aslan [1930-2014] to provide the cover—but Warren wasn't satisfied with the results and again turned to Frazetta for the cover for Vampirella #1. "There wasn't a lot to it," Frazetta said. "It's not much of a painting; I don't think I spent more than a few hours doing it start to finish. But people just went nuts when the magazine came out. When I sold the original at auction, I undressed her. I thought that costume was so corny, I painted it out, made her brazenly nude—and everybody loved it more." Several years later Warren published Aslan's painting as the cover for the 1972 Vampirella Annual.
Above left: Alain Aslan's painting intended for Vampirella #1. Above right: Frazetta's cover. Below: Frank's original beside his altered version which was sold at auction in 1991 for $77,000 (plus a 10% buyer's premium). As a piece of comics history I've always believed that, if he had left Vampirella's costume in place, the painting would have sold for more at the time—and be worth even significantly more today.
Despite the magazine's popularity, Warren was never particularly happy about Ackerman's light-hearted, pun-filled origin and it wasn't until Archie Goodwin returned in 1969 to write a series of stories beginning in Vampirella #8 that his vision of the character was fully realized.
Above: Vampirella quickly became popular among cosplayers at conventions. Two of the earliest, flanking Forest J. Ackerman, were Angelique Trouvere on the left and Charlene Brinkman on the right. Trouvere was a dancer and popular with fans not only for her appearances as Vampirella, but also as Marvel's Red Sonja. Charlene went on to marry (briefly) artist Dave Stevens, changed her name to Brinke Stevens, and became an actor in horror films.
Whether he considered the costume corny or not, Frazetta's cover for the first issue became iconic and influenced virtually all of the other Vampirella artists—and cosplayers—that have followed through the decades since it first appeared in 1969. Frank also eventually returned to the character, producing several drawings to sell at auctions held by Sotheby's and Christie's in the '90s as well as painting the cover for the Vampirella 25th Anniversary Special in 1996 for Harris Publications (who had acquired the character in 1983 following Warren's bankruptcy).
Above: Frank's cover for the Vampirella 25th Anniversary Special that he completed not long before his first stroke. Ackerman provided an introduction to the special recounting his version of how Frazetta came to do the first cover, claiming "…the great artist Frank Frazetta broke down and cried like a baby with a busted balloon and begged on bended knee to be able to portray her." Frank responded, "Ackerman is full of it. Anyone who knows me knows that story isn't true. His story is for the birds." The original cover for the special—along with two other Frazetta paintings and other artworks—was stolen from a collector in April 2021. More information is available via this link.
Now published by Dynamite Entertainment, Vampirella continues to find new fans and inspire young artists 53 years after her original appearance, thanks in no small part to the imagination of James Warren and the skills of Trina Robbins, and, naturally, Frank Frazetta.
There is, of course, more to the Warren/Frazetta story and maybe I'll get around to exploring it sometime in the future. In the meantime Frank's granddaughter, Sara, has started to release all manner of authorized merchandise via her company Frazetta Girls featuring her grandfather's classic Vampirella art, including puzzles, coasters, pins and apparel. Hit this link to see what's currently available.