As some may recall, life threw a monkey wrench into our plans and delayed Spectrum 28 as well as our next Spectrum Fantastic Art Quarterly. Which doesn't mean that we haven't been working on both: you know the old saying about idle hands. And, sonofagun, we're about done with the second volume of the bookazine (12″x12″, full color, softcover, big and bold, you know the deal) so I thought I'd give everyone a very brief preview today of what will be included in #2. Beginning, of course, with Ed Binkley's beautiful cover above.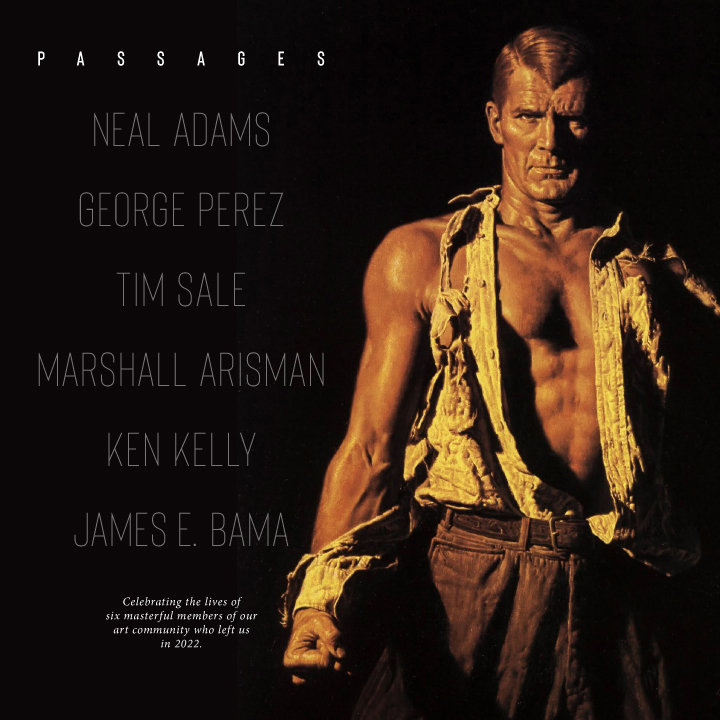 Following the editorial or introduction (or whatever we wind up calling it) will be illustrated remembrances of artists Neal Adams, George Perez, Tim Sale, Marshall Arisman, Ken Kelly, and James Bama. Cathy and I have always felt that it's important to mark the passing of members of our community; it's all part of being a family.
Lauren Panepinto continues with her insightful series showcasing art directors with a thoughtful interview with easily one of our field's most influential members, Tor's Irene Gallo. When two of the smartest people in the room sit down to talk, you know we're going to drag up a chair and listen in. Gregory Manchess provided the stunning portrait of Irene (as if you couldn't tell).
George Pratt sat down with Carol Zaloom to share their memories of Jeffrey [Catherine] Jones in the longest feature in SFAQ #2. Carol was, for a time, Jeff's companion and occasional model while George became Jones' close friend while still in art school; they talk warmly yet honestly about Jeffrey before and after her transition. Along with previously untold stories, anecdotes, and observations there's naturally a plethora of Jones art and photographs, including some that are previously unpublished (yep, pictures from The Studio are in here) or which have never been published in any of Jeffrey's books. Two sidebars we're running with the piece are some thoughts Jones had written to Pratt about using photo references (including her samples and selfies) and a 2002 previously unpublished—and unvarnished—interview with Frank Frazetta regarding the often-repeated "quote" about Jeff that might raise an eyebrow or two.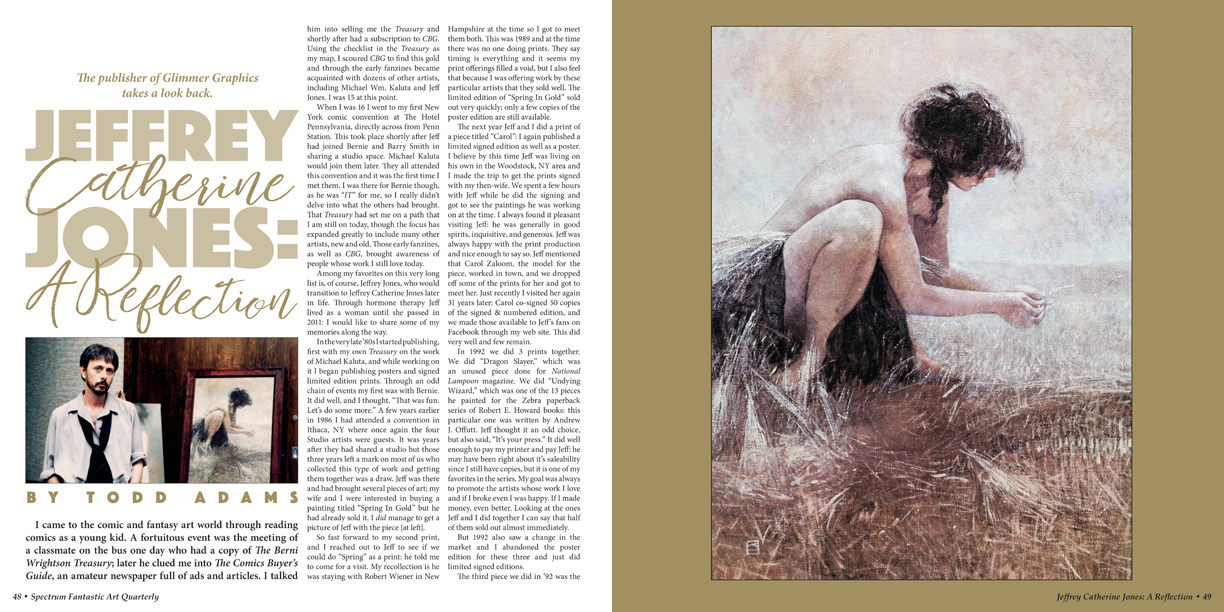 Publisher Todd Adams contributes an essay about his friendship and working relationship with Jeffrey, helping to make Vol. 2 something of a "Jones Issue." And for those interested, Todd still has some high-quality Jones prints available (including the cover painting for A Game of Thrones) via this link.
Award-winning artist Ed Binkley talks with Cathy and shares a gorgeous selection of his colored pencil drawings of the inhabitants of the faerie realm. Ed charmingly explains how he transitioned from being a college art professor to creating work that is by turns beautiful, frightening, or slyly hilarious for galleries. Master Calligrapher Rick Cusick provided the titling.
Grand Master Donato Giancola reveals how a random sketch of a warrior woman done just to fill the time turned into a series of oil paintings and drawings that have become eagerly sought-after by collectors. And, yes, we include some previously unpublished art: more Donato art? Yes, please!
We share another of Gregory Manchess' incredibly helpful "10 Things…" essays that artists young and not-so-young will find invaluable. Each of Greg's articles is a mini tutorial of not only achieving your creative potential but in maintaining a career. Naturally we include some Manchess paintings that will leave viewers gob-smacked.
We close with a conversation with Sara Frazetta, Frank's granddaughter and enthusiastic head-honcho of Frazetta Girls. Is there going to be a new Frazetta book? When will the Florida FF Gallery open for visitors again? What about the Death Dealer comic? Sara tells us everything.
And that's what's coming in Vol 2. Oh, there are some surprise artworks here and there to be discovered when you open the magazine (Pratt here, Kaluta there, Frazetta pops up, and hey! is that Winslow Homer?): that's part of the fun, you know. We'll definitely fiddle with a few things until the last minute so some of the pages you're looking at will be a different when we go to press—which is sort of the nature of publishing.
And, no, we haven't changed our model: we're not printing a lot, we're not selling individual copies, we're not taking subscriptions and we're not selling digital versions (we're old school and like the smell and feel of ink on paper). If you'd like a copy you'll have to get them from the experts in retailing and order fulfillment, Bud Plant, Stuart Ng, Forbidden Planet NYC, or Dreamhaven Books (and they might still have copies of the first volume if you missed it). If stores are interested (and we aren't too lazy) they might appear in a few other places.
Once it's printed and available (within the next few weeks), I'll make sure to let everyone know. Stay tuned: we've already got ideas working for the third volume.