So I finally broke the seal — I went to my first convention since the pandemic hit! For those of you that keep an eye on the greater Illustration world (not just our Science-Fiction-and-Fantasy corner of it) you may have heard of ICON, aka the Illustration CONvention. It happens every 2 years (except for global pandemics) since 1999 in a different location. It's run by a Board of illustrators who are nominated to 2-ICON-long terms, along with a number of Advisors. I have attended and presented/advised at the last three: ICON 9 in Austin, TX in 2016, ICON 10 in Detroit, MI in 2018, and now ICON 11 in Kansas City, MO (which was supposed to happen in 2020 but obviously got delayed to 2022).
I really enjoy attending and working at ICON because it gets me out of my genre bubble and interacting with a wider range of illustrators. And they always have great events and speakers. The con is split into 2 days of hands-on workshops at a local art school, then 2.5 days of talks at the main stage set up in a theater or other large venue. There's also night events. There's always a Roadshow where artists set up tables and sell merchandise (it's a more casual affair than a usual con setup because you're selling to other artists only), then a gallery show artists submit to in advance, then a closing party the last night, also usually at a large venue. Although this year was understandably smaller, a usual year brings hundreds of attendees.
If you want to check out the whole schedule and see the keynote speakers this year click here.
For this ICON and the last one, I was the Advisor in charge of Kaleidoscope talks, which are a rapid-fire style of talk (like a PechaKucha talk) where a presenter gets 20 slides and 20 seconds per slide to talk about a topic of their choice. It's also the segment where attendees can get up on the main stage and present along with their Illustration icons. My work begins with pitch submissions before the event, then I organize jurying the entries, help narrow down the list with the ICON Board, then make sure the pitches chosen become great full presentations. Once at the event I wrangle the Kaleidoscope speakers & tech, make sure everyone gets where they need to be, and emcee our portion. This year we got so many good entries we had two full blocks of Kaleidoscope speakers, 4 on Friday and 4 on Saturday. I'll list them below so you can see the range of topics and check out everyone's sites/socials. If you've attended or seen photos of the Spectrum Awards before, you might recognize the Folly Theater. Since I emcee'ed the last Spectrum Awards in KC, I was very familiar with the stage. Brought back a lot of good memories.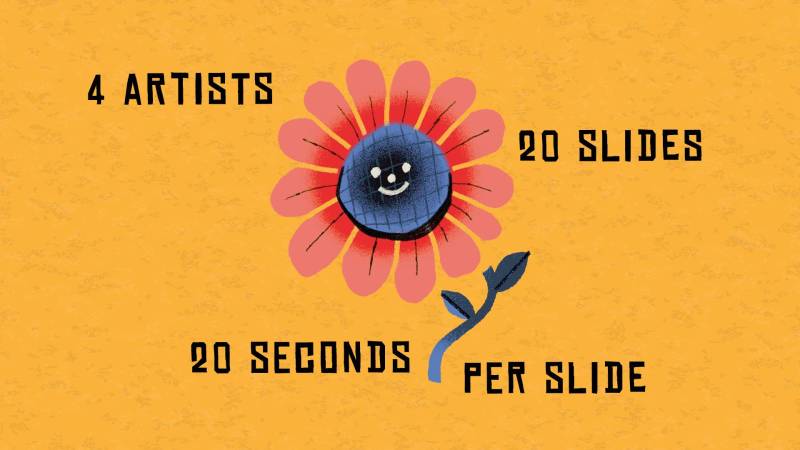 Friday:
1—Lindsay Johnson "Leave All the Doors Open"
twitter: @thelajohnson
instagram: @neoncatdc
2—Jacqueline Sarah Brown "The Nature of Acceptance"
twitter & instagram: @jqln
3—Paul Twa "Self-referencing: How examining our past work helps us find our creative voice"
instagram: @paultwa
4—Krystal Lauk "In Defense of Corporate Memphis"
Twitter & Instagram: @krystallauk
Saturday:
1—Pat Higgins "The Path of Most Resistance"
Twitter: @higginsmedia
Instagram: @phiggins80
2—Sasha "Kouzza" Kuznetsova "Russia, Ukraine, Painted Fish and Hearts"
instagram: @kouzza_art
3—Samuel Washburn "It's OK To Draw The Stuff You Like!"
twitter: @samuelwashburn
instagram: @swashburnillustration
4—Jillian Adel "Art, Alchemy, and Not Dying Yet"
So I know the question everyone wants me to answer: How safe did it feel? Well, it felt really safe at the talks. I applaud the ICON Board for mandating that masks be worn at all times during the workshops and talks. The only time anyone was unmasked was when they were presenting onstage. We even masked and unmasked as we switched out during the Kaleidoscope segments. The Roadshow also felt very safe — everyone was masked as they shopped and circulated, and folks who were drinking kept in the little bar section. I didn't attend the Gallery show (I had the pleasure of having dinner with Arnie & Cathy Fenner so you can say I skipped out on ICON that night in favor of Spectrum), so I can't speak to that nite directly, but I suspect it was much like the final closing party on the last night. It was a big venue, but it was indoors, and while folks started out masked, as soon as they had a drink in their hands they took off their mask to drink and chat. I came early to say my goodbyes and stayed mostly masked except for sips of my drink, but as more people poured in and less people were masked I started to feel very uncomfortable. To be fair I don't blame anyone — we all have to decide our own level of risk — and I had an extra layer of concern because I had road tripped out to KC with my 72 year old father. And we still had a week's road trip back to NYC. I felt very aware of how awful and scary it would be if we got sick on the road far from home. So I left the party after about 20min.
Within 2 days from leaving KC I heard from half my Kaleidoscope speakers and a lot of attendees that they had symptoms and had tested positive for covid. I'm sure more were positive that were asymptomatic and didn't test. ICON responsibly made an announcement on their social pages that a lot of folks had tested positive and everyone who attended should assume they were exposed and test/quarantine as needed. I'm not going to lie, I was 2 states away by that point and gave myself a very real anxiety attack. Dad & I were lucky. My strictness and caution at ICON as well as — as well as a healthy dose of luck — during the entire 17 day road trip kept us from testing positive at any point. But I wasn't perfect, and I stressed for days over those small slips until we were over a week out from the con and knew we were in the clear.
Do I fault ICON? Absolutely not. They did the best they could at the talks and seminars and they can't police parties and all the meals and drinks folks were having outside of official events. I'm not criticizing them, I bring this part up because I think it's a reality we all have to face when we consider whether to attend conventions. I feel for all the artists who depend on cons as part of their livelihood who have to risk getting sick over and over again. I haven't been back to IlluXcon since 2019 and I am really hoping to go this fall. I have plans to go to World Fantasy in November in New Orleans. The actual events don't worry me as much as the social interactions around them, the hotel lobby chats, and especially the portfolio reviews. I always get sick after IlluXcon and other cons where I do a lot of portfolio reviews. I'm just spending too much time in intimate space for 15-20min at a time with too many people over a weekend. I've always considered it part of the job, and the con crud just kind of something you shake off. ICON was safer, because I knew I don't have the recognizability that I have in a SFF space. I did a few portfolio reviews but they were distanced, masked, and/or outside. But can I do that over a whole weekend at IlluXcon where I usually do 50-100 casual portfolio reviews in a weekend? My voice was shot doing 2 back to back reviews loud enough to be heard through a mask. Can I insist all portfolio reviews are done outside? Maybe I give out IOUs for virtual reviews I can schedule over the computer after the con? I really don't know how to approach it all yet. As I said above, we all have to weigh the risks for ourselves — the risks of getting sick, getting at-risk folks in our lives sick, and potentially having long term symptoms and permanent damage on one side Vs. the very real worth of gathering as a community in person on the other. I don't have the answers, unfortunately, but it looks like this is going to be the new normal for a while still, and we all have to consider it.
Sorry to get dark on you there, here's a photo of my Dad with a giant pretzel in Amish Country, PA as cute tax. And if you need more goofy road trip pics in your life you can check them out @planetpinto on
Instagram
or the posts are all in one thread on 
Twitter
. And thank you to Jerry Trapp for these photos & for being official ICON photographer for the event!