Robert Self [1966-2022]. Photo by Greg Preston at Spectrum Fantastic Art Live!, 2013.
I suppose the easiest way to describe Bob Self is to say he was, quite simply…Bob Self.
Publisher, entrepreneur, and showman, Robert "Bob" Self died a day before his birthday as the result of an accident at Mono Lake in California on August 3, 2022.
I first met Bob at a Book Expo America convention—I think in Chicago—and we immediately hit it off. Cathy and I liked what he did, he liked what we did: it was easy to be friends. Over drinks one evening in Kansas City, Cathy told him that she thought he resembled a young Orson Welles, both in appearance and in his multitude of skills—which tickled him since he knew a lot about Welles and was a huge fan. Bob had a background in the entertainment industry and worked behind-the-scenes with a number of magicians, comedians, dancers, models, and illusionists. In 2003 he and his wife Rani—a professional costume designer for a variety of TV series, including Community and The Orville—formed Baby Tattoo, Inc., a company that published high-quality books devoted to contemporary artists including Ragnar, Gris Grimly, Michael Hussar, Coop, Travis Louie, and Brian Kesinger among many others. He was a self-taught designer and, wow!, was he good. Bob and Rani oversaw the Dr. Sketchy's live-drawing gatherings in Los Angeles and eventually organized very exclusive and intimate events to connect artists and entertainers with fans and patrons; Baby Tattooville was, as far as I know, the very first artist-focused convention and was followed by Beyond Brookledge, of which the LA Weekly said, "The best way to describe Beyond Brookledge is that it's as if somebody fit the L.A. Opera and Burning Man into the Magic Castle and then had a three-day slumber party."
Under a banner proclaiming a "Carnival of Astounding Art" Bob curated a number of exhibitions at the Riverside Art Museum and the Oceanside Museum of Art, including shows devoted to the work of Oliva De Berardinis and Jordu Schell—"Beauties Beasts" in 2016—along with a major career retrospective of Michael Whelan, "Beyond Science Fiction," in 2017; Baby Tattoo naturally published beautiful books commemorating both events. For many of years he hosted a "Breakfast for Dinner" party after the exhibit floor closed during the San Diego Comicon and virtually every mover-and-shaker in the Fantasy/Comics/Outsider art fields would meet and mingle and become friends there…thanks to Bob. He always was looking down the road; he was always looking for the next opportunity to break down barriers between creators, collectors, and fans.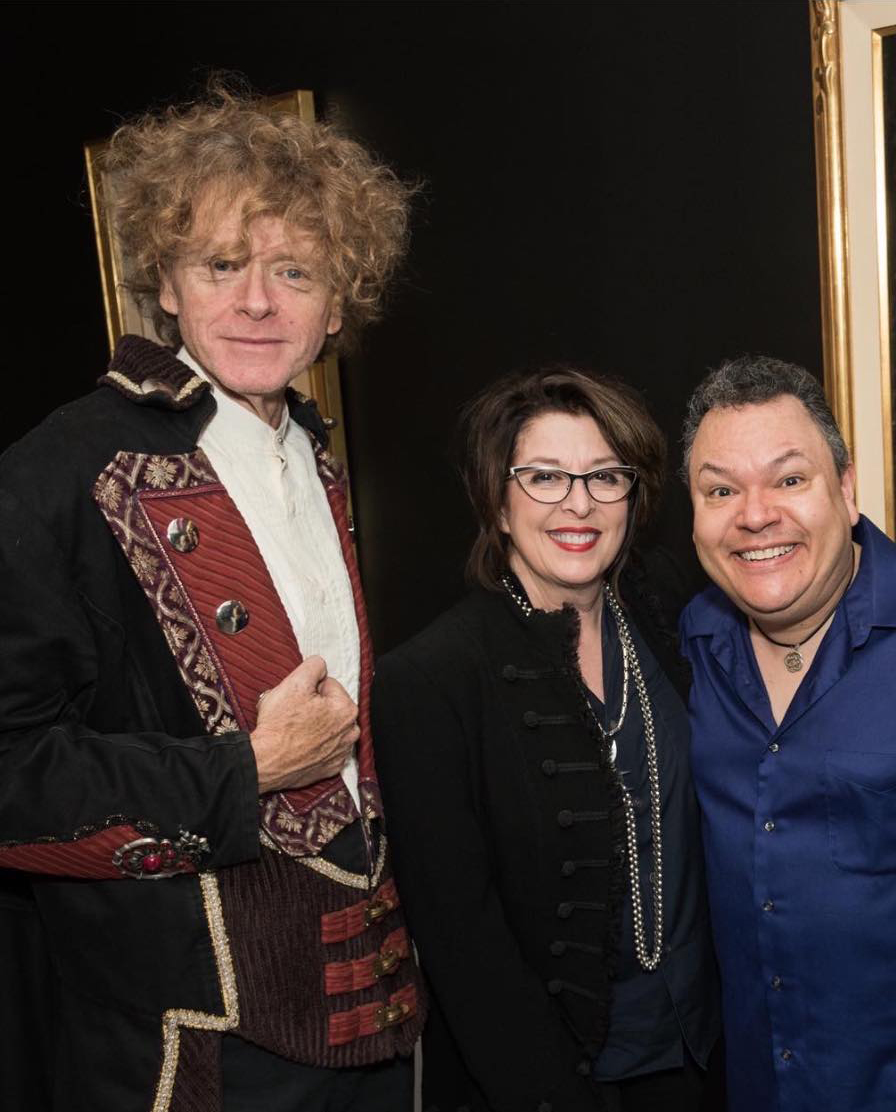 Above: Bob with painter Olivia De Berardinis and sculptor Jordu Schell at the opening of their 2016 exhibition.
Bob joined us as a founder of the Spectrum Fantastic Art Live! convention (I've often told people, whether they were complimenting or complaining, that "It was all Bob's idea!") and helped make the cons and awards ceremonies lively and memorable. One year during the show—unannounced—he brought legendary Outsider Artist Michael Hussar into Kansas City, hired nude models, and hosted an impromptu by-invitation-only midnight painting demo in his suite atop the Marriott Hotel: I was sawing logs and didn't know what I'd missed out on until the next morning. He organized and served as ringmaster for Spectrum #25's awards event at the original Magic Castle in Los Angeles (during which his friend Paul Reubens aka Pee-wee Herman popped in to see how Bob was doing); when Orbit Books Creative Director (and Muddy's own) Lauren Panepinto and Bob co-hosted the gala for Spectrum 26 in Kansas City at the historic Folly Theater they had the audience laughing and clapping and—without exaggeration—eating out of their hands. It was magic. Naturally.
The pandemic, of course, forced us to have a virtual ceremony for #27 (wonderfully MC'ed by Lauren and Dan dos Santos, who honestly raised the bar for everybody that followed who did virtual awards ceremonies during COVID); the reversion of Spectrum to us and, you know, other stuff, resulted in a delay of the 28th competition. But Bob—being Bob—had been thinking and planning and had called me in April to hash out his ideas for the next awards ceremony…
It's safe to say that whatever happens going forward…it won't be the same without him.
Because Bob Self was, quite literally, bigger than life, a huge personality, both inimitable and ultimately unforgettable. His intensity and energy could be a bit overwhelming, even scary for some (I know I often felt woefully inadequate when he was passionately describing his visions and suggestions), but he delighted in all manner of art and artists and he was an enthusiastic cheerleader for the entire creative community. Bob was one of the important (yet always unpretentious) people who made things happen, somebody who lifted others up and created opportunities, not out of ego or avarice…but out of love.
He was different, he was totally unique, he was, most definitely, a good guy with a huge heart…and we will not see his like again.
I've included some videos following the Baby Tattoo book covers below that will give everyone a hint, a mere hint, of what Bob was like. He is survived by his wife Rani and children Margaret and William, and a legion of friends and admirers. Rest in peace, my friend; rest in peace.