Today I am interviewing Annie Stegg. She is an amazing artist known for her paintings that are both whimsical and deeply classical. She has recently been working on a series of images based on the Thumbelina fairy tale which have been particularly awesome, and because I'm kind of a big deal, I was able to use the MuddyColors brand name to convince her to do an interview with me.
JG: So let's get started. First question: Who's your favorite artist, and why is it Justin Gerard?

AS: Who's he again..?  
JG: Ahh.. well, he's a great… let's just move on: Your work is gorgeous and has a great classical sensibility to it.  Where did this come from?


AS: The 18th century Roccoco painters have always been a big inspiration to me. Their work has been a large influence on my own method. I have always loved the imagination and atmosphere in thier work. There is just such a wonderful atmosphere of enchantment in it. It's such a great period for imaginative realism. I love how the painters of that time period worked to transport us to different worlds and fantastic places.  This is something that I strive to recreate in my own paintings. 
JG: So speaking of your work, you are currently working on a series of paintings based on Hans Christian Anderson's Thumbelina fairy tale. Can you tell us a bit more about that?
AS: I have wanted to do a series on this fairy tale for a while now. The reason I like Thumbelina has largely to do with the magic and mystery of childhood.
When we are young, the world is so big and magical and I think you lose some of that when you grow up. I like to imagine a place where everything is still a little unknown, and there is so much left to discover. Stories like Thumbelina help you to see your own commonplace world with fresh eyes and you can begin to appreciate just how amazing the world really is again.  It's like being a child again in many ways, and capturing that sense of wonder about the world around us.
I am very excited to be debuting the first paintings I have started for this series at Spectrum Fantastic Art Live 2 later this week. It's been fun planning out the pieces that will appear in this collection, and I am eager to see them all displayed together.
AS: For the past year I have been working exclusively in oils, and mostly on Gessobord panels.  I think it's hard to commit to one medium or even a single working method all of the time, however.  I end up modifying my process every few paintings.  Experimenting helps me approach each painting with a fresh perspective and keeps things interesting.  
JG: Ok, to switch to a more serious subject for a moment: How do you predict the world will end? Robot uprising, alien invasion or zombie apocolypse? And What will you be doing when it happens?
AS: I
t's not going to be zombies. We are way too prepared for any of that.  If there was a zombie invasion it would be over in a few minutes.  People just can't wait to kill zombies. How many people do you know who have talked for hours and hours about how they would kill zombies if that happened? It would be over in minutes.   And aliens aren't coming here to destroy the planet.  They just want some starbucks.  
It will be the robots.  But I'm not really worried because we will have the best way of fighting those.  I think you can kill them with 
E.M.P.s right? So the earth wouldn't end. Not a problem. Next.
JG: Would you agree that the first step to making excellent artwork is being really really ridiculously good-looking? 
AS: (Laughs)
JG:  No? I'm not sure I follow. What would you say is more important to becoming a successful artist?
AS: Having a lot of money! (Laughs)  Don't write that.  (JG pretends to erase) 
A lot of hard work and passion and drive.  You've got to really love it. Learning how to accept criticism is important as well.  To gain a better understanding of oneself, it is important to be open to other's perceptions. I believe that if you are excited about art and use that energy to push yourself, sooner or later you will be successful in it. 
JG: What is the most difficult part of being an illustrator and what is the most rewarding?
AS:
The most difficult part is answering interview questions.  (JG shifts uncomfortably)
Actually, it would be any of the marketing and website side of things. I think it's really important to keep your website and blog up to date.  Art promotion is vital to becoming a successful artist. Social media gives us countless ways to get our work out there.  This also means that there are now so many different platforms that you have to manage and keep up to date!  It's important to keep viewers current on what you are creating, but at the same time you want to be making art, not trying to figure out what a tweet is.
The most rewarding…  Is it shallow to say that seeing people's reactions to your work is a big thing?  You become so closed off from society when you are creating. Then, a few times a year you finally get to see a response to your efforts. I think that part is always really rewarding. 
I feel very fortunate that I am able to attend several art conventions
(like DragonCon, Spectrum Live, FaerieCon) 
each year. Being surrounded by so many people who all share a common vision, depicted in thousands of styles and mediums is inspiring as well as comforting.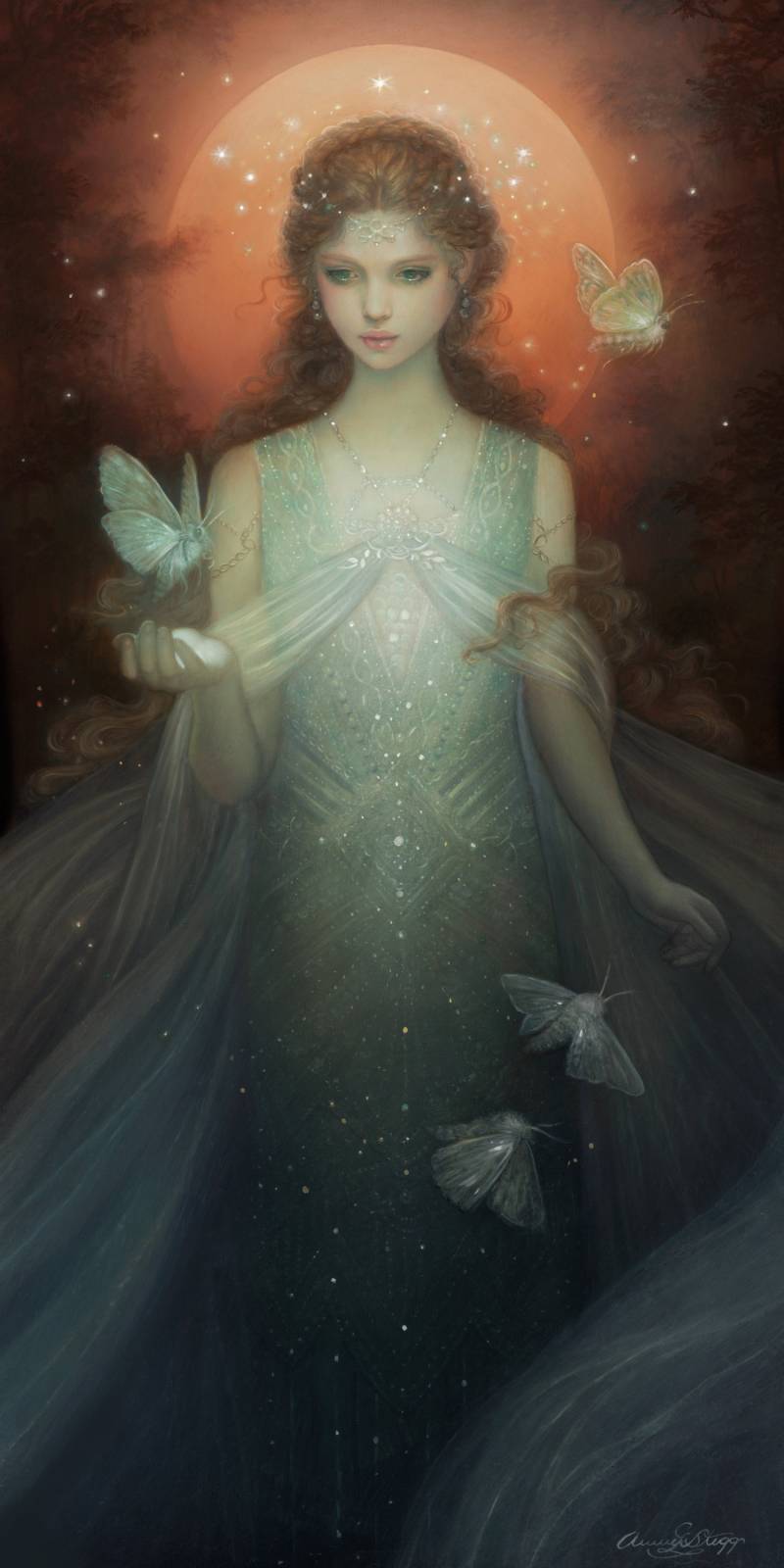 JG: I see.  Who would you say has been the heaviest influence on your work?  
AS: I am lucky to have artists in my family.  Both of my grandparents paint, and are a huge inspiration to me.
My grandfather works with giant paintbrushes, standing far from the canvas and using broad strokes and vibrant colors. He frequently mentions that for him, art is not relaxing, it's a workout!  
On the opposite end of the spectrum, my grandmother uses thin, delicate washes of paint and small paintbrushes. She often scrubs the canvas with a rag to make wispy billowing shapes. Her works are often serine and soft, with subtle color palettes.
Being exposed to both of these very different methods has influenced the way I approach my work. I have learned, and am still learning, a great deal from them both.
JG: Thank you for your time and for sharing your work with us!