One of my most recent paintings, Fear, was premiered at IX Arts convention this past weekend.  The work was begun in 2016 when I produced one of my 'killing time' sketches, playing around with a little Dungeons & Dragons conflict coupled with the myth of St. George and the Dragon.  Back then, the image was never intended to be brought up to a color oil finish, rather my focus was upon the energy and design solely as a drawing.
Leap forward six years and I found myself needing content to use as a painting demonstration for the event Trojan Horse was a Unicorn.  Rather than dash off some new drawing quickly, I browsed through older images and was reminded of how much I liked this piece.  Given the THU event was 5 to 6 days long, this image filled quite a few nice content hits – from painting metal, tackling a creature/dragon/monster,  and finally an action image with movement.
The drawing was mounted to the panel before the workshop in consideration that my mounting technique is all over my website and nothing new would be shown in that process, thus I could hit the ground running hot with color on the first day!
I began the painting with acrylic under painting, and then proceeded to use Holbein Duo-Aqua colors for the rest of the week while at the workshop.  Duo-Aqua is not a preferred method of oils for me, but rather one necessitated by travel and health safety of other attendees.
A shout out to Francesca Resta for providing a few of the shots of me working while at  Trojan Horse was a Unicorn!
As for a color study, what is very typical for me is to find a photo I feel communicates the overall mood I want to have within the work, and use that as a launching point to explore color in the acrylic phase.  The photo of the horned lizard below was just such a 'study'.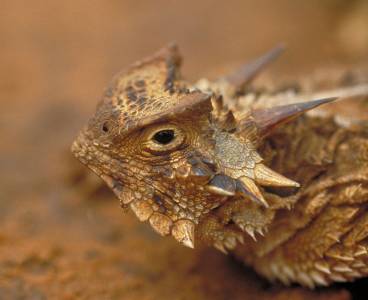 The final layers in oils were worked upon when I returned to my studio in Brooklyn.