When it comes to my painting palette, I chose to custom design an entire workstation that would be multi-functional, utilizing my small studio space in the best way possible. Because I am right-handed, my painting pallete workstation is located on the right and perpendicular to my easel. It is made of wood that is supported by metal legs. On top of the wood surface, I have both my oil painting as well as my acrylic painting palletes. When I am painting in oils, I use a beveled edged heavy sheet of glass as my pallete. For acrylic painting, I removed the glass and utilize a large sheet of plastic cut specifically to fit my entire painting pallete surface (52 inches long).
To properly see colors when I am mixing, I chose to place a neutral (photo gray) sheet of painted watercolor paper under my glass palette. I painted the gray tone using acrylics and a roller to match the photo neutral gray swatch as close as I could. I have other colors that I place under the palette as well. The gray is the one I use the most.
I have two bins when it comes to washing my brushes. The glass container houses artist quality safflower oil (Gamblin) and I use it to clean my brushes while painting. The metal container, on the other hand, houses grocery store bought safflower oil. I use the metal container at the end of the day when I'm cleaning my brushes. You can see more about my brush care routine here. As I am working, I also use sealable metal cups to contain my oil painting mediums. I typically paint with either purified linseed oil or walnut oil. You can see the metal cups i the picture below.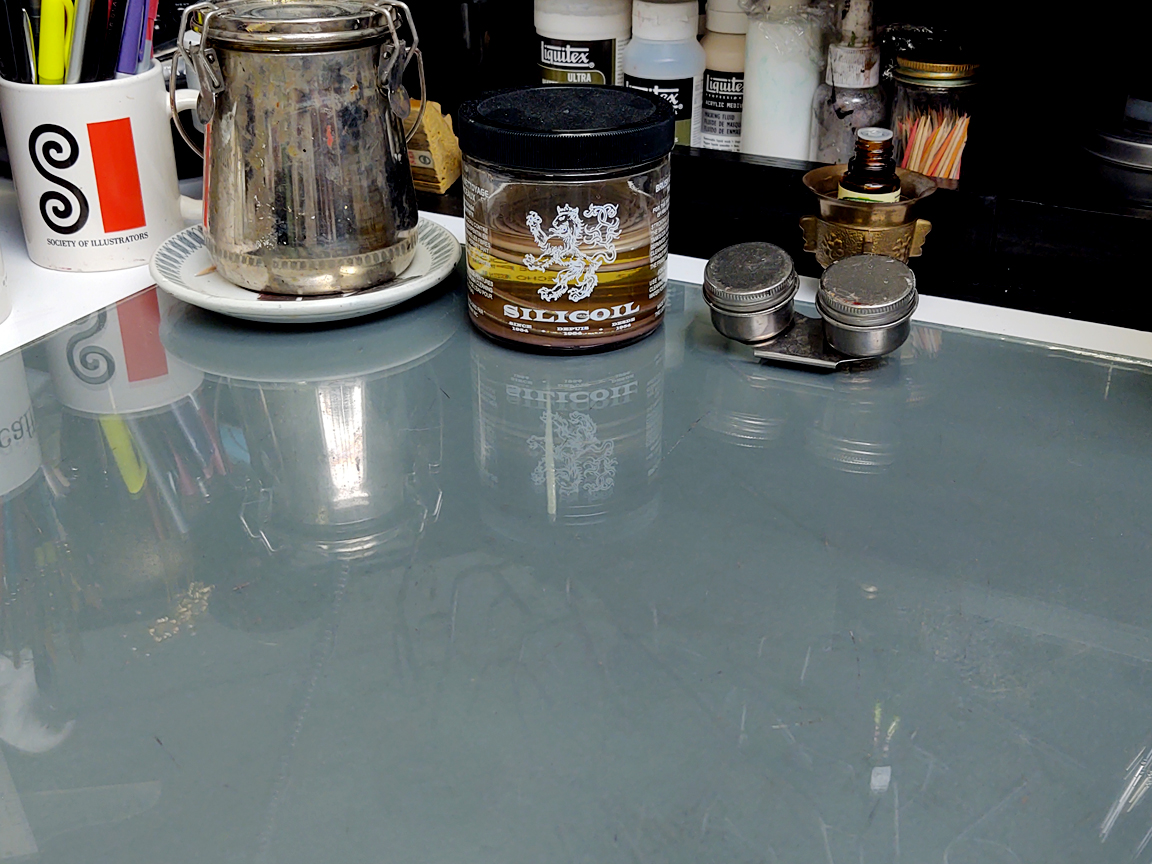 At the end the day, I close off my painting palette with a custom-designed cover. It is made of solid wood that has been put into a framework with a routered edge, allowing for a clear plastic cover to be placed on top. The plastic is removable. To decorate the palette cover, I painted it black and sponged gold on top to match my taboret and brush holder.
All of my brushes and tools are organized by media and usage. Inside each one of the large glass containers, are other smaller glass containers which separate the brushes by type. I like the clear glass because I can see everything so that nothing gets hidden at the bottom of the can. I also like to stick things inside the glass containers in the front. Shown in the picture above are a few mementos. The metal door lock is from the old New Yorker Hotel that I bought from an antique store and the other is from Illuxcon. In the picture below, I may have every tool imaginable, including ones I've created myself. One third of my large painting palette workstation is covered with containers of brushes and tools.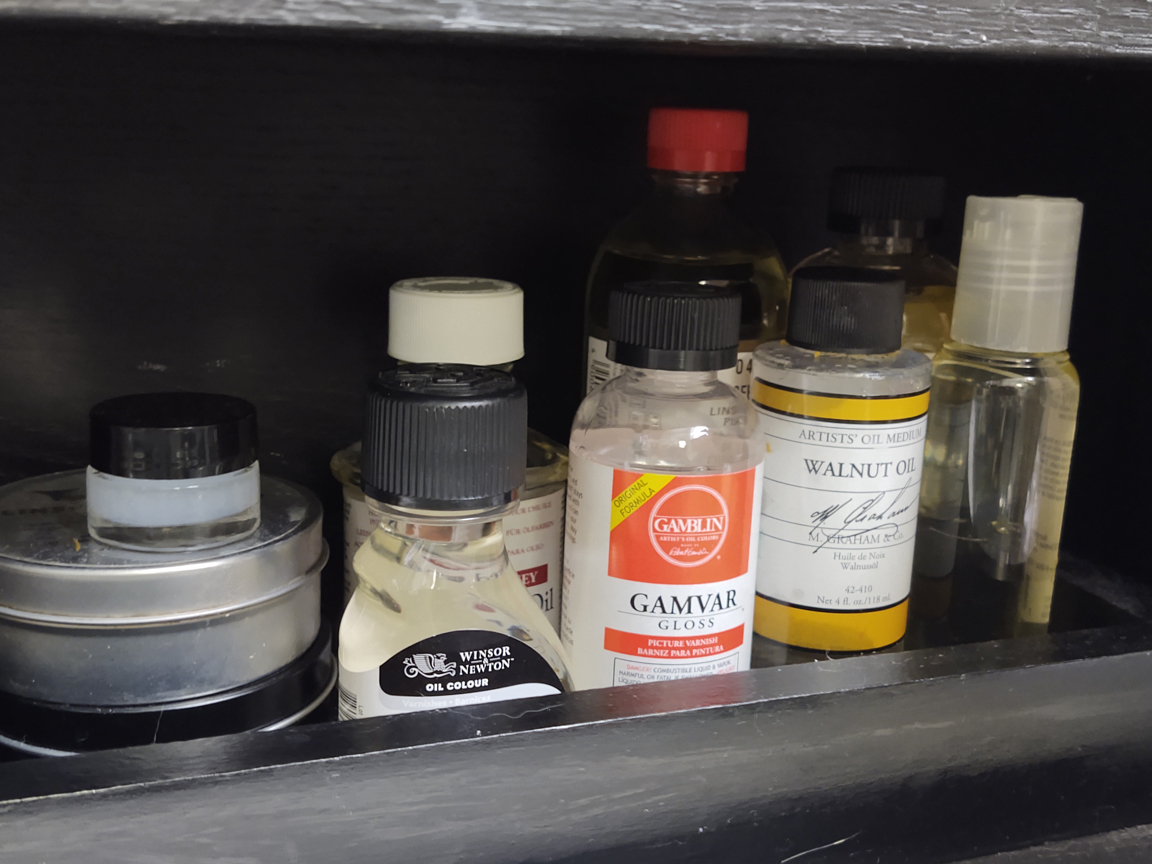 At the back of the desk, I have custom wood boxes that house mediums and other things that I use regularly. Shown above are my oil painting mediums, brush cleaner and restorer as well as varnishes. Below is a picture of some of my acrylic painting mediums, primer and masking fluid. I also custom mixed all of my acrylic mediums based upon what kind of viscosity I'm looking for. They are made fresh when I use them.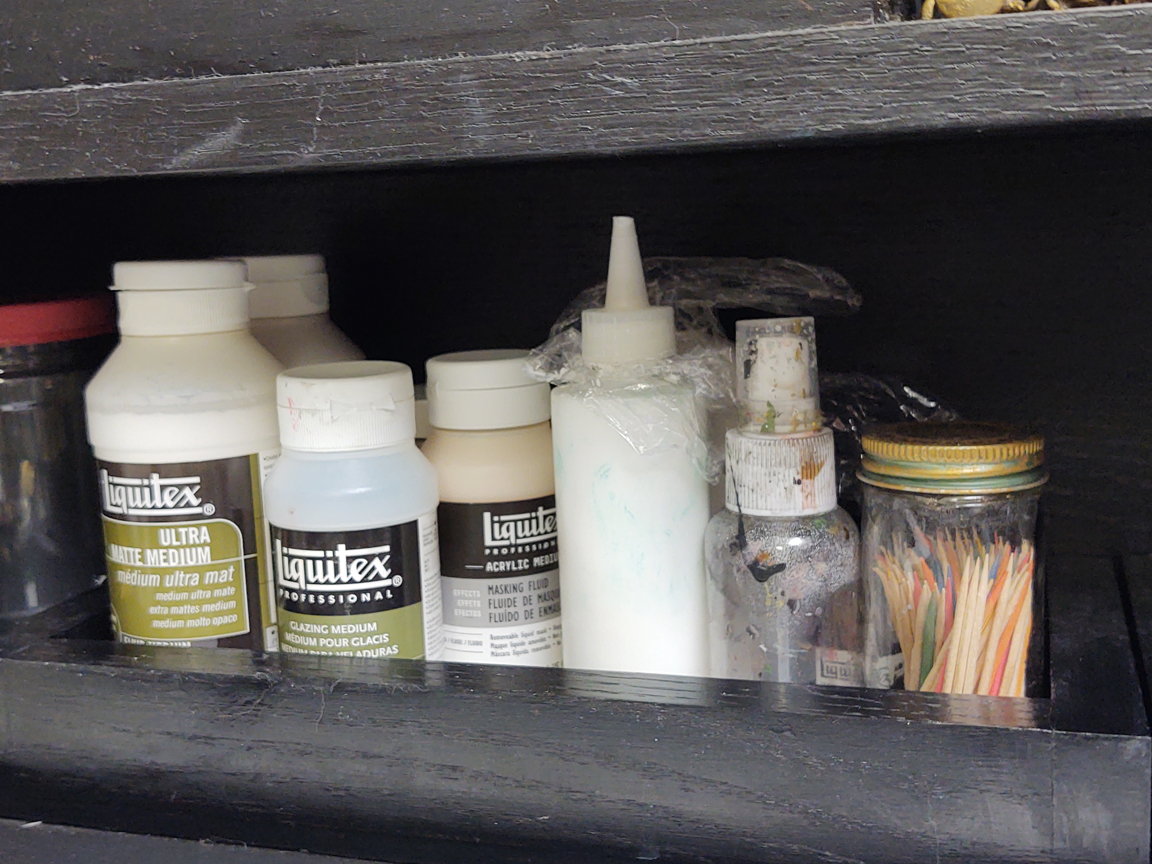 To house my brushes while I am painting, I custom designed a brush holder. It is made of solid wood with a decorative rounded edge. There are many hole sizes to fit different size brushes. I painted my brush houlder black with gold sponging on top.
Above is the backside working table.  The desk is made of solid wood and designed specifically to fit partially under the backside of my palette workstation. Sliders were put under the legs so that it can easily move in and out when I am working on projects that I would not need an easel for. I have a full sheet of glass that sits on top of the desk.  You can see a work-in-process picture of the full desk below.
My husband and I did the entire project ourselves. It was easy to make and we utilized supplies we already had (except for the wood). I now have something special that perfectly fits my needs! If you have a small studio space, I highly recommend designing something to specifically fit your space.
For more of my articles that I have written in the STUDIO BASICS SERIES on Muddy Colors, check out this link:
Painting during the day, when there is plenty of light is an absolute joy. But, during days that are overcast and especially during the night time hours, everything is a completely different situation. Artificial illumination has always been a struggle for artists. In this article, I share with you what strategies I have employed in my own studio to deal with lighting.
To learn more, follow me on Patreon:
NAVIGATING THE LABYRINTH OF THE CREATIVE MIND is my  patreon endeavor where I take you behind-the-scenes to witness projects I am working on. From the preliminary concepts, sketches and the production of unique costuming, masks, headdresses and embellishments through to the final execution of my mixed-media paintings, you will witness my journey through live monthly access on Zoom, weekly process posts and weekly inspirational and motivational audio insights.
We explore not only mixed-media painting techniques and conceptual approaches but also the practice of daily rituals that are conducive for artistic exploration and development, confronting the inner critic, handling creative blocks, working through anxiety and self-doubt and seeing mistakes as rites of passage. Every week, you will have access to audio insights that will help uplift, inspire and motivate you in your creative practice. As a patron, you will discover a multitude of ways to ignite your creativity, opening the door for the creative spirit to shine!
FREE TRIAL: Get a weekly dose of inspiration and motivation for your creative practice through my Rediscovering Your Creative Self audio program online which focuses on developing a relationship with the creative spirit that resides within and making daily lifestyle changes that enhance creativity, building a more creative and playful mindset.
Throughout the audio program, I explore topics such as battling the inner critic, handling creative block, working through anxiety and self-doubt and interrupting the patterns that bind. I also cover managing fears, seeing mistakes as rites of passage, knowing when to open and close doors, riding the wave of triumphs and tribulations, avoiding distractions and coping with naysayers that keep one from seeing the light that resides within.
copyright 2023 Lisa L. Cyr, Cyr Studio LLC all rights reserved