by Arnie Fenner
It's that time of year again! If you're planning to attend Comic-Con International in San Diego this week, come on by the Donato Arts booth—#4503—and see…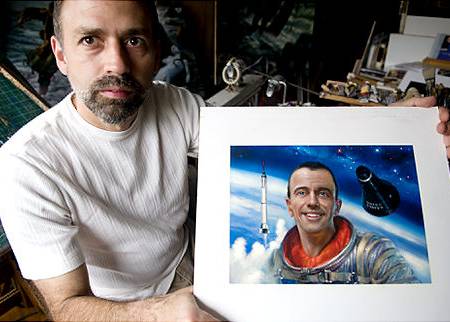 The illustrious Donato Giancola (who will be doing a painting demo sometime during the show),
Stephan "Tex" Martiniere,
Illustration Master Class Empress, Rebecca Guay,
and myself along with the brains of Spectrum: Arlo and Cathy.
Donato will be selling original art, prints, and books; Stephan will have books and prints; Rebecca will have original art and prints; Bill will be selling originals and will premiere a new sketchbook; and we'll have books for sale (including the last signed copies of
Brush With Passion
by Dave Stevens and
The Art of Jeffrey Jones
) and will be giving out free buttons (one for our new Harlan Ellison book, one in memory of Jeffrey), bookmarks, and postcards with information about
Spectrum Fantastic Art Live!
coming in 2012. Stop by and say hello! And if you can't make it, we'll be posting photos and videos (the good Lord willin' and the Wi-Fi don't fry) throughout the show on the
Spectrum website
.