I thought I would bring you a Norman Rockwell day after Thanksgiving feast.
Cousin Reginald Catches the Thanksgiving Turkey – 1917
Classic Rockwell humor done early in his career at the age of 23.  This is the largest image I could find.  If you know of a better scan, let me know and I will replace it in this post.  That goes for any of the images here!
Thanksgiving – 1919
The Wishbone – 1921
Couple Uncrating Turkey – 1921
A Pilgrim's Progress – 1921
Ye Glutton – 1923
Chef with Thanksgiving Menu – 1942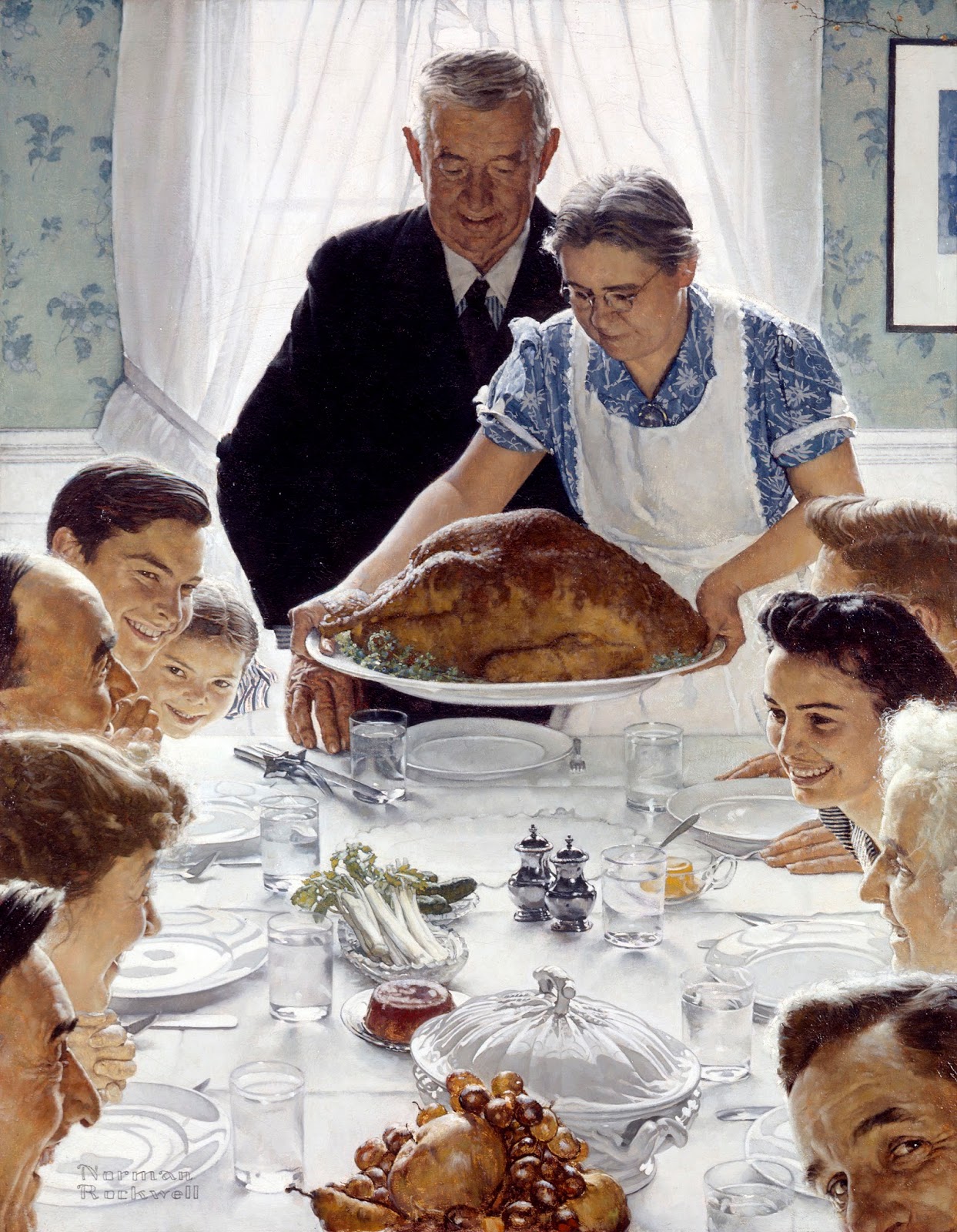 Freedom From Want – 1943
Freedom from Want wasn't published as a Thanksgiving image.  Rockwell had originally intended it to be one, but it became part of the Four Freedoms images instead.    
Thanksgiving: Girl Praying – 1943
Published in the same year as Freedom from Want this is a powerful contrast.  A cold refugee of war kneels among ruins and gives thanks over what looks like a rather simple small meal.
Thanksgiving: Mother and Son Peeling Potatoes – 1945
Published a couple months after the end of World War 2, this painting must have been full of wonderful sentiment for a country still celebrating the return of its' soldiers.
Saying Grace – 1951
This was the last of Rockwell's paintings to be used on the cover of a Thanksgiving issue.  It is my favorite.  I have had the chance to see it in person.  The light in the painting is awesome.  The textures and drawing are perfect.  The scene through the window is painted so thin you can see the pencil through it, while the foreground elements use a subtle impasto to great effect.  This, for me, is Rockwell at his best.
Thank you Dan for inviting me to contribute to Muddy Colors, for the others who write for Muddy Colors and for you, the readers, who create discussion and give feedback!
Thank you,
Howard Lyon