Hi, Folks. Sorry I haven't posted in some time. A few months ago I finished a small project for Easton Press: Poe: Stories & Poems.
One of my earliest memories of the horror genre involves Edgar Allan Poe. I remember the actor Vincent Price playing characters for a number of Poe's short stories. As a young child I was particularly  terrified of " The Pit and the Pendulum" story. I even have a Bobble Head of Poe given to me when I was the Artists Guest at the Balticon Convention in Baltimore, Maryland (Poe's is buried in Baltimore).
Bobble Poe in da house (studio).
This project was a little different than others that I have worked on. It is a Limited Edition book, Slipcase, leather-bound with gold endpapers etc.. The edition is limited to 1200 signed copies. The most grueling part of this project was actually signing 1200 copies. Just try to signing your name one hundred times and you'll know what I mean.  I was ready for the rubber room when the last box arrived with 600+ signature sheets.
These editions are intended for the serious book collector, meaning they are not cheap. They are presented very nicely and use very high quality printing methods and bindings.
Anyways, here are some rough sketch examples and final art for a few of the images contained in this limited edition. The final art is created in acrylic on a plate finish Strathmore.
"The Facts in the Case of M. Valdemar" – sketch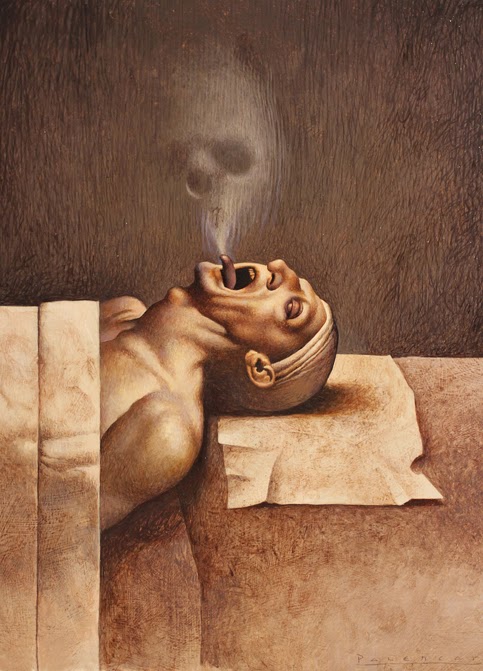 "The Facts in the Case of M. Valdemar", Acrylic on board
"Masque of the Red Death" sketch
"Masque of the Red Death", Acrylic on board, 8.50″ x 11.00″
Raven sketch – I created a Grim Reaper-like Raven for this story.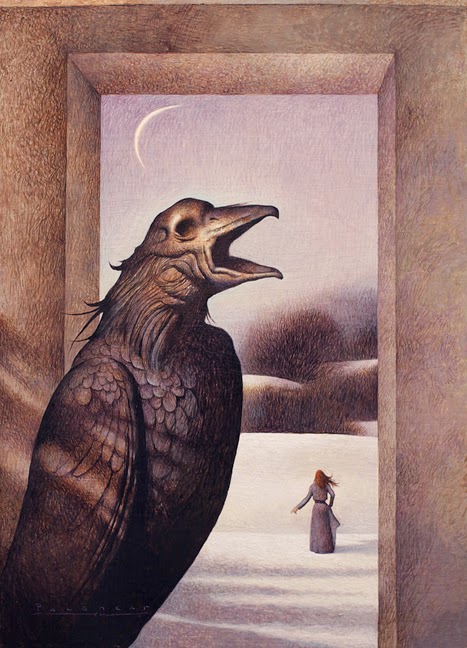 "The Raven", Acrylic on board
You may be interested to know that Rick Berry (Dracula) and Caniglia ( Charles Dickens', A Christmas Carol) have illustrated the aforementioned limited editions for Easton Press as well.