by Cory Godbey
Recently some friends and I spent about a week out in the backcountry of Yosemite.
We hiked and backpacked some 40 miles through the most beautiful country I've ever seen in my whole life. I didn't see any bears though. I looked. We even hiked through a part of the park that, while on the way to it, one of my friends described as Bear Times Square. But still, no bears.
Which, ultimately, is just as well because suppose if I'd been eaten by a bear; can you imagine how people would surely talk?


"You know, I hear he had been drawing a bunch of bears for like weeks and then he leaves his house for five minutes and gets eaten by a bear. Yes, it was undoubtably the bear madness."


And it would have been mostly true; I have been drawing quite a few bears recently. And while the thought of running into one on the trip was sort of on my mind it would have been fine, probably. "Bears in Yosemite," my one friend said, "don't know that they're bears. They think they're squirrels." Fair enough.
As a part of my yearly personal series / 2015 sketchbook I've been working through a new collection of fairy tales. In total, there are 20 some pieces with a wide range of themes and characters. Since I began creating an annual sketchbook in 2008 this is my largest, most ambitious series to date.
That last paragraph was quite a segue there, Godbey, you might be thinking. Thanks! All of that to say, the first story I chose for this new collection had a few bears in it and, well, I got completely hung up on them. Yes, I got the bear madness. Ursus Amentia, in the Latin, for some reason.
I spent several weeks doing studies and working my way through them. Usually, I hit on an idea quick enough and after a rough thumbnail I just get going. This time was a little different in that I planned a variety of compositions and took my time doing studies of each. And you know what, somehow I've just never worked on toned paper before. On a whim I picked up some and I've been having a great time with it. Coupled with white charcoal, the paper has made cranking out studies a pretty quick and informative process. Most of the studies are small, maybe 5 x 7.
One thing I hadn't expected was that some of the studies felt finished and I had no desire to go further. I knew I'd take one of them to finish but some of them felt like a complete thought and to reiterate it just larger would've felt redundant.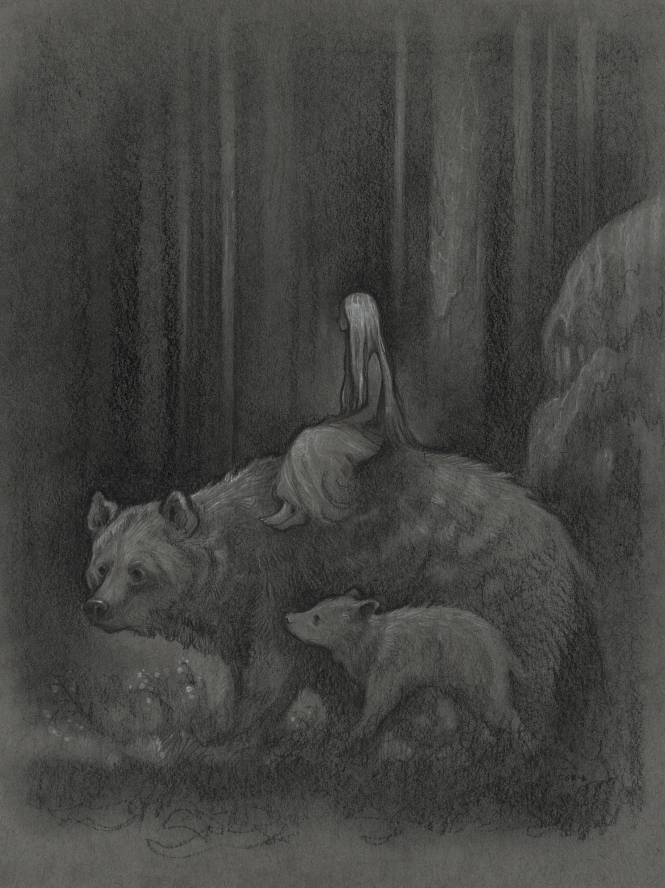 After working through them all, I settled on one idea in particular and decided to run with it.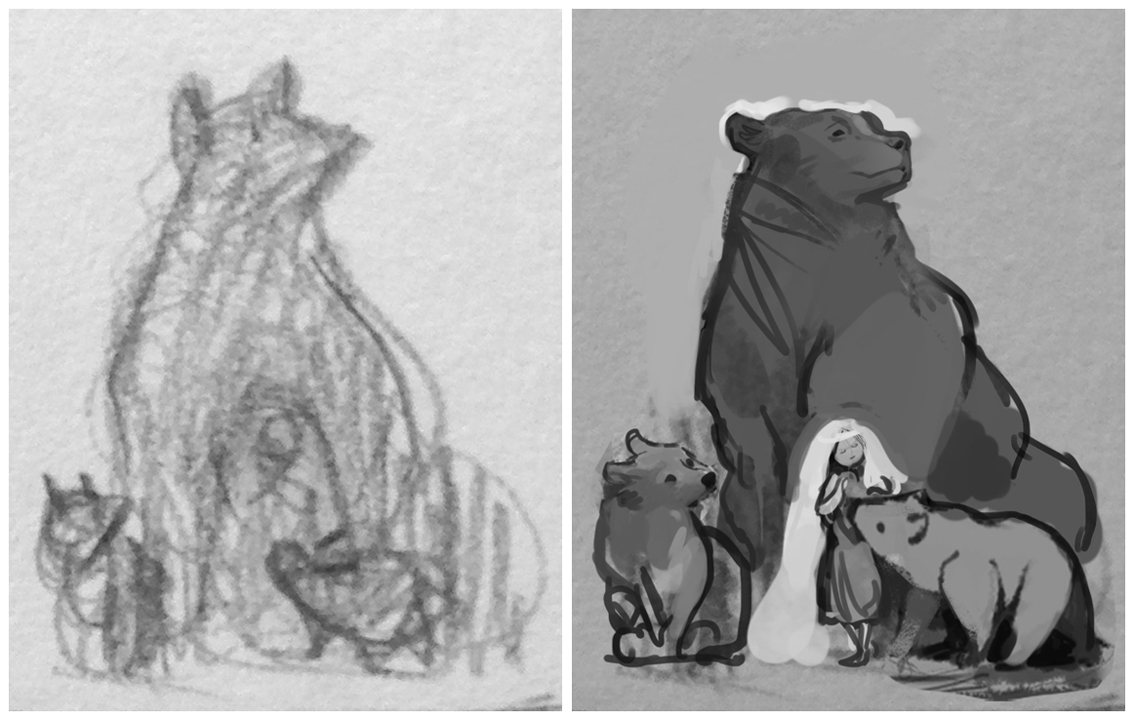 Right. The tiny thumbnail scribble. Left. That same scribble painted over, digitally.
The toned paper study.
Beginning the finished drawing. Brown col-erase pencil.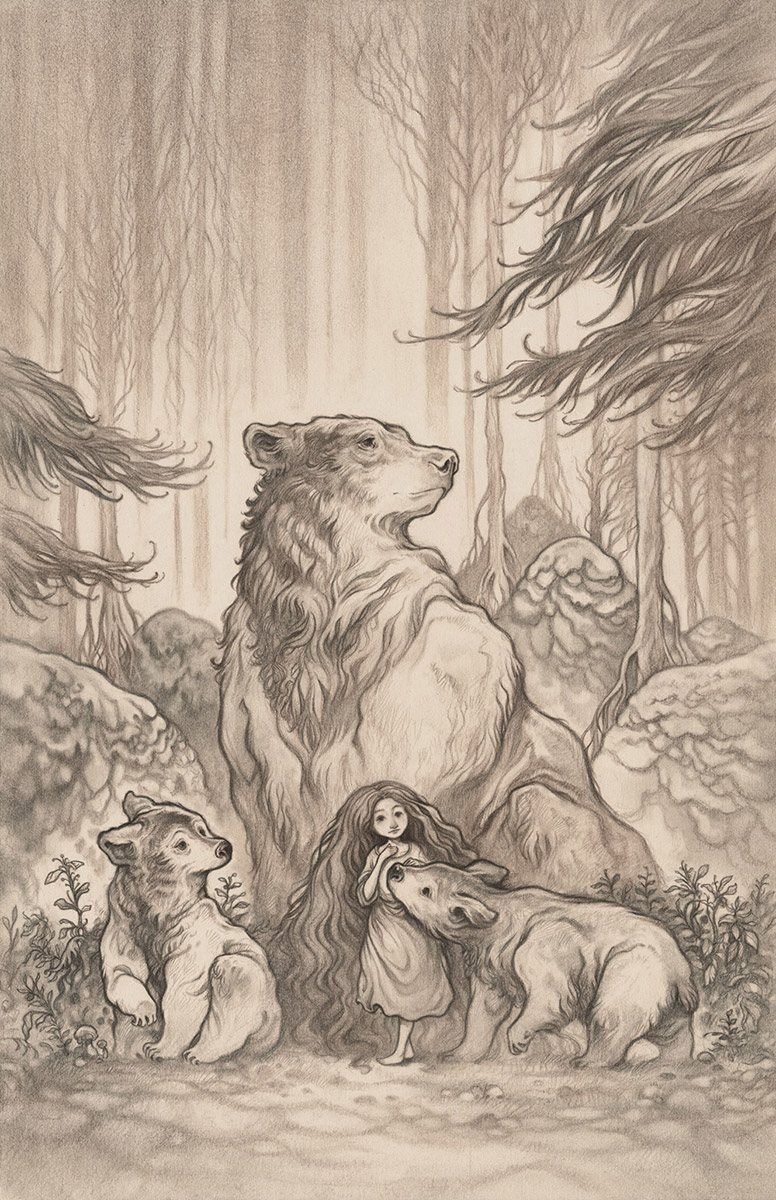 The finished drawing.
I brought several of the studies to Spectrum Live
and I turned this piece into a new print for the show.
________________________________________________
I did a trio of other studies that aren't related to the particular story but I liked them all the same.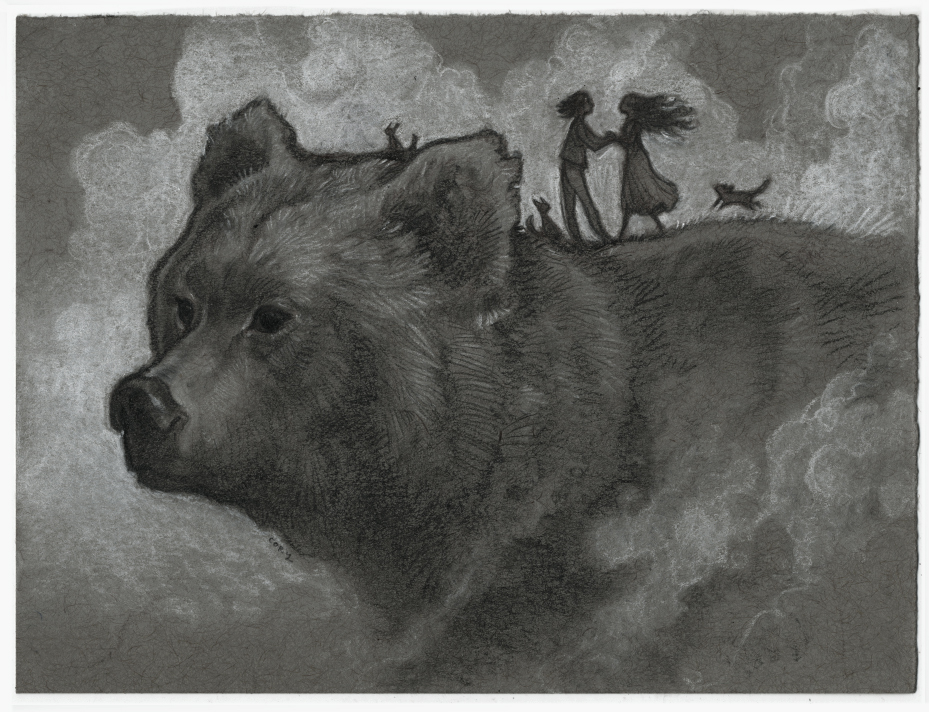 ________________________________________________
Considering how this whole post has been about my annual series, this seemed useful enough to mention: if you're curious to learn more in-depth about how I work through a yearly collection and how to go about focusing your own work with personal projects, you can check out my course from The Lamp Post Guild,
The Art of Personal Work
! 
And in fact, you can get 20% off with the code NEWLOOK. Enjoy!