Above: Rick Berry, Don Ivan Punchatz, Tim Kirk, and Dave Stevens
provided the Call for Entries poster art for Spectrum 1.
In case you forgot, Monday—January 25—is the deadline to enter Spectrum 23.
Dan dos Santos has written about
entering strategies
, John Fleskes has posted some
helpful tips
about submitting, and I've written about
awards
 and art competitions in general along with a number of other aspects of
Spectrum
through the years.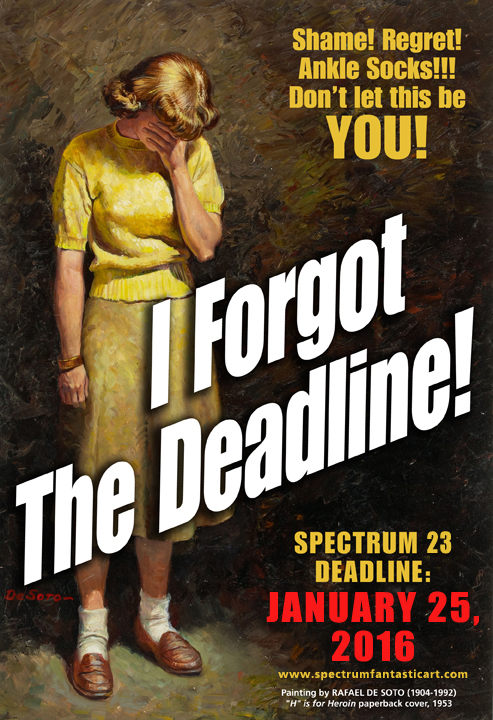 The reasons to enter Spectrum are many and the benefits for having work selected for inclusion in the annual can be significant. There's no prescreening, no pretension, and no agenda other than to highlight and celebrate the best works of the fantastic art field created in the previous year. Spectrum is the only f&sf art competition that brings the jury together in one place to review entries and cast their votes. The big deal, of course, is that more people see Spectrum than any other art annual being produced today; it's a proven valuable resource for art directors, publishers, and art buyers the world over. More eyes means more opportunities.
Above: John Berkey's Call for Entries poster for Spectrum 8.
Everything that Spectrum does has been geared directly toward giving back to the fantastic art community and growing the appreciation for the field and its creators as a whole. Exhibitions, lectures, scholarships, tutorial videos, and a fearless advocacy for artists' rights are all part of what Spectrum is.
Above: Rebecca Guay's Call for Entries poster for Spectrum 19.
Above: All of the past Spectrum covers: who will be chosen for the cover of #23?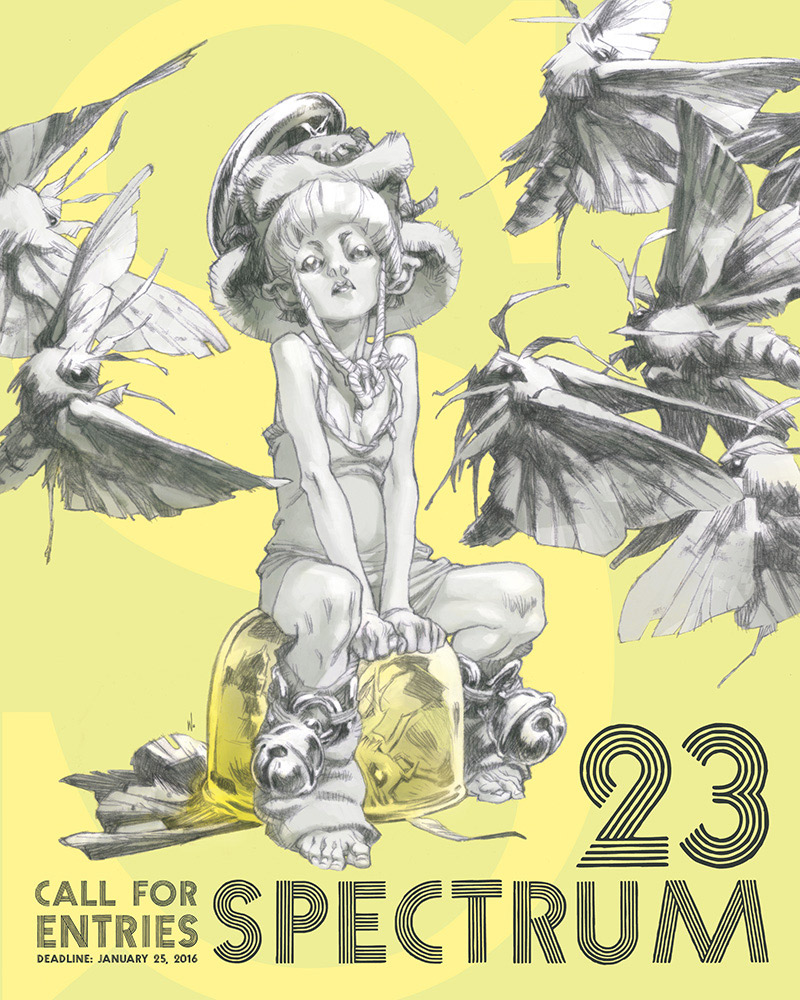 Above: Claire Wendling's Call for Entries poster for Spectrum 23.
Though the east coast is socked in with a blizzard this weekend—and the west coast has been getting storms, too—John Fleskes has made it incredibly easy to enter digitally from the comfort of your studio. To take part (or learn more) it's as easy as hitting this link—and John and his intrepid crew will be on hand all weekend and throughout the day Monday to answer questions and solve problems (the contact info is at the bottom of the web page).
Good luck, everyone!