This past weekend, the first Light Box Expo officially launched on Friday morning at the Convention Center in Pasadena, California. 
The expo sprang from the mind of Bobby Chiu, and excitement and camaraderie were palpable!
As we walked from the hotel to the venue, the elevated sidewalk slowly revealed the giant yellow Light Box letters. Irene Gallo told me to get into the G and pose for a shot. The letters became instantly interactive, exciting, and playful. It was then we realized how serious and professional the weekend would become. As many conventions sideline artists more and more, Light Box made us, the creatives, the main event.
The shining list of spectacular guest artists and speakers was so thorough it's hard to imagine next year's guests. The program of panels, lectures, interviews, and demonstrations was so extensive it was difficult to attend all the ones I would loved to have heard.
"It was a great thing that Light Box happened in LA because it was accessible to more artists and vendors," commented Karla Ortiz.  "This is the hub of the industry. You have all different levels of people coming in, students, people from the industry. It's a community, with people offering you jobs and positions. It creates it's own economy, where students can get great reviews and meet their art heroes and get to meet producers, and producers can meet new talent."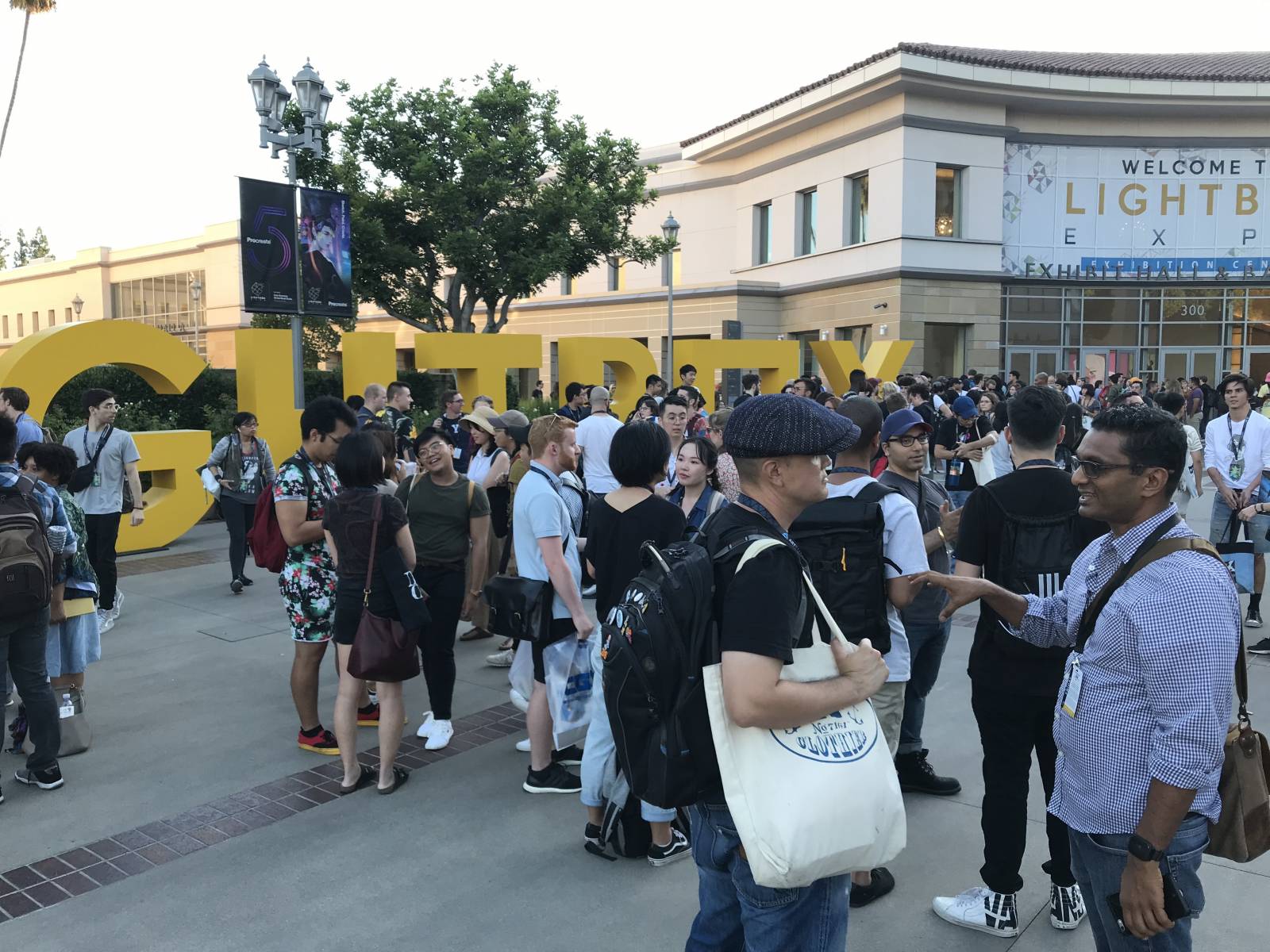 The range of people in attendance stretched across the world of illustration and across the world itself. Artists fresh from art school and young professionals mingled with seasoned stars from every walk of the current vibrant field that appears to be expanding ever faster.
With the opening event by Iain McCaig and Karla Ortiz, the tone was set for the electricity to follow. As the days unfolded into brilliant moments of realizations and epiphanies, comments flew across the convention hall about what we were witnessing.
Some panels and talks touched the very heart of the subject and the heart of the attendees. Iris Compiet: "People kept coming up to me afterwards to say how important it was for them, that they needed to hear these things and related so much with what was being said. Some were in tears."
Others encountered comments on the floor or at their booths. Vicki Williams: "There was a girl talking with Allen and crying. She didn't think her work was good enough to put in the gallery.  Allen reminded her that we all feel like that. You're looking for your theme, but YOU are the theme of your work. We can teach technique, but we can't teach them what to say."
Karla recalled a favorite moment: meeting a scared nineteen year old.  "My god, you're real, she said."
Iris Compiet: "I came because it's awesome.  I had full trust in Bobby and Kei. They don't do things half-assed. There was never any stress, it went so smoothly. And then, something magical appeared."
Many of the panels were packed to capacity, and although some attendees had to be turned away, there were plenty of fascinating events to cover it. Allen Williams: "Frustrating that you couldn't always get in to a panel.  Like Comicon, people were sleeping on the sidewalk."
For example, on Saturday John Picacio monitored a discussion about creating visual novels like his Loteria game, Timeless by Armand Baltazar, Shadowline by Iain McCaig, Alice in Wonderland by Mia Araujo, and my own novel, Above the Timberline. The crowd was enthusiastic and delighted to hear how each of us went about creating our special projects. So many attending want to create their own special worlds in a similar format. But many just couldn't physically fit in the room.
"This is an investment in a community," said Iris Compiet. "I don't know about sales, but it was the best event/show I've ever been to.  People came up to me about the mental health panel. A girl came up to me and said 'I have three jobs and I have to learn and its just too much.' And I answered she's not taking care of herself, it's too much, you won't be able to figure out how to take care of yourself. She'll figure out that she just needs to take the plunge, that she just needs to spend more time on your art. It's scary. I told her about the time that I quit my job and took the time. It's scary, but the universe provided.  People are just looking for someone to say its okay."
Allen Williams: "Someone came into the booth and thought she couldn't do it, she just wasn't up to the task.  I told her to practice. Practicing doesn't make you feel like it's any less hard, but just getting used to how hard it is. A year ago I was in your shoes. You just need to trust. The fact that you're already here, at Light Box is proof that you took the chance.  As Ray Bradbury said, 'you leap off the cliff and build your wings on the way down.'"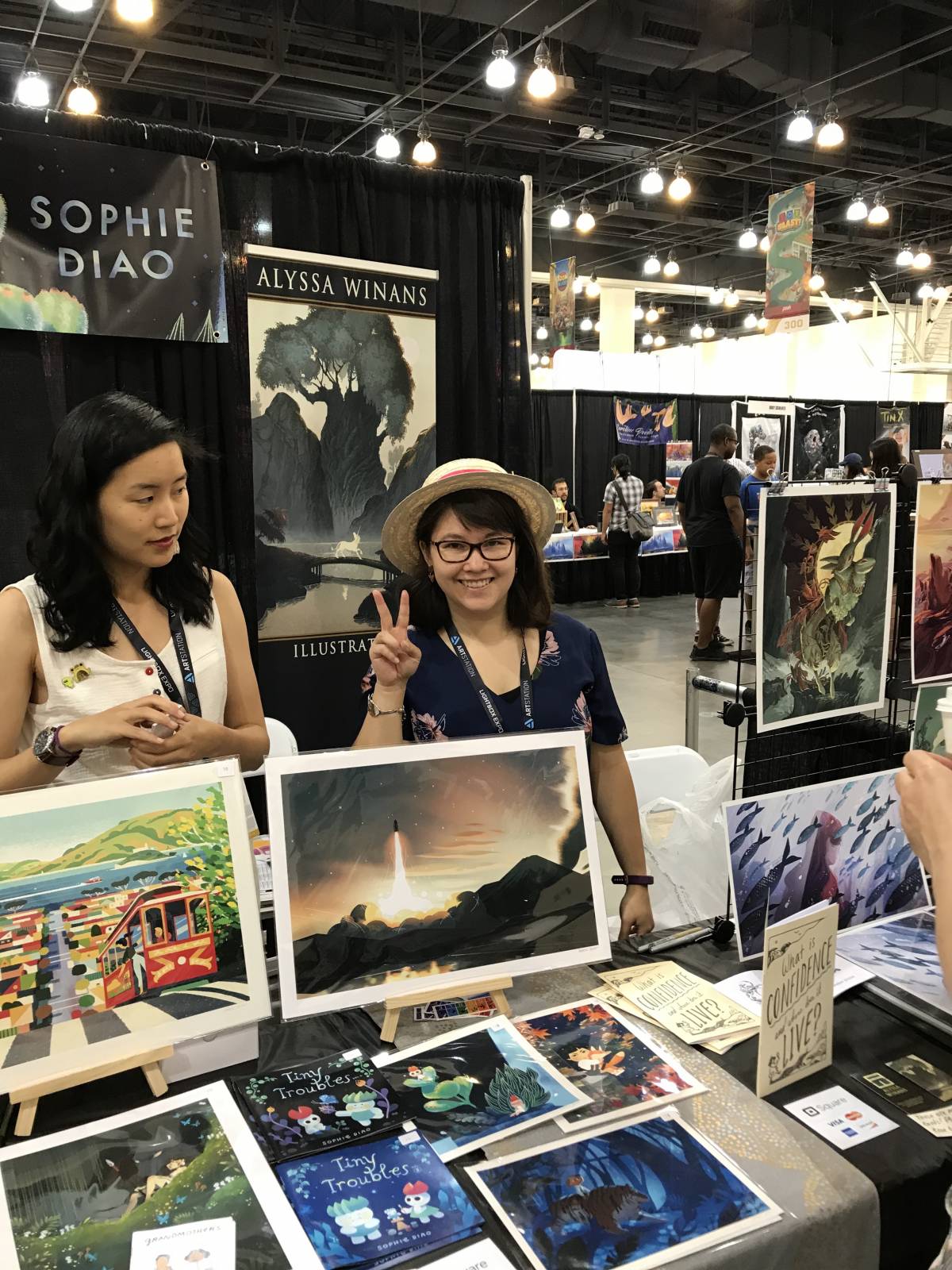 This was true across the board for all of the panels and lectures. The attendees were there to absorb and use techniques and methods for their own personal directions. To learn and refine how to make their portfolios shine across areas of illustration like gaming, concept design, visual development for film and animation, sculpting maquettes, storyboarding, and much more.
Late night drawing at the hotel…
By Sunday we were elated and exhausted. The electrical buzz still reverberated through everyone with memories of new friends, new connections, new experiences and new challenges. It's easy to speculate that everyone is looking forward to next year already, with an eye for taking a step higher. 
With the breakdown at the end of the show, the energy of the Expo disappeared, like a spirit being vacuumed away.
(Many thanks to Iain McCaig for helping me write this post, and all the folks who provided quotes. You all are The Best!)