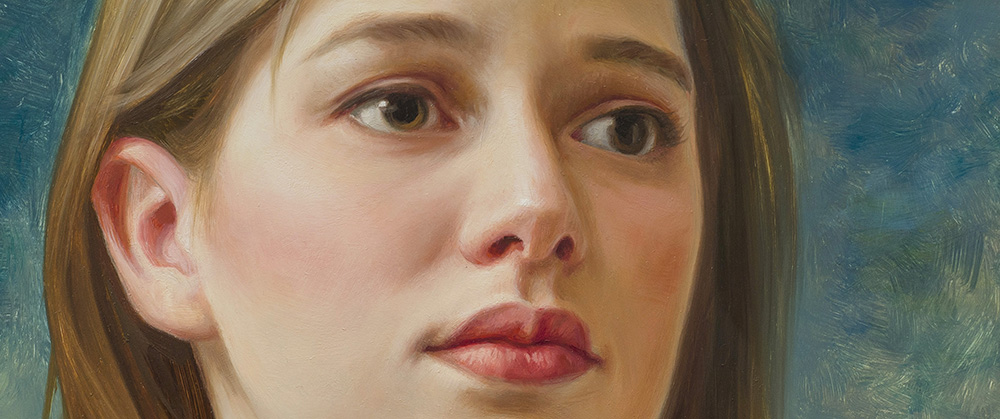 I have been trying out a new painting surface lately, aluminum composite panels.  Specifically, I have been using OmegaBond panels.  They also come under the name of DiBond from another manufacturer.  They are made for signs, constructed of two thin layers of aluminum sandwiched over a polyethylene core.  They are made to withstand heat and cold without breaking down and with minimal expansion or contraction.  I am starting to see them pop up more and more with artists.
Both the OmegaBond and the DiBond panels have a thin polyester layer on them that can be painted on directly (the DiBond is on one side, the OmegaBond is coated on both sides).  When sign companies use them, they will screen on paint over the polyester and it must bond quite well since it has to withstand all kinds of weather conditions.  You can also gesso them with oil or acrylic gesso, or adhere canvas or linen to them.
I brushed on some oil based gesso to add texture and test adhesion
I have been using them for my weekly portrait sittings for the last few months.  They are quite slick if you paint directly on the polyester, but the paint seems to bond well.  If painting directly on them, you want to use soft brushes, like Rosemary's Masters Choice line or a sable brush, at least for the first pass.
The Natural Pigments site says the following about preparing the panels.
PREPARING THE PANEL FOR MOUNTING AND PAINTING
Note: Use only the coated side of the panel for painting and mounting.

Remove the protective film from the coated side slowly and carefully to avoid static build-up.
Pre-clean the panel surface with ethyl or isopropyl alcohol, using non-colored cloth for best results. It is important not to use solvents, soaps or liquid cleaning materials as they may leave a film residue that can affect adhesion. Additionally, cleaners containing silicone can interfere with adhesion and are not recommended. A 70% solution of isopropyl alcohol is recommended as the only cleaning material.
Scuff the surface with abrasive paper, preferably using a grain size of 360 grit. Do not grind through the coating to the aluminum metal.
Remove dust with a lint-free cloth moistened with ethyl or isopropyl alcohol.
I have done some tests with them.  Not really all that scientific, or exhaustive, but my initial impression is that they work quite well as painting supports with no real preparation.  If you are concerned with the archival nature of them, you will want to test them with your materials to make sure they suit your needs.
Very smooth surface.  No preparation, just painting directly on to polyester surface.
I have scraped at a few paintings with a palette knife and the paint seems to grip the surface quite well.  It can be scraped off, but no easier than on masonite.  I have also taken packaging tape and duct tape to a couple dried paintings and ripped it off and no paint came off.  Not all that scientific and not a large test base, but it is encouraging so far.
Rebecca – 8″x10″ oil on aluminum panel with oil based primer
 If you are looking for a perfectly smooth surface to work on that is archival and rigid, this might interest you.  If you can find a local sign supply company, you can get sheets up to 5′ x 10′.  You can also find them at a few art supply stores online.
Stephanie – 11″x14″ oil on aluminum panel
*** Full disclosure, my 16 year old son and entrepreneur is selling them on eBay after seeing how much I liked them.  I will include a link, but also include a link to Natural Pigments which sells plain panels as well as panels with linen.
Lastly, here is a time lapse of the painting above for fun:
[youtube=https://www.youtube.com/watch?v=BWcZp42uoyI&w=600&h=400]
Thanks for giving this post a read!
Howard Lyon