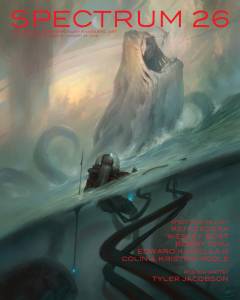 Above: The Spectrum 26 Call For Entries poster by Tyler Jacobson.
It's official: the 26th Spectrum competition is now officially open for entries. This year's esteemed jury will be Kei Acedera, Wesley Burt, Bobby Chiu, Edward Kinsella III, Colin Poole, and Kristine Poole. There will be a few changes this year so I encourage everyone to go to the official website via this link for details. Deadline for entries is January 24, 2019.
Why does Spectrum—or making it into Spectrum—matter? Well, I've talked about that—the history, the ground it's broken, the opportunities it offers, the benefits to the community—here on Muddy Colors in the past and, rather than repeat myself, suggest hitting this link for my perspective. And the Spectrum Awards (and any other awards, really)? Though I know that there are others who don't care for art awards (or competitions), I think as symbols and as encouragements they're important and valuable, both to the recipients and to the community as a whole. They can be an introduction, a touchstone, that exposes others to the artists and to our field and can help to grow the audience—just as the Spectrum annual tries to do. Popularity contests are something else, but peer-to-peer awards are acknowledgements of accomplishment; they are public expressions of appreciation and respect (and we can use a lot more of both these days). I've talked about that a bit here on Muddy Colors, too, as interested parties can read in my "Do Awards Matter?" post from awhile back. (Geez, I've covered a lot of Spectrum ground over the years.)
Above: The Spectrum 25 award honorees at the Brookledge Theater in Hollywood last May. You can read a nice write-up by Kathy Chu (and see some pix) about the night by hitting this link.
The Gold and Silver awards in eight categories for Spectrum 26—along with the 2019 Grand Master Award honor and the Rising Star Award—will be presented March 30th at the Folly Theater in Kansas City, MO as part of Planet Comicon Kansas City (who will be hosting an SFAL Pavillion of exhibitors). We hope there will be a large turnout to help honor our fellow creators.
Coincidentally, Spectrum 25: The Best in Contemporary Fantastic Art is now available for pre-order and should be shipping in early November (if not earlier). Editor and Publisher John Fleskes has done an exceptional job putting the book together and this flip-through will give a taste of all the wonderful art readers will encounter within.